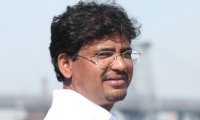 While Kareena Kapoor requested her producer Karan Johar to remove her bare-back scenes from Kurbaan before showing it to her mom, director Rensil D'Silva is only too happy to show the much talked-about scenes to his 95-year old grandfather Walter Netto.


"He's the one from whom I inculcated a passion for movies. My maternal grandfather Walter Netto would take me to a film every Sunday religiously. And then he'd discuss every scene with me. That's where I developed a fondness for films."


And Walter's logbook was the reference point for Rensil's taste in films. "Walter had a logbook where every single film we saw was recorded, his thoughts opinion criticism and observation on every film we saw on those sleepy Sunday afternoon in my growing years."


That logbook has become Rensil's most important reference point for cinema. "It contains invaluable notes on all the films I grew up with."


Naturally Rensil wants to show his first film as director to his grandfather Walter first. "I just want to walk hand in hand with him into a theatre close to him screening Kurbaan and just enjoy the film with him like we used to when I was a child. Fortunately or unfortunately, that won't be possible because he has been keeping track of everything to do with Kurbaan. He knows more about it than I do."


While those close and not so close to Kurbaan have been shouting themselves hoarse about the bare-back and love-making scenes Walter Netto has made no fuss over those scenes.


Says Rensil, "I think he's one of the few people who understood the relevance of those scenes within the film's context. I can't wait for Walter to watch Kurbaan. Whatever the film has shaped into is because of what I learnt with him during my childhood."