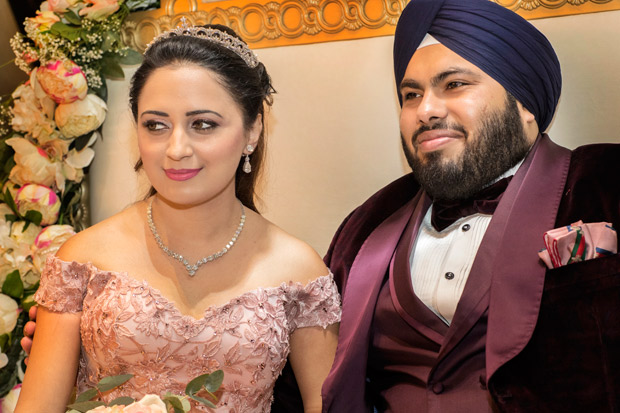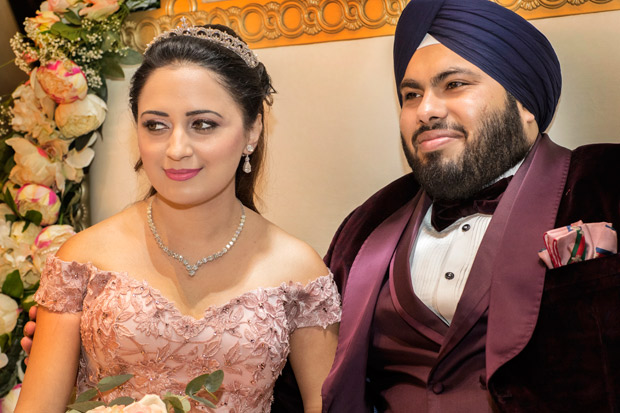 Almost a couple of years back, Dubai based producer and director Japinder Kaur released her debut film Dilliwali Zaalim Girlfriend. Though she didn't feature as an actress in the comic caper, many wondered if she could well have seen in front of the camera as well, given her looks and styling. Nonetheless, though there was no on-screen appearance for the big screen back then, off screen Japinder (who is fondly called Jap by many) made sure that many a heads turned when she got hooked to a Dilliwaala businessman Harpreet Singh Chadha (who is fondly called Anmol by many) at a fairy tale event in Dubai.
"This happened a few days back on 8th January when an 'ardaas' was followed by a 'roka'. These are Punjabi customs prior to the engagement and the Baweja and Chaddha families made sure that it was a daylong event to be remembered," informs our source.
The day commenced with 'ardaas' at the Gurudwara in the family's presence where Japinder was gifted a bridal Colombian emerald set (emeralds over 120 carats) with solitaire bracelets, kadas, bangles and earrings. The jewelry was closely designed in accordance with an aqua-green coloured Faraz Manan outfit. Post the kirtan and the prayers, a lunch at Atmosphere on the 122nd Floor at the Burj Khalifa was held. The restaurant holds the Guinness book of records for the highest restaurant in the world.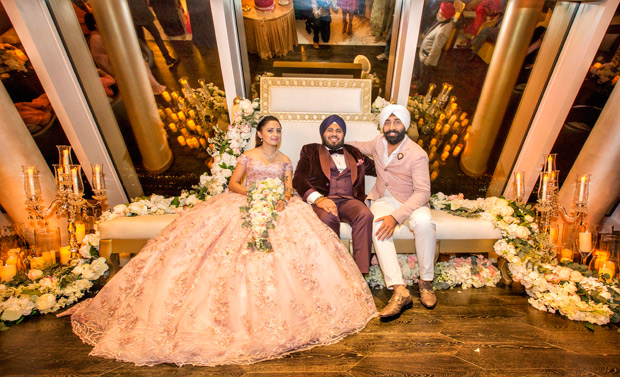 This isn't all as a 24 carat Gold champagne, which is exclusive to Atmosphere and Burj Al Arab, was a part of the 4 course sit down lunch. Beautiful fresh florals were designed in abundance and going with the same theme, the bride had fresh flowers braided into her long locks.
"Further to this, the 'roka' ceremony (party) was held at Gold on 27 in Burj Al Arab. Japinder wore a Swarovski studded powder pink, fairy tale Cinderella gown. The look was enhanced with a diamonds tiara and a royal floral hand bouquet," our source continues, "Going by mom-in-law Annu Chadha's choice and gifts, Japinder was wearing a solitaire necklace with each piece at 4 carats and the earrings being 5 carats each (with hanging pear droplets at 5.5 carat each) bringing the set to a whopping value of above 3 million dirham. All the jewelry was from 'Jewels by Annu Chadha' from Delhi. A full hand diamond flower cuff completed the look."
While Japinder Kaur is the owner of Jap Films LLC in Dubai and Editor-in-chief Singh & Kaur Magazine and belongs to the Baweja business family that is settled in Dubai since 35 years, Harpreet Singh Chadha is a Hotelier (UNA hotels and The Brewmasters India) and also has businesses in liquor trading and import, real estate and transport.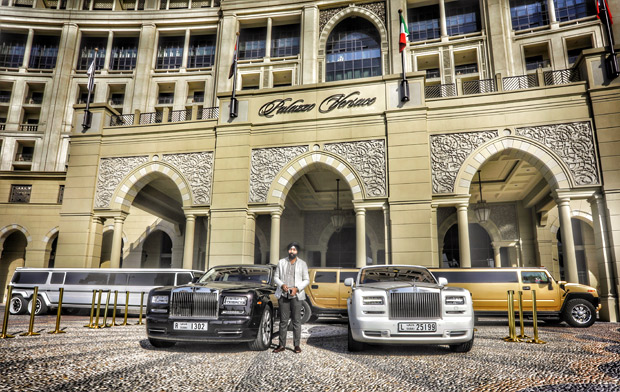 When contacted, Japinder confirmed the news. She said, "I had met Anmol's mom first and we were good friends. You can say that I was in relationship with his mom and we instantly bonded. She treats me like a daughter. I never expected to receive this kind of love. Later, I met Anmol. He was not ready for marriage then. However, he only took three days to say yes and so did I. It was quite filmy actually since his mom and dad were emotionally pushing him that I the one for him. He felt exactly the same when he met. We had great compatibility and later I hit off quite nicely with his family too."
The wedding is now fixed for November 2017 and is set to be a weeklong big affair. If the pre-wedding ceremonies are anything to go by, expect further luxury to be up for display when the mega event takes place.