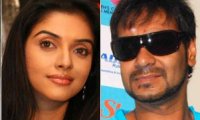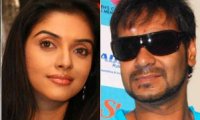 Asin has enjoyed her status of being the only newcomer to have registered two centuries already when it comes to box office returns. With Ghajini as well as Ready doing over Rs. 100 crores each just in India, she has managed an enviable success rate. However, what pains her heart till date is the fact that her London Dreams with Salman Khan and Ajay Devgn didn't do well at the box office. So while with Salman she managed to make amends with Ready, she is now keeping her fingers crossed and is quite positive that her second time pairing with Ajay (in Bol Bachchan) would allow her another hit pairing.


"Asin still feels sad about London Dreams", says a friend of the actress, "Though Ghajini as well as Ready were remakes and she had acted in the former and pretty much knew what the latter was all about, London Dreams was an original and boasted of a new setup for Asin. She always felt that she and Ajay looked good together and it was a matter of time before they were paired again. She just waited for the right setup and it came her way with Bol Bachchan. She feels that the film has good enough potential to establish her 'jodi' with Ajay. After Salman, she now wants to strike gold with Ajay on this film."


Well, she can be pretty much assured that she and Ajay would indeed get second time lucky, what with the man at the helm of affairs, Rohit Shetty, enjoying an enviable box office outing. Boasting of the kind of success rate that no other filmmaker has enjoyed in last 20 years at the least, Rohit has now picked up the subject of Golmaal (Amol Palekar, Bindiya Goswami, Utpal Dutt) for Bol Bachchan.


"The subject is so fantabulous that Rohit can't go wrong here, especially with the kind of expertise he has shown when it comes to comedies", says a fellow filmmaker, "In fact he has completely re-written the characters here. Though Abhishek Bachchan and Prachi Desai are said to be reprising the roles of Amol Palekar and Bindiya Goswami, Ajay Devgn is apparently stepping into Utpal Dutt's shoes."


As for Asin, buzz is that there is an altogether new character being written. That by itself is heartening enough for the actress as she gets to share very good screen space with Rohit's favourite hero Ajay. Even though a major schedule of the film has already been wrapped up in Jaipur, the makers continue to be tight lipped about how far they have gone ahead while changing the original script of Golmaal and the kind of characterisation they have put together for Ajay, Abhishek, Asin and Prachi.


On contacting, Asin says, "Obviously I can't talk much about the film. However, I can definitely say that working with this gang was an eye opener. Ajay as well as Abhishek have very good roles and their comic timing is great. The kind of aptitude they have for comedy is fantastic; more so because Rohit is driving it all. It was great reuniting with Ajay after London Dreams. Of course there was a lot of 'masti' while doing the film with him. I am positive we will deliver a good success together with Bol Bachchan."