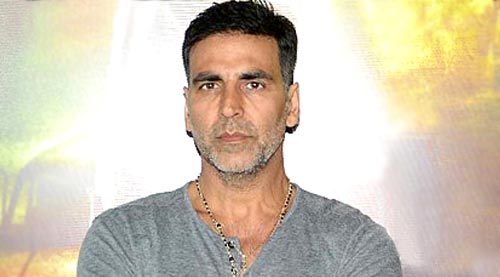 India's most heroic mission of the 90s, the evacuation of 1 lakh 78 thousand Indians from the war zone Kuwait to their homeland has found its place in Guinness Book of World
Records. But it definitely wasn't a cakewalk to have conducted this world's largest evacuation. Akshay Kumar and the director of the film Raja Menon recently took us through the journey of making
Airlift.


Though based on a true story, Akshay Kumar revealed that his character of Ranjit Khatayal is fictional. "There is a character which is just like mine and actually there were about four people and
we have combined whatever they have worked on and made into one character." However, the actor also mentioned that he would like to keep the identity of these real life heroes confidential and
refused to divulge any details about the same.


We saw a glimpse of how the evacuation took place in Airlift in its recently released teaser but before that it is important to know the background, the reason that triggered the war between
the two countries - Iraq and Kuwait. "In 1990, Saddam Hussein had attacked Kuwait and Kuwait retaliated. Also, Iraq had taken a lot of loan from Kuwait's royal families. They wanted to increase the
prices and Kuwait was selling oil at lower prices."


Elaborating further, Raja Menon added, "They owed Kuwait about 25 billion dollars. There were negotiations that were going on with the countries wherein it was suggested to Kuwait that they should
stop producing oil because of which oil prices will go up. Iraq thereby can earn enough money to repay it back to Kuwait. There were a lot of other geo political factors involved. Soon Saddam
practically came down and attacked Kuwait. Only 26 percent of the population was Kuwaitains and the rest of the population was from different countries, including India. There were a lot of
labourers who were Indians."


Indians were trapped in a war zoned Kuwait and the Government was maintaining it as highly guarded due to the ongoing political conditions. Talking about the same, Akshay Kumar said, "Our
Government, however, had kept this entire evacuation a secret and there was only one article which had mentioned about this which was according to Guinness Book of World Records, the biggest
evacuation in the world. It was political because of America who was against this and we were very close to Saddam politically."


Filmmaker Raja Menon further spoke about the political agenda saying, "India and Iraq were planning to build a huge oil pipeline that was to go through across the land of Afghanistan. The U.S was
not positive towards that and Iraq and India shared a great relation back then. So to do something like this was against America's interest and America at that time was powerful. That's part of the
reason and of course, no internet."


So will the film also deal with the political agenda? "It's a film about Indians being brought back. It's not a political film but one that talks about one of India's most heroic missions. I think
we require positivity where we need to feel like Indians," clarified Raja.


However, researching on something that was such a safely guarded secret wasn't easy. Akshay Kumar mentioned about the research saying, "In fact, a few of his (Raja Menon's) relatives were the
Indians who were evacuated from Kuwait during the war. I also met a few pilots who were involved in the evacuation."


In fact, it took Raja Menon 10 years to write the script. Raja revealed, "I started writing this script ten years ago. I did know about it before since I am from Kerala and I know a few of them who
stayed there (in Kuwait). I only realized about the size of the evacuation, ten years ago."


Whilst they did not talk about the production challenges, they were definitely relieved that shooting for the film was a smooth process. Akshay Kumar said, "We were very lucky that we got to shoot
at Ras-al-Khaimah which is about four hours away from Dubai. We got all the spots which resembles the 90s era. The Government too had given us the entire area to shoot. These tanks and fire (on the
poster) are all real." "We got to shoot this on the street which I don't think anyone else is allowed to. They were really supportive while we were shooting this film. The place actually looks like
Kuwait in 1990," added Raja.


Akshay Kumar who is proud of being a part of Airlift further explained the importance of the event in Indian history saying, "I am so proud of the fact that we got this in front of people
and media. This episode should be a part of textbooks. While we speak about the achievements of Shivaji Maharaj and Rana Pratap, this too should be a part of the curriculum. It is definitely not an
easy task to carry out an evacuation of 1,78,000 people. Around 488 flights in a span of 58 days had entered the war zone and that too with commercial pilots. And they managed to rescue everybody
and not a single person was left out."
BOLLYWOOD NEWS
Catch us for latest Bollywood News, New Bollywood Movies update, Box office collection, New Movies Release , Bollywood News Hindi, Entertainment News, Bollywood News Today & upcoming movies 2020 and stay updated with latest hindi movies only on Bollywood Hungama.