A list of 5 iconic dialogues of Bollywood will be incomplete if "Mere Karan Arjun aayenge" is not included. The film created an impact not just because of this one-liner but also because it was a complete masala entertainer in all respects replete with an interesting and touching story, dramatic moments, action, super-hit music etc. And of course, the presence of superstars Shah Rukh Khan and Salman Khan in the lead roles! Today, this iconic movie, Karan Arjun, completes 25 years and on this occasion, its producer-director Rakesh Roshan goes down memory lane, in an exclusive chat with Bollywood Hungama. He breaks many myths floating on the internet with regards to its casting and also speaks about the music aspect, locations etc.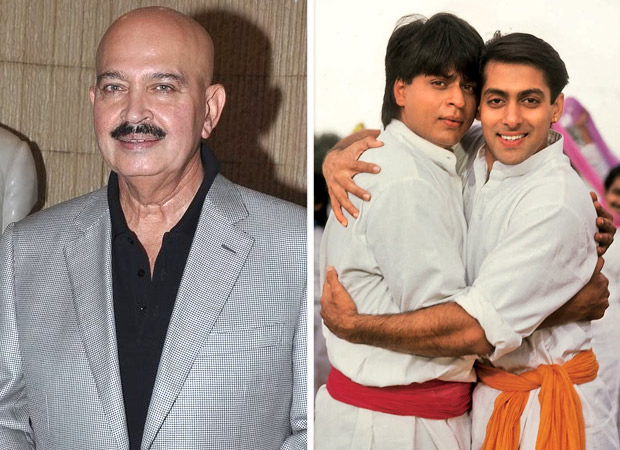 The trivia section on IMDb is filled with trivia that Ajay Devgn, Sunny Deol, Akshay Kumar, Suniel Shetty and Armaan Kohli were considered for the film. Also, that you had approached Aamir Khan but he was not satisfied with his role. Are all these anecdotes true?
Not really. The original choice of actors was Shah Rukh Khan and Ajay Devgn. But they were not happy with their respective parts and wanted to switch. So Shah Rukh wanted to play Karan while Ajay desired to essay Arjun. However, I refused to do so. Hence, they both backed out of the film. Basically, they were not convinced with the story and the reincarnation element. Not just them, most people I narrated the story to were not convinced. My friends and my technicians in the crew argued that such kind of plot won't be digested. In love stories, it was digested before. But with Karan Arjun, it was more about mother-son bond with a touch of reincarnation. But I had full belief in the subject. I argued that when a mother, whose sons were brutally killed, says that "Mere bete ayenge", even if they would have come from Mars or Jupiter, it would have been accepted!
So, I was very confident but my actors were not. So they left the film. I then approached Salman Khan and Aamir Khan and both jumped at the script. However, Aamir made it clear that he was shooting some movie at that point and that he can start only six months later. But I couldn't have waited for so long. Meanwhile, Shah Rukh found out that Salman and Aamir have shown interest. This is when he came back to me. He said sorry and insisted that he wants to do the film. And his dates were available. So, I went to Aamir and explained him the situation. Also, I had worked with Shah Rukh before – you can say that I gave him a break in King Uncle. Aamir understood and this is how the male lead actors of the film were locked!
Till the end, Shah Rukh was not convinced with the idea of Karan Arjun. He categorically told me, "Rakesh ji, whatever you're instructing, I am following it. But I still have apprehensions about the story." When the film released and got tremendous appreciation, Shah Rukh apologized and admitted that I was right with my conviction.
Interestingly, the same year, 1995, Shah Rukh Khan also delivered Dilwale Dulhania Le Jayenge, and he was not sure about that film too. He even called it 'pansy', as revealed by its director Aditya Chopra in his book. Both films were huge blockbusters and two of his biggest hits ever. And he was unsure about both of them!
To be honest, even we were not sure. Nobody knows why a film works or it doesn't. It's all destiny. We can only strive to make a good film. I believe that in our industry, nobody is intelligent and nobody is a duffer. If my time is good, I am intelligent and am a good filmmaker. But if time is not good, then I am a bad filmmaker. With good times, you get good thoughts and ideas. A good star cast falls into place. Everything happens for the good. And it's the opposite during bad times!
Was it tough handling two big stars in your film? Were there any differences between them during the shoot?
They were not stars at that time. They were still newcomers. They became stars during the making of this film, especially Salman Khan, who gave Hum Aapke Hai Koun, which released 6 months before Karan Arjun. Also, I made them sit together and did a joint narration. Then I asked them if they have any problems. Both replied in the negative. And even while shooting, there were no issues between them.
As for actresses, reports floating state that Juhi Chawla, Karishma Kapoor, Nagma, Raveena Tandon and Deepshikha Nagpal were offered the parts in Karan Arjun…
Not true. Kajol and Mamta Kulkari were the original choices from Day 1.
Action director Veeru Devgan left the film in a few days. True?
Yes. Veeru Devgan was the fight master of the film. He came on the sets for the first 2-3 days and then announced that he can't shoot this film. When I asked why, he replied that he's upset since his son Ajay Devgn missed such a good film. I understood and took somebody else in his place.
The IMDb also states that after Veeru Devgan left the film, you alleged that he used the slingshot idea of Karan Arjun in Ajay Devgn starrer Vijaypath. The report further says that you were upset with him.
That's not true. Veeru Devgan was one of my best pals in the industry. We worked in so many films. He used to be my stunt double when I was an actor in films like Aankhon Aankhon Mein.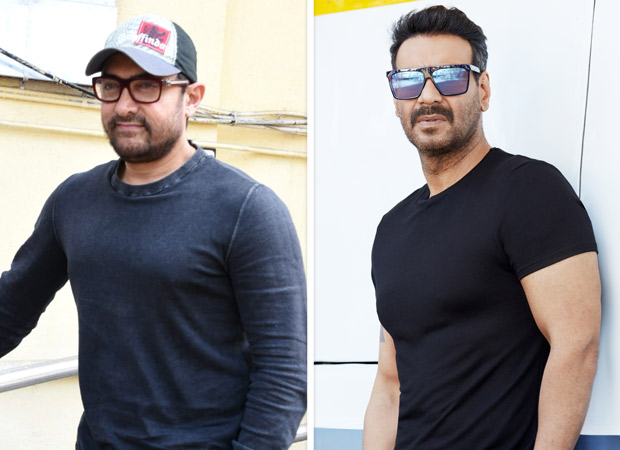 How did you zero in on these beautiful locations in the film? It was unique to see that you shot in Rajasthan but not in the proper desert regions…
I flew to Mount Abu and met our Rajasthan distributor, Kamal Mukut. We then drove to Jaipur, Udaipur, Sariska and many other places in Rajasthan, culminating the trip in Delhi. On the way, I selected the locations and also decided which month to shoot in these places. So, I took the dates accordingly. For instance, sarson ugta hai December-January mein. So, we shot in Sariska in that period. Likewise, we did the same for other locales too. In fact, I did recce over three trips and three seasons. In one of the places, I also shot a portion of Koyla. All those locations were beautiful. I feel locations play a very big part subconsciously for the viewers. Hence, I concentrated on this aspect a lot.
Karan Arjun took a record opening and the buzz at that time was at an all-time high. Do you recall anything about this aspect?
On the day of the release, I got a call from a distributor in Madhya Pradesh, at 3 am in the morning. Those days, there used to be landlines. He informed that he has opened the film at 2 am in the morning and that it's a housefull show. I thought that he's out of his mind or that he was dreaming. I was like, "2 baje kaun show rakhta hai. Ullu bana rahe ho aap". But he insisted that he's not lying and made me listen to the reaction of the audiences. Then other distributors also told me that they have already started showing the film and that 2 am, 6 am and 9 am shows all were sold out.
The same thing happened in Kaho Naa Pyaar Hai. I warned the distributors that it's a film starring a new boy and that they shouldn't release it before matinee 12 noon show. Maine sab se writing mein liya. But still, they opened at 6 am with full house shows! During Koi Mil Gaya, they did the same thing. This was a time when Hrithik ki 8 filmein nahi chali thi. Moreover, Hrithik was playing a mentally challenged child and not a hero. Iss baar unse double writing mein liya! And yet again, they commenced shows at 8 am. And of course, it was house full! By the way, distributors started the trend of having shows at 2 am with Karan Arjun!
Karan Arjun was earlier titled Kaaynaat. What made you change the title?
Yes, it was called Kaaynaat. But while working on the script, I saw Karan and Arjun mentioned so many times that I thought why not name the film Karan Arjun.
The songs of the film are also remembered even today. I read somewhere that 'Jaati Hoon Main' was initially a rejected song…
No. Rajesh Roshan had given the beat of this song in one of my old films. I asked him to make a tune on that beat. So, he made it immediately. And we also had Indeevar ji for the lyrics. He was too good. He used to understand the story so well. Even he wasted no time and provided the lyrics of the song.
Karan Arjun works well on television even today. But the filmmakers of today are slightly apprehensive about making such films, and would dread depicting reincarnation or a mother's prayers being answered in such a manner…
It's not like that. Any film that has got a good screenplay can work. The reincarnation theme, if woven well in a script, will still work.
Yes. However, in today's times, filmmakers think too much ki social media kya bolega or what if the film gets a lot of negativity…
I don't believe in all these things. Anything that's good will run. And of course, you should also be lucky.
Also, the conviction factor is important, I guess. You have to be convinced that your idea, that might defy logic, can work with the audiences.
Yes, of course. The movie has to be made with conviction. And I've always made different kind of films with the same conviction. Kaho Naa Pyaar Hai was also different – it was a double-role film with no relation between the boys. Aisi har picture mein end mein dono bhai nikalte hai jo bicchad gaye the. I insisted ki mujhe aisa nahi karna hai. Similarly, Koi Mil Gaya was drastically different and one of its kind for that time. This was followed by Krrish, also a unique superhero film then.
Your son, superstar Hrithik Roshan, worked as an assistant director on Karan Arjun. You mentioned in an interview that you didn't give him preferential treatment on the sets…
That was an experience I gave him to teach him and also to make him realize how I came up in life. Even I was an assistant director. I wanted him to know what goes on behind the camera and what happens on the set. Like what people talk when actors come late, when lunch and dinner is not up to the mark, when they are not about the facilities etc. I wanted Hrithik to learn all of this. When I was an AD, I saw these problems and I ensured that these issues don't crop up when I make a film. I ensure that actors are on time, food is great and that people in the unit are happy. I always make sure that we all in the same hotel, be it Singapore or Canada or New Zealand. And we'd have food together. Those days, vanity vans were not there. So our lunches used to happen in the same place.
Have you ever thought of making a sequel to Karan Arjun? Especially in today's times, with the same original cast?
No it's not possible. The basic point of the film has already been put across. To extend that doesn't make sense. It'll be boring for audiences.
Also Read: 25 Years Of Karan Arjun EXCLUSIVE: These are the actors that Rakesh Roshan feels would be apt for the REMAKE!
BOLLYWOOD NEWS
Catch us for latest Bollywood News, New Bollywood Movies update, Box office collection, New Movies Release , Bollywood News Hindi, Entertainment News, Bollywood News Today & upcoming movies 2020 and stay updated with latest hindi movies only on Bollywood Hungama.