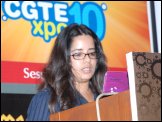 Indian animation, visual effects and gaming convention festival and convention, CGTEXPO 2010 was as grand an affair just like the previous editions. Held at the Nehru Science Centre in Mumbai, the event had a grand run with organiser R.K. Chand and team roping in international studios like LucasFilms Singapore to share their success formulae!


Seema Gopalakrishnan, who has worked on the legendary television series Star Wars: Clone Wars represented LucasFilms.


"The biggest challenge in Star Wars: Clone Wars was maintaining the numerous characters in the huge sets that took part in the battles. Another part besides the characters are as you've seen are a lot of ships these ships have a lot of detail and a lot of mechanisms. There are a lot of battles where characters are cut with the light-sabers the slice tool plug-in is super smart, wherein animators can choose how to cut a character mesh in half," shared Seema.


Visual effects work the magic for Bollywood


You might not have really noticed them, but the visual effects in a film, could make or break box-office fortunes. Take Drona for example, or Love Story 2050 which were rejected by the audience despite a lot of jazzy visual effects. While the same effects helped in making hit films like My Name Is Khan a visual spectacle.


Visual effects is not just about adding color to particular shots or enabling high on the adrenaline action sequences. At the recently held convention CGTExpo 2010, Vishal from TATA ELXSI VCL, explained the market, "We've got a division that deals with live action and feature film work, and we have a small division that deals with animated movies. We did an animated movie called Roadside Romeo that released in 2008 which was well received by a lot of people but was not a big commercial success."


"On the visual effects side we do vfx for films the last big budgeted film that we did was a movie called Prince released by TIPS, it was good fun to work on and very visual effects intensive, in all the shots that we've done, most of it was shot in South Africa. In all there were about 1500 vfx shots that were delivered in just three months."


The studio is working on an animation film, Arjun, which is scheduled to release this September.


In-house R&D for VFX Studios



CGTExpo 2010 had a lot for the Indian Film post-production professional. Jigesh Gajjar, of MPC London, the post production studio that has worked on Prince of Persia and The Clash of the Titans. Currently the studio is working on the third installation of Narnia


He said that the main disadvantage of doing R&D in-house are that the producers are not happy if in a deadline of six months you go for four months of R&D. The two main areas are R&D for effects and better visual quality and the pipeline asset management that's really the key for the larger projects.


MPC developed, various in-house tools for films like Troy, The Kingdom of Heaven, Poseidon, 10,000 BC and Narnia: Prince Caspian. Beside, in the cult movie, Watchmen all the explosions, were done using a proprietary system, Papi, short for physics based EPI simulation.


Jigesh said, "The commercial department relies on the film department to run all R&D and we pass the information on any of the shows that we've worked on for free. People focus on using the developed tools whilst developing it further, to avoid unnecessary expenditure in research."


The story behind 3D


When we sit on the plush comfortable sofas, dark glasses and all, ready to see the latest 3D film at a screen near us, we do not think about all that goes into making the visual spectacle possible. Be it Monsters Vs Aliens, Avatar or Shrek 4, or the soon expected Jism 2, all these films are made three dimensional by a set of erudite technicians working day and night on the latest technologies in film production.


Los Angeles based Eliza Pelham Randall's career spans across seventeen years working in visual effects both in production as well as post. Based in Los Angeles she has worked with renowned VFX studios such as The Mill, R!OT, Frantic films and now Prime Focus. Currently she resides in Mumbai on her second Indian assignment supervising stereoscopic 3D conversion for Prime Focus. She spoke at the recently held CGTExpo 2010 in Mumbai.


"Taking films in 2D and converting it 3D is exciting. Prime Focus has a huge organization across many continents and that's how with our sheer force we managed to push The Clash of the Titans in eight weeks, and in the process we learned a lot," she said.


James Cameron's Avatar had the luxury of time at their hands, this entitled them to plan it out thoroughly as compared to the different path that we had. The majority of the work that Prime Focus is engaged in does not grant this kind of luxury of time.
BOLLYWOOD NEWS
Catch us for latest Bollywood News, New Bollywood Movies update, Box office collection, New Movies Release , Bollywood News Hindi, Entertainment News, Bollywood News Today & upcoming movies 2020 and stay updated with latest hindi movies only on Bollywood Hungama.