Satyameva Jayate Review {3.5/5} & Review Rating
EXPECTATIONS
On a regular day you may not carry massive expectations when it comes to the soundtrack of a hard hitting action drama. However, with the film being produced by Bhushan Kumar and Nikkhil Advani, both of whom have good ear for music, you do have inkling that there may be something special awaiting the listeners.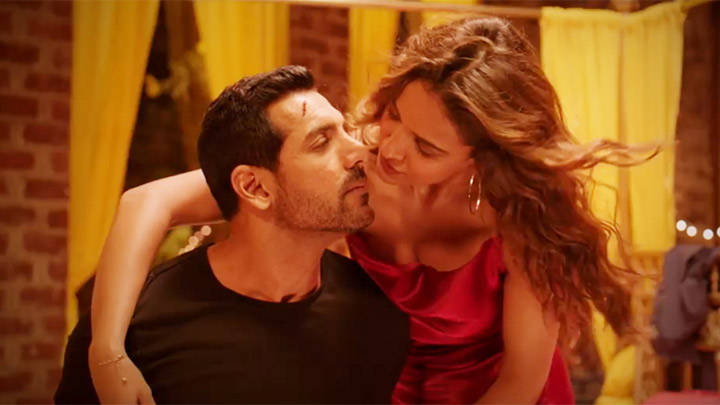 MUSIC
Well, there is something more than just special right at the very onset, what with composer Tanishk Bagchi showing his mastery all over again on the recreation medium. This time around he picks up 'Dilbar' and the results are there to be seen, what with the song (with new lyrics by Shabbir Ahmed) turning out to be an instant chartbuster. The manner in which Neha Kakkar and Dhvani Bhanusali come together to render this one, you are indeed in for a treat as 'Dilbar' turns out to be a major hit all over again even though the original version in Sirf Tum [1999] was heard almost a couple of decades back. A smashing track.
A couple of love songs arrive in a back to back manner here, both of which feature Tulsi Kumar. Composer Rochak Kohli pairs up with lyricist Kumaar for 'Paniyon Sa' and together they come up with a sweet romantic number that doesn't really rely on any frills per se and instead stays plain and simple. A kind of number that is expected in a Bollywood romantic situation, 'Paniyon Sa' is further special since it has Atif Aslam leading the charge with his characteristic vocals.
The one that follows has a Sufi base to it, what with Arko playing the triple role of being the composer, lyricist and singer. He does lend a platform to Tulsi Kumar though to take the lead first and while she does give a good beginning to 'Tere Jaisa', he chips in intermittently as well along with back-up vocalist Sohum Chakraborty to bring in certain completeness to the song. This one is a blend of Indian classical with Sufi and one waits to see how this song fits into the fast paced action narrative of Satyameva Jayate.
The album comes to a conclusion with 'Tajdar-e-Haram', a situational track which is expected to arrive at a crucial juncture of the film when there is action and high drama unfolding on the screen. Sajid-Wajid are the composers of this intense number written by Danish Sabri which has Wajid coming behind the mike. With a devotional base to it and an Indian-Western set up when it comes to the composition style, this one turns out to be an average piece, though it may just about make an impression when heard in context of the film's visuals.
OVERALL
The music of Satyameva Jayate works well as a part of the film and what takes it to a different level altogether is the chartbuster track 'Dilbar' which is clearly the biggest of the season.
OUR PICK(S)
'Dilbar', 'Paniyon Sa'