Shahid Kapoor and Mira Rajput for long have defined relationship goals in the industry. The Padmavaat actor came on Neha Dhupia's reality show Vogue BFFs with none other than his wifey Mira Rajput who is his eternal BFF. So, if you're thinking that this couple is all mush and no sass then you're wrong because together, they are a lethal combination! Polar opposites to each other, they made the episode quite an entertaining watch with their collective wit and unapologetic confessions about each other and the industry in general.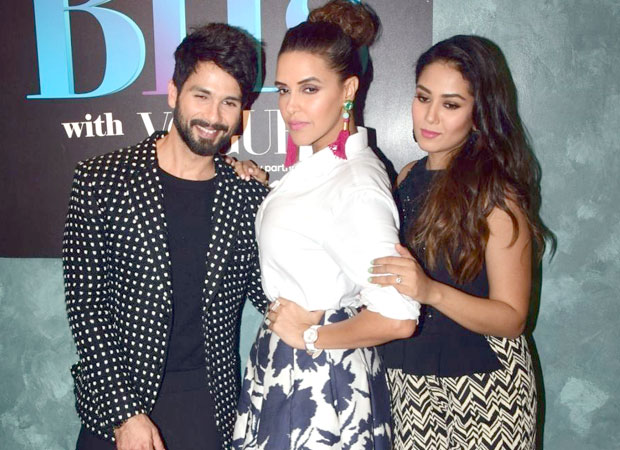 If you missed the episode, no worries because we got your covered. Here is everything you need to know about the grand finale episode featuring ShaMira!
When Shahid Kapoor was called a womanizer and a music mafia... Shahid Kapoor has dated quiet a few women and while we won't take names, the ladies were from the industry. On the start of the show itself, Mira called him a womanizer and therefore advised him to sit next to Neha.
Later, the host confessed that Shahid is a music mafia and hijacks party scene everywhere with his kind of music. She said, "Where it is a crowd of 500 or 5, the songs have to be of Shahid's choice."
When Shahid confessed that Mira thinks he is clumsy and does not let him take parental decisions... Mira is a hands on mamma and therefore does not let anyone, not even Shahid, to take any decisions related to Mira. Shahid revealed quiet resignedly that his wifey 'Should listen to him' when it comes to Mira. His opinionated wife said that her husband use the 'experience' card all the time to win arguments. Best friends or bickering spouses? These two were latter on the show and Neha hilariously played the referee between the two!
When Mira asked Shahid to move out of the house!  The Batti Gul Metre Chalu star had an erratic shift for one schedule. He would come home at 8 am and sleep till 2 pm and then get back on sets or his workout regime ...Mira revealed that he asked Shahid to stay away from home because Misha was at her peak during those hours did not want to restrict her. Now that's a good Momma, na?
Mira's startling confessions about Shahid: his past failures and exes All the time Neha asked Shahid about the times his exes cheated on him or if he had fallen for his co-stars, Mira just had one question. "How many?". Shahid let us on to a secret when he said that he is sure an ex cheated on him but he is not sure of the other one. We all know the two Bollywood ladies he is talking about, isn't it?
Mira then went on to say that Vidya Balan, his ex, needed to hire a stylist and that Shandaar was his worst film. Neha then went on to ask who she thinks is the fake BFFs of the industry and she quipped, "isn't everybody?".
Shahid-Mira's EXPLOSIVE statements on Ranveer Singh, Sidharth Malhotra and Sonam Kapoor Do you know who's Mira's secret crush? Well, it's Sidharth Malhotra! Ouch, one didn't see that coming right? We are quite surprised that Shahid let on this secret. He also said that Karan Johar is the biggest diva of the B-Town and that he knows everything about everybody.
Neha asked him about one of his co-star who should rather think about the script than the costume fittings. While Shahid smiled knowingly and ate a spice instead, Behalf quiet knowingly asked him to strip and said, "Yeh Mausam hai joote utarne ka". So, you know what she was hinted at, right?
The Shahid-Mira episode was totally fun as the couple was unapologetic and unabashed about their diverse, sometimes controversial, opinions about their married life, each other's exes and the industry peeps in general.
Also Read: Oh No! Shahid Kapoor falls ill on the sets of Batti Gul Meter Chalu
BOLLYWOOD NEWS