Like I knew some of the biggest names in different fields of filmmaking, I also had the opportunity to meet and make friends with some of the leading action-directors like Azeem Bhai, Ravi Khanna and Shetty. They made the most thrilling and ferocious acts on screen possible, but strangely, they were all generous and large-hearted men who could do anything to make lives comfortable for the brave men who put their lives at stake to bring their action and thrills alive... In the late seventies, I came across a young action-director called Veeru Devgn. He had learnt his art from some of his seniors, but he largely had an innovative mind even when it came to action.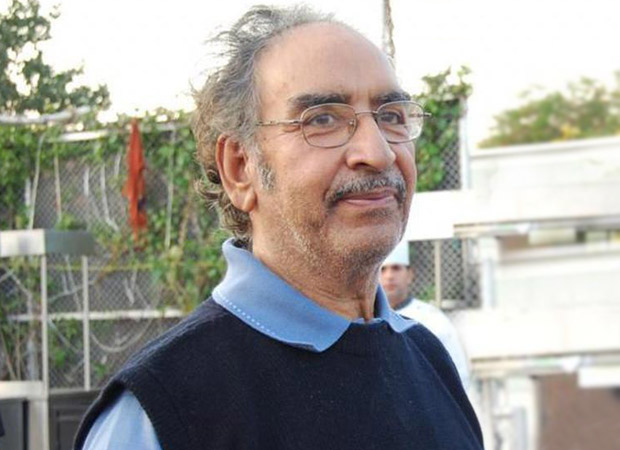 Veeru Devgn: A man who loved action, films and the people he worked with!
My first image of him was sitting next to Mr Bharat (Manoj Kumar) with his band of brave boys. Manoj Kumar had taken a liking for him and the relationship grew mutual with time and Veeru Devgn didn't mind massaging the feet of the man he called "A filmmaker who knew exactly why films were made and how to make them". Manoj Kumar was the first filmmaker I heard talking highly about Veeru Devgn and it didn't take Manoj a long time to live up to his words. He signed him as the action-director of his most ambitious film, Kranti. Veeru Devgn lived up to the expectations of Manoj Kumar and the industry had found one more able and highly qualified (self-taught) action-director and was signed as the action director in any number of films and to his credit, he never repeated the same kind of action and thrills in the growing number of films he kept doing.
It was while he was shooting for Kranti that we struck up a very good friendship. I was working for Screen and couldn't write for any other magazine or paper. But when Maneka Gandhi who had started as a journalist had turned editor of a magazine brought out from Delhi and called Surya, she asked me to write about films and even write a column about films. I asked her if I could start off with an exclusive article on the life and times of a leading fight director called Veeru Devgn, she had said, "You are the boss of the film section now and you can write about any subject you want. If you say Veeru Devgn, let it be Veeru Devgn and I wrote my article for Surya beginning with Veeru Devgn. When the article was splashed across four pages with exclusive photographs from the collection of Veeru Devgn himself, Ms Gandhi liked it and Veeru Devgn (who I had now like the others in the industry also called Veeruji carried copies of Surya everywhere and said, "Yeh dekho, Ali Saahab ne ek chhote se aadmi ka kya kar diya". That article strengthened our friendship and he made it a point to make his boys let me know where he was shooting and wanted me to join for lunch.
I was carried away by his skill at giving action in films a new dimension and adding glory to the stars, especially Amitabh Bachchan, Jeetendra, Dharmendra and Amjad Khan, besides many others as he was the only name that mattered when it came to action in Hindi films. He was the man behind the amazing action scenes in more than eighty films, among which the more popular were Kranti, Mr Natwarlal, Himmatwala, Shahenshah and Tridev.
Veeruji was a very god-fearing man and I found him deep in prayer at the statue of Mother Mary at the St. Michael's Church in Mahim where he stood alone touching the statue of the Mother with his hands raised and his eyes closed. I too was a regular at the church and used to wait for him to finish his prayer Wednesday after Wednesday as there was a belief that anyone who prayed at the church for nine consecutive Wednesdays, without a break would get his or her prayer granted. I once asked Veeruji who was now a very successful man in his field of work what he was praying for so ardently and it didn't take him a minute to say, "All my prayer are for my son, Vishal who I want to see as a successful actor". Seeing his devotion and his belief, I joined him in his prayer for the success of his son.....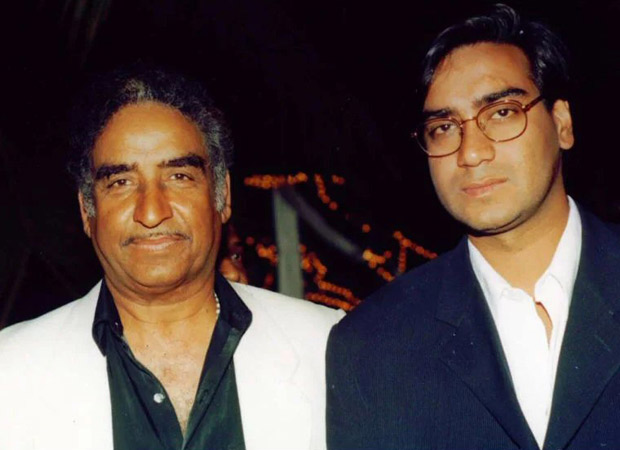 Veeruji's prayer was granted before he could complete Wednesdays when things fell in place for Vishal to be named Ajay Devgn and be launched in Phool Aur Kaante produced by Veeruji's friend Dinesh Patel and directed by Kuku Kohli and with Madhoo, the niece of Hema Malini as the heroine. If Ajay is remembered for the iconic entry scene in which he arrives riding two bikes with one foot in each of them, Ajay Devgn, the superstar now has his father to thank. Veeru also tried his hand at direction with Hindustan Ki Kasam with his favourite actor Amitabh Bachchan and others. He had finally succeeded in his mission to make his son a star who on his own merit is a superstar, a producer and a director with an extremely talented wife like Kajol and their two children, Nysa and Yug.
Veeruji who must have been a good-looking tough young man in his youth must have also nursed the desire of being seen on camera and he had his ambition fulfilled when he acted in films like Ek Khiladi Baawan Pattey, Muqabla, Mr. Natwarlal, Kranti and Sar Utha Ke Jiyo, but he did not let his ambition become his passion and was satisfied doing what he was good at.
If Veeruji will be remembered by those who knew him well for anything more than his work, it will be because of his generosity. He was perhaps the first action director who made it a point to establish all the fighters working for him by getting them good money which led them to have their own homes in Mumbai and to see their children go to the best of schools.....
Life however was not very kind to him during the last ten years. He was down with several complicated ailments and couldn't see the height to which his son, Ajay had reached and even built his own massive bungalow opposite the bungalow of Dharmendra who was his hero in the true sense of the word. The attendance of stars like Amitabh Bachchan, Shahrukh Khan and many others at his funeral was living proof of what the man meant to them, their work and their lives.
Also Read: Amitabh Bachchan pays tribute to Ajay Devgn's father Veeru Devgan
BOLLYWOOD NEWS - LIVE UPDATES
Catch us for latest Bollywood News, New Bollywood Movies update, Box office collection, New Movies Release , Bollywood News Hindi, Entertainment News, Bollywood Live News Today & Upcoming Movies 2023 and stay updated with latest hindi movies only on Bollywood Hungama.