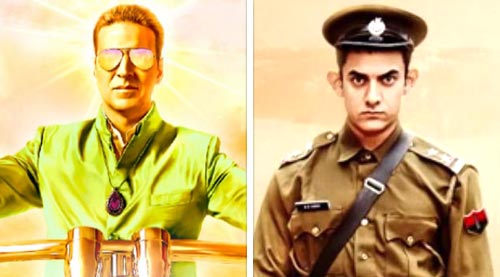 PK is being compared with your film OMG Oh My God. Both seem to have got themselves into trouble with right-wing organizations?

Why trouble filmmakers who are trying to do something out of the box? We're trying to make good cinema.And it's not as if audiences have objected to OMG Oh My God or PK. Why not protest against films that glorify goondaism? We aren't forcing anyone to watch OMG or PK. Jiskodekhnahaidekhe,nahindekhnahainahindekhe.There should be no attempt to stop a film once it is passed by the censor board.


Your film which also attacked organized religion,didn't get attacked so vehemently?

They had protested against my film.In Jalandhar they had burnt posters and vandalized theatres. But not on this level. The protests against PK are far more vehement.


When in fact PK puts its points forward far more gently than your film?

That's Raj Kumar Hirani's style. He makes feelgood films. His style is very different from mine.RajuHirani,(writer) Abhijat Joshi and Aamir Khan are among my favourite people in cinema.I hate to see them targeted in this way.


There are many points of similarity between Oh My God and PK?

Yes, there are similarities between PK and my film. It's the genre. You can't change the basic idea. If you make a love story, 'I love you' is bound to show up somewhere. Why such a hue and cry over the similarities? Oh My God came first. To remove the similar plot points from PK was very difficult.If I was in their place I wouldn't have known what to do.They've done such a fine job of giving a new twist to the theme.


Your Gujarati play Kanjilal Versus Kanjilal about organized religion has been running for years?

That's rightand no one has objected. The play and the film OMG aren't anti-religion. They're against wrong religious practices.We are against some aspects of organized religion.Many religious sectors including the BrahmaKumaris and the RadhaSaomis appreciated our film Oh My God. They didn't feel threatened by the film.We had screened Oh My God for Shankaracharya before release. They had no issues with the film.


But many Hindu organizations have protested against PK?

I wonder why people have so many issues with PK! I don't understand it. Why don't the protesters sit and talk with RajuHirani and the PK team?And it isn't as if we're only against commercialization of Hinduism. In OMG we had asked why place a chaadar on a dargah, why not on a poor homeless person?


Makes sense...

Whether the Hindu religion or any other, the wrong aspects must be condemned. I get so many messages accusing me of being anti-religion.They are even making videos against us. ISKCON has made an anti-OMG film.


What is that?

They have taken all the characters from my film and turned the arguments in their own favour. If they wanted to present their own viewpoint why didn't they make their own film? Why copy my characters with the same names as in my film?They've even used the music from my play and film. This is outrageous!


ISKCON is a multi-million conglomerate?

I guess where there is big money involved in religion, there is a feeling of insecurity when their dogma is questioned.But somewhere we must have done something right to awaken so much protest against OMG and PK.We need more films that challenge the sacred cows.
Umesh Shukla whose film OMG Oh My God bears uncanny resemblances to PK, defends PK
BOLLYWOOD NEWS - LIVE UPDATES
Catch us for latest Bollywood News, New Bollywood Movies update, Box office collection, New Movies Release , Bollywood News Hindi, Entertainment News, Bollywood Live News Today & upcoming movies 2022 and stay updated with latest hindi movies only on Bollywood Hungama.