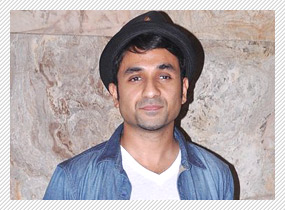 Vir Das, who gave a sterling performance as the insatiable love seeker in Amit Sahni Ki List, lists his own preferences in love, life & career.


Your character in Amit Sahni Ki List has a list of the qualities he wants in his ideal woman. What about you?

Yes, I've basically four qualities that I look for in my ideal woman. She must laugh at all my jokes, specially the bad jokes. She must be a good eater because being a foodie I don't like the Caesar salad types. She must be a dog lover because I own one and I love him more than I'd probably love her. And if her last name is Mittal or Ambani, I don't mind.


Amit Sahni goes through a painful breakup in the film. Have you experienced such a situation in your own life?

The breakup in the film is borrowed from my life. It actually happened to me. And by the way that girl who gets turned on by cars....I've been with a girl who actually likes it in the car. I put both these personal experiences into the film to give it a touch of realism.


Are you still broken-hearted?

No, No. I am happily in a relationship with a normal girl called Shivani. She's an events manager and we're in a stable relationship. No she doesn't manage my career. She only manages me at home.


Why would you mention her being normal?

Because I consider myself completely abnormal! I think every actor is slightly wacky. Shivani keeps me grounded. She's my reality check.


When is the wedding happening?

Not immediately. But soon. Definitely within a year. I am a man who is the happiest when committed in a relationship. We live together. We have a bull-dog. And we share a ridiculously happy life together.


Vir, how much has your audiences' width-band expanded after your movie career?

I am doing fewer live shows during each year because of my movie career. But I am still hitting the same number of people. The films have really helped my career. People who'd never venture out to see a stand-up comedy show do so now because they've seen me in movies.


How easy has the transition from stand-up comedy to movies been for you?

Oh, it hasn't been easy at all. In Bollywood, when you come from another profession, you are faced with a lot of resistance. It's true of anyone, whether he comes from modeling or stage shows, he is given a hard time. I haven't gone through the routine struggle of Bollywood aspirants. My DVD of my stand-up comedy acts got me into producers' offices. After that, I was on my own. Finally, on a Friday, you've to prove you can act.


What is your of opinion of the other stand-up comedian Kapil Sharma?

I think he's brilliant in what he does. I wouldn't be able to have the audience that he does because he does it in Hindi. India has always had its own hybridized form of stand-up comedy. It needed someone in the Hindi space to make it commercial. Kapil is that guy. He has paved the way for a lot of guys to be successful.


Aren't you tempted to do stand-up comedy in Hindi?

No. I only do the jokes on stage that I write myself. And I think the jokes are original. I only perform the jokes that I write for myself. Stand-up comedy is about saying 500 things in 1 hour. Acting is about saying one thing in 500 ways in 22 hours. You get feedback for acting, a year after you do it. Its two different professions. After being on a movie set for days and months it's good to be on stage, be an adrenaline junkie and just let it out. On the other hand, when you are traveling from city to city for months performing on stage it's good to come to a movie set and just be there for a few months.


Would you say you had to struggle more because you had no links to Bollywood's empires?

It was like making my way up the corporate ladder. I started with one scene. The next year I did five scenes. Then I did a supporting lead, then the lead in Revolver Rani and Amit Sahni Ki List. It's been slow and steady for me, and that's good because I didn't know how to act for the motion picture camera. Now I do. Though I still cringe at my performances. But that is by virtue of how self-indulgent we are as artistes (laughs).


You played a really despicable character in Revolver Rani?

Ha ha. A lot of people thought I couldn't pull it off. I've always played these nice goofy oddball characters. I loved to be hated in Revolver Rani. I am back to being sweet and harmless in Amit Sahni... But I am also playing a very serious character in a film called 1984 about a Sikh couple stuck in the riots on the day of Mrs. Indira Gandhi's assassination. I play a Sikh, which is easy for me to do because I went to boarding school with a lot of Punjabis.


Is it a political film?

It'd be a thriller centered on four characters. The closest reference I can draw is Ben Affleck's Argo. In Revolver Rani, I dipped my toes in the pool of dramatic acting. Here I take the plunge. I made sure the 1984 director Shivaji Lotan saw Revolver Rani to know I could handle a dramatic role, although I played a very bad actor in Revolver Rani. Who would have thought I'd have to play a really terrible actor to be considered a good actor.


What are your other projects?

There's Santa Banta The Movie featuring Boman Irani and me in the title roles. We are not looking at Santa-Banta in the context of the text messages. We've humanized them. We made a conscious decision not to go down the SMS-forward route and find something real in these characters. This is directed by Akash Deep. I also have Saxx Ki Dukaan where I've a double role. I think the Delhi Belly audiences would like this one. Then, I've a commercial romantic film called Khanna Patel directed by Sanjay Chel where Rishi Kapoor is my dad and Paresh Rawal is my father-in-law.


Must be fun working with Rishi Kapoor?

Do you know I started my career doing one scene with Mr. Rishi Kapoor in Namastey London? To have him play my dad is an out-of-body experience. I had done that one scene with him because I was a fan. Now I am a bigger fan.


Do you feel your career is proceeding as you planned?

Sometimes, it feels unreal. It took me a while to get here. Do you know I used to write the script for Shahrukh and Saif Ali Khan, Imran Khan and Ranbir Kapoor when they hosted IIFA? Shahrukh, of course, always added his own magic and his own lines to my lines. And there I was hosting IIFA this year with Saif. It's kind of a cool trip for me. I was on stage saying my own jokes.


When you're on stage you poke fun at the entertainment industry. Do you think the entertainment industry has a sense of humour?

I think one has to be from within the film industry for film folk to take your jokes. I faced resistance to my humour when I entered the industry. Now that I'm a little bit more a part of the industry, my humour is more accepted.


So, in a way, an acceptance of your humour by the film industry is also an acceptance of you?

Yes, I think so. The film industry is a comfortable place to be in. I've noticed an acceptance in the film industry as I've grown as an actor during the last four years. I consider myself intelligent enough to see through the bullshit. I don't get sucked into the bubble. I came here only to work. And that's what I do. I don't feel the urge to play the celebrity. I've no interest in signing autographs and being in selfies with fans. I don't think I've changed in four years.


Why would you change?

Well, if you do drastic things to your body, it's bound to show. But no thanks! I've no urge to possess a 6-pack. I'm quite happy with my 1-pack.I don't crave to be a matinee idol. I just want people to see my movies. Earlier actors had just the screen to reach the audience with. Now we have the stage, digital platforms, and movies.


Do you consider laughter to be the best medicine?

Yes, I believe if you can laugh through it you can get through it. The audience gives me an infinitely more than I give them. Hearing them laugh at my jokes is a tremendous high. It's the best steroid in the world. Of course, I am expected to be funny all the time. It's the curse of being the comedian. Luckily, after Revolver Rani, a lot of non-comic scripts are coming my way.


Don't you wish Revolver Rani had done better?

Yes. But we always knew we were making a very different and tough film. When will I again play a bad actor who loves Al Pacino?
BOLLYWOOD NEWS
Catch us for latest Bollywood News, New Bollywood Movies update, Box office collection, New Movies Release , Bollywood News Hindi, Entertainment News, Bollywood News Today & upcoming movies 2020 and stay updated with latest hindi movies only on Bollywood Hungama.