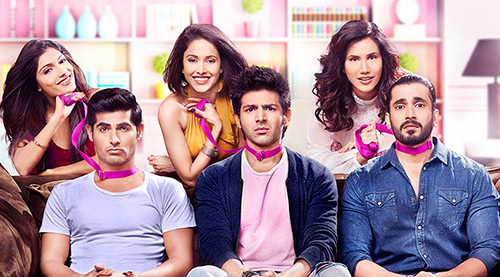 By the time Kartik Aaryan's 'penis monologue'(as opposed to Eve Ensler's Vagina Monologues) comes on full-throttle, we are so bloody hooked to the very familiar very mortifying and yet very comforting love life of our three protagonists that we are positively rooting for the underdogs.


A big applause for the male victims of gender inequality.


Meet Anshul (Kartik Aaryan), Siddharth (Sunny Singh) and Tarun (Omkar Kapoor), the regular metro-sexual hetero-sexual flat-mates looking for love…and finding more than what they had bargained for.


A spirit of sassy exploration runs through this extremely enjoyable vaguely misogynistic comedy. Pyaar Ka Punchnaama 2 (PKP2) is not just bolder more provocative than the first part. It's a lot sexier and smarter. A chirpy chutzpah cuts through the sharply-written narrative creating a credible and disturbing argument against urban relationships of convenience.


The way writer-director Ranjan shows his three heroes being exploited by their girlfriends may seem extreme. But the film is not saying every woman is a schemer. God and Madhu Kishwar forbid! It's only asking for a fair reading of gender dynamics. Men DO get caught in situations where they must compromise with everything from their ego to their bank balance. They do suffer and bleed, you know. And yes they get raped too. Though in this film it isn't done literally.


So here's the lovers' dilemma. Anshul's new love-interest (Nusrat Bhrucha, playing the thankless role of the airheaded deceiver with a squeaky sincerity) insists on hanging around with her best friends 24/7. She even has her male best friend sleep with her in her bedroom while boyfriend looks on helplessly.


So when Kartik Aaryan as Anshul asks on behalf of all men who have to deal with their significant other's male BFF (ask Shah Rukh Khan whose wife Madhuri Dixit in Hum Tumhare Hain Sanam insisted on best friend Salman Khan hanging around constantly) why it is okay for women to have male best friends and not okay for men to have female best friends, Anshul puts forward a valid point.


Luv Ranjan's romp into the confusing mind of women mines into areas of everyday gender interaction with an insider's knowledge of how manipulative and lopsided relationships can get in a competitive society. When Anshul wonders why men say sorry to women without knowing what wrong they've done he echoes what Abhishek Bachchan said about the key to a successful marriage.


"Just say sorry to your wives every night for whatever she may think you've done wrong."


Surreptitiously but surely the plot constructs for itself a spiral of anecdotes and incidents, all insightful intuitive and funny, indicating serious blind spots in the gender equation.





A lot of the credit for making muting the movie's misogyny to a mellow decibel goes to the three male leads, each one delivering a polished performance. With his looks and ability to give a face to male anguish so effectively I wonder what keeps Kartik Aaryan from getting to the top. Giving him inspired company are Sunny Singh and Omkar Kapoor.


Sunny's 'almost-Sardar' act brings in a bit of Dhanush from Raanjhana. His hopeless devotion to the Punjabi kudi (Sonnalli Saygal) and her demanding parents (Sharat Saxena, Mona Ambegaonkar) are so heftily humorous and heartbreaking, the young actor with his forlorn eyes and 'Didi Tera Devar' caller tune on his phone creates an immediate connectivity with the audience.



Omkar Kapoor as a practical sensible rich boy who gets trapped by a girl (Ishita Sharma, very attractive) by a clever gold-digger is a surprise. Yesterday's child actor is now sure-shot star material. Omkar and Ishita's private striptease performance has to be seen to believed. Very very tantalizing.


The believability quotient in the film is heightened and complemented by its aesthetics. More than anything else PKP2 is a very good looking film with actors and actresses who are easy on the eyes and can actually act. The dialogues by Rahul Mody, Tarun Jain and Luv Ranjan poke fun at conventional definitions of love and commitment without causing any offence to anyone. And yes, if anyone does choose to get offended, then too bad. This film doesn't really care about what spoilsports think.


Just when we think we know what women want, or don't want, or want but pretend not to want, they surprise us with some more unpredictable behavior.


Luv Ranjan's Pyaar Ka Punchnaama in the 2011 was the surprise success of the year. A gritty look-while-we-leap dare devilish work challenging feminist /post-feminist notions of gender equality , the film ripped open all the 'nice' conventional notions of the man-woman equation to reveal a deep and devilish cleft between what men desire and women actually deliver.


Once again writer-director Luv Ranjan walks dangerously close to misogyny, and comes up trumps. The tightly wound script once again wraps itself around the minds hearts and thighs of three girls and guys who can't see that love is nothing but self-interest in disguise.


Many episodes of this terrific treatise on gender aberrations stand out. The last 30 minutes when the laughter kind of evaporates to expose the hollowness of relationships based on self-satisfaction, are rousing and melancholic.


I came away with a huge chuckle and a deep sigh from the film, and with images of Kartik Aaryan's 'love dance' with his deceiving girlfriend and her two sahelis. As Aaryan twirled and pirouetted with the ladies he seemed to be tokenizing the Great Modern Urban Tragedy.


Love on the rocks.
BOLLYWOOD NEWS
Catch us for latest Bollywood News, New Bollywood Movies update, Box office collection, New Movies Release , Bollywood News Hindi, Entertainment News, Bollywood News Today & upcoming movies 2020 and stay updated with latest hindi movies only on Bollywood Hungama.