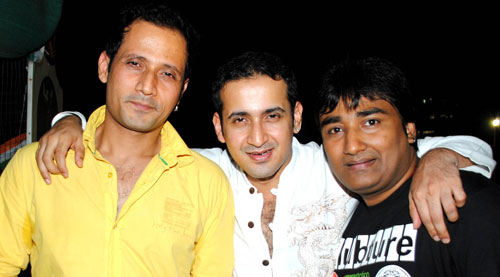 So despite 40 songs that they are doing together in films to come, the Meet Bros. (Harmeet Singh and Manmeet Singh) and Anjjan Bhattacharya, together known as MBA (!) or Meet Bros. Anjjan have decided to part ways.


Why has this happened despite huge hits like 'Mere Nishaan' (OMG - Oh My God! ), 'Baby Doll' (Ragini MMS), 'Party To Banti Hai' (Bhoothnath Returns), 'Hangover' (Kick) and 'Chitthiyan Kalaiyan' (Roy)? Well, the official version by Anjjan and hearsay are quite different! Hearsay states that Anjjan, who is oriented towards melody and who contributed that vital element in their many gimmicky songs, was unhappy of late in the whole setup, because of not just creative but some personal reasons.


Anjjan, speaking to Bollywood Hungama, denied any rift and stated that the field today is wide open for different individuals to do their own kind of music, helped by the multiple music director culture. "I am doing the Anil Sharma-produced Ishq Junoon now with other composers also working on it. Today, with film business being a three-day affair, filmmakers want an instant hit that drives a film, and Meet Bros. and I were like people doing different kinds of business under one name." He adds that the two are still like his brothers (sic).


Ironically, coming up is MBA's first-ever 'complete' film, Shimla Mirchi, directed by Ramesh Sippy! But what about the fact than in their first two films, Rajshri's Isi Life Mein and Habib Faisal's Do Dooni Chaar (both 2010) they were billed as Meet Bros Anjjan Ankit? Says Anjjan, "Ankit Tiwari and I formed a duo and joined up with them. As a team, we could not reveal our individual contributions. But Ankit moved out to do his own thing after these two films, and now I am branching out." So India's first film music quartet has ended up as a duo!


Yet another buzz in recent times was the buzz about Vishal and Shekhar splitting ways. Vishal went on Twitter to staunchly negate such rumours. But duos facing splitsville are common indeed, especially when poison can be slowly but lethally infused by so-called 'common friends' or relatives who shrewdly play one up against the other. Rarely do the partners themselves want to go their own ways-after all, it even makes bad business sense.


A Lucky 'Break'?

But there is one great exception to this rule: when Jeet-Pritam split after just three (flop) films, Pritam was quickly snatched up by top banners including Yash Raj Films, while Jeet (Gannguli), operating from Mumbai, rose to be a big name in Bengali films and has now returned to Hindi cinema. The two claim to remain great friends and even share the same publicist!


However, most such duos are not so lucky. Brothers Jatin-Lalit are the first big names that come to mind, whose careers collapsed after their split, which came after working with some of our biggest filmmakers and stars and giving the maximum number of enduring hits in the 1992 to 204 phase.


There are others-Nikhil and Vinay, Dilip and Sameer Sen (uncle and nephew) and above all Nadeem and Shravan who in their career, after Nadeem left India, are said to have split and rejoined and again split! As of now, Nadeem is doing Sameer Sippy's Ishq Forever-alone.


A career going nowhere is also a tragic reason for a split, like between Hindi cinema's first-ever duo, brothers Husnlal-Bhagatram (Pyar Ki Jeet, Badi Bahen and many more) who lost steam from the 1950s and did their last film Apsara in 1961. They parted ways and never composed again. Amar (Haldipur) and Utpal (Biswas) also split (they had just one hit, Shahenshah), but could never be successful independently, Utpal never doing any films at all.


When Titans Separate

The earth trembles when giants fall, it is said. And in film music, this happened when Shankar-Jaikishan (S-J) parted ways in 1964-1965, and when Laxmikant-Pyarelal almost split in 1991!


S-J were secure at the very top, Hindi cinema's most successful, prolific (for their peak era) and versatile composers from 1949 onwards. Barsaat, their debut, made them all-time cult composers who reinvented film music and set an enduring musical pattern that is being followed till date!). To their credit, the duo always continued to compose under the famous common baton, and after Jaikishan died in 1971, and Shankar's career slid despite Lal Patthar and Sanyasi, the maestro not only maintained the name but reportedly continued to give half his remuneration to Jaikishan's family!


Today, ardent S-J lovers insist on the unconvincing theory that they only worked separately due to "work pressure", which does not explain why Jaikishan, as per his bosom pal's Shammi Kapoor's far-more-reliable contention, was upset with Shankar and started drinking heavily and ultimately lost his life to cirrhosis.


Besides, the world knows that even when they were together, S and J would compose and arrange separately all through, while Jaikishan would do the background score! So why split later for this?
Assuming then that the split was true, the people said to be responsible could have been anyone from Sharda, Shanker's pet singer discovery (Sharda rubbished this buzz to me and stated that she was to record for Jaikishan before he died) to (reportedly again) Jaikishan's wife to discord on some other issue.


S and J also recorded songs separately for Andaz, Raj Kapoor's films and some more. And endorsing the antagonism that never came out in the open was the fact that Shankar charged as much for the Arzoo (1966) mujra, 'Jab Ishq Kahin Ho Jaata Hai' as Jaikishan did for all the remaining six hits he composed!


Storm in a Teacup

Finally, we take the interesting case of the almost-split duo, Laxmikant-Pyarelal (L-P), whom Shammi Kapoor once termed the "natural successors to Shankar-Jaikishan" and who were unopposed market leaders after S-J's decline from 1969 to 1993. In 1990, Pyarelal decided not to work with Laxmikant (said to be the compositional and marketing half) and the latter even recorded two or three songs with other arrangers as dates had been given: because at that time L-P were at the top, with over 15 assignments on hand!


Happily, they came back together in less than a week. But their split and reunion became a 'record' (pun intended) event. Not only did we see impassioned pleas by trade magazines and a lot of coverage in the media, but top filmmakers like Manoj Kumar, J. Om Prakash, Boney Kapoor and more came together and contributed to the reunion. Naushad and Lata Mangeshkar also were a part of the peace-making process.


L-P's superstardom at that point was also shown by the fact that Boney Kapoor and Dinesh Gandhi vowed to make pilgrimages if they reunited, while Laxmikant's sister-in-law and veteran artiste Bindu had vowed to feed 500 poor people if they came back together.


In this, Subhash Ghai and Laxmikant-Pyarelal themselves had the last word(s). Said Ghai to me later: "One common 'friend' was creating all the misunderstandings between them. But I exposed him!" Laxmikant dismissed the matter with a smile, saying, "Pyare was upset about something!" and Pyarelal remarked, "It was a stupid burst of tantrum on my part during a show abroad when I desperately wanted a glass of water and no one got it as everyone was paying attention to Laxmi! Otherwise, we had always decided that if anyone told us anything derogatory about the other partner, we would check with each other first!"


And that's how partnerships should be.
BOLLYWOOD NEWS
Catch us for latest Bollywood News, New Bollywood Movies update, Box office collection, New Movies Release , Bollywood News Hindi, Entertainment News, Bollywood News Today & upcoming movies 2020 and stay updated with latest hindi movies only on Bollywood Hungama.