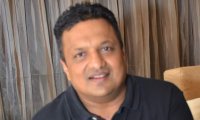 Post his fall out with Vivek Oberoi, he may still be waiting to cast an actor in an all important role of Dawood Ibrahim for his comeback film Shootout At Wadala. However, even as an announcement in this regard would soon be made, internally Sanjay has gone all out to storyboard his action drama well in advance. Though he has been often accused of lifting story ideas from the West, for his dream project, Sanjay is admittedly getting inspired by none less than Hollywood stalwarts Tony Scott and Ridley Scott.


>
"Sanjay has never shied away from looking Westwards for his action oriented films. He was inspired by Quentin Tarantino after watching Reservoir Dogs and adapted not just the film but even the story telling technique for Kaante. Similarly for Musafir, he closely studied Oliver Stone's style narration in U Turn though this time around, he Indianised it to a good degree. In fact from West, he soon jumped to East and was heavily influenced by Korean director Chan-wook Park as he took more than just the germ of Oldboy and presented it to Indian audience as Zinda", says a filmmaker who has closely followed Gupta.


For Shootout At Wadala, a film based in Mumbai of the late 70s and early 80s, he has already asked his technical crew to closely study the DVD of films made in the era gone by in order to get the milieu right. In fact he also admitted to hunting for director Zafar Hai who had captured (then) Bombay quite brilliantly in The Perfect Murder. While all such sources would help him form certain wallpaper to his underworld-cops crime saga, when it comes to the narrative of Shoot Out At Wadala, he is not shying away from getting inspired by Tony Scott and Ridley Scott.


Informs a close associate of Sanjay, "Tony Scott is a legend in the thriller genre. With films like Unstoppable, The Taking of Pelham 1 2 3, Deja Vu, Man on Fire and Enemy of the State under his belt, he is the best in the business. On the other hand, when it comes to sheer scale and landscape, Ridley Scott's work in Body of Lies, American Gangster, Kingdom of Heaven, Black Hawk Down and Gladiator is unmatchable. Since Shootout At Wadala is being made at a huge scale too, Sanjay has made a conscious call to 'learn' from these filmmakers' story telling technique."


When contacted, Sanjay Gupta wasn't really forthcoming about his 'inspirations'. Though he didn't deny the story, he added a spin to that by saying, "Why just Tony Scott and Ridley Scott? You seem to have left out Guy Ritchie. I am a huge fan of his style as well."


Seems like audience is all set for one inspired tale here!