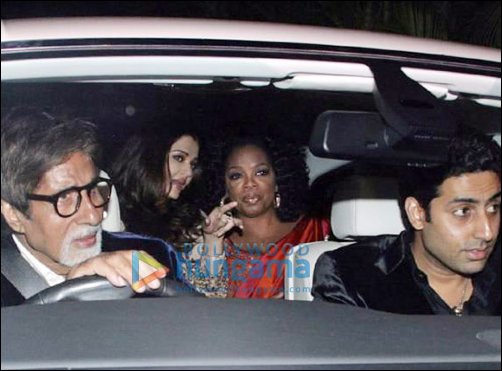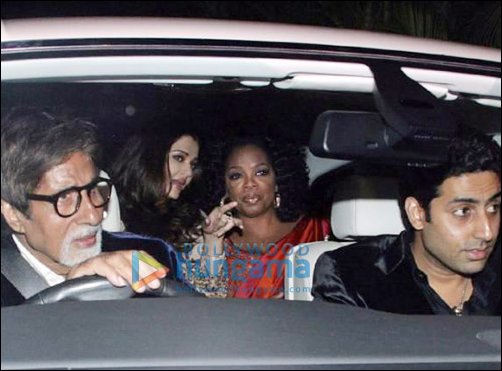 Touted as one of the most powerful women in the world, Oprah Winfrey has come to India to shoot her new show "Next Chapter", which will see Winfrey traveling around the world and interviewing celebrities.


The International talk show host landed in Mumbai yesterday in the morning at 8:30am. She checked into The Taj Mahal Palace at Colaba where she was greeted with a garland and aarti. She was welcomed with a special performance by nine visually-challenged boys aged 8-16 from Happy Home school, who sang the song Swagatam for her. Oprah was very touched with their performance.


Before heading to socialite Parmeshwar Godrej's house where a party was organised in her honour, the 57-year-old iconic chat show host visited Bachchan residence Jalsa in Juhu, to meet the Bachchans and Aishwarya's new born baby girl, fondly called as Beti B. She entered the house at 8:15 pm and left with the Bachchans for the party in their Rolls Royce, driven by superstar Amitabh Bachchan himself, at 9:30 pm. Big B tweeted, "The gracious Oprah Winfrey visits our home, to meet us and bless the baby..warm hearted, endearing ... drive her to party in her honor."


Dressed in a citrus orange and pink Tarun Tahiliani saree gifted to her by Aishwarya Rai Bachchan, with gold bangles, Oprah carried off the Indian look really well and looked extremely elegant.


Parmeshwar Godrej's party had a huge turnout of celebrities to meet Oprah. Businessmen like Anil Ambani with wife Tina, Nita and Mukesh Ambani, Subroto Roy, novelist Shobhaa De, jewellery designer Farah Ali Khan, B-town stars like Shah Rukh Khan, Hrithik Roshan, Priyanka Chopra, Preity Zinta, Shilpa Shetty with husband Raj Kundra, A R Rahman with his wife, Lara Dutta, Imran Khan with wife Avantika, Abhay Deol and Preeti Desai, Kunal Kapoor, Dino Morea, Kalki Koechlin, Kangna Ranaut, Sameera Reddy, attended the high profile party.


The media went crazy and out of control trying to capture Oprah and all the other celebrities, which turned out to be a nightmare for certain celebrities. Preity Zinta's car got damaged due to the media frenzy. After the party Preity's twitter post read, "Would have been a perfect evening until the press jumped all over the car n nearly got some1 killed n my car damaged n scratched.. Bachaao! Broken side mirrors, dents n scratches on the car. Who 2 blame n who 2 catch? Of course, if some 1 from press got hurt it would b breaking news"


Oprah is now expected to visit Jaipur to attend the Jaipur Literature Festival scheduled for later this month.


Video: Oprah Winfrey Meets Bollywood