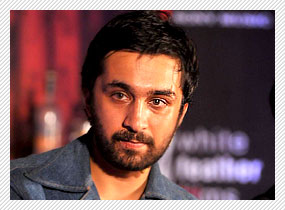 With a Goddess like mother and a father who is handsome and versatile, Siddhant Kapoor wants to know on a scale of one to ten how intimidating I found him in Shootout At Wadala. But I had a condition - the feedback will only be given over chai and pakodas at his Juhu residence. The chain of events occurred like this - Siddhant picks me up in his white 'beamer' and off we head to his stunning scenic house with the serene ocean view. It's the first time we meet but it doesn't quite seem like. He's a charmer, just like his father who opens the door and greets us with the dialogue of the day - "You should've informed me you'll are coming, I'd have switched on the air conditioning 48 hours back to cool the room", suggesting the mansion like size of the house. While Kapoor Jr freshens up, I was entertained by Kapoor Sr at his humorous best. It seemed like he was still in one of his iconic characters. But the moment Siddhant stepped in, he took over. It's a glorified summer evening, the sun sets, the masala chai arrives and Siddhant and I sit down for our long awaited chat. Siddhant's phone is buzzing every minute after he's come out of his first big blockbuster Shootout At Wadala that's collected Rs. 35.5 cr in 4 days, a record not many debutants can boast of and even though it was a star studded ensemble, the actor shined, and is keen to be taken seriously when it comes to his versatility. He is indeed a hybrid. On one hand he is a cheeky Mumbai boy, social, music maniac and up for a laugh. On the other, he is a rare true professional, smooth, unafraid to self-promote, a little closed about his love life. It's only when I listen back to the interview, I realise that, at one point I almost forgot he possesses something magical - he can tell you which perfume you were wearing when you first met him and which one you're wearing now. I also realise something more - the pakodas that he promised were missing with chai. That later, but first Siddhant Kapoor!


"Sanjay Gupta makes his men look stylish like Yash Chopra made his actresses look beautiful" – Siddhant Kapoor
You've become a cult figure with your Hindi swear word censored scene that's doing mad rounds on social networking sites.

It is, isn't it? I'll tell you how it all happened. I went to Sanjay Gupta's house and told him that I want to do this film. He made me sit down and we spoke for an hour or so. He then told me, "You will have to speak a swear word in Hindi umpteen number of times in one scene. Is that ok with you?" I did not hesitate because the character demanded it and was a natural process. The scene was inspired by the famous swear word in English from Osho's speech. Even the opening scene from Reservoir Dogs was an inspiration to our censored scene that has gone bonkers on the internet and social networking sites. This scene will be there with me forever. It's my favorite scene and it'll be one of my flashbacks before I die.


How elated are you to be a part of the history books in your first film?

I am a part of the history books and I am proud of that. I am proud that I made my debut with Shootout At Wadala. It's the only A certificate film that's opened with more than Rs.10 crore on day one of its release. John Abraham called me a superstar in the press, Anil Kapoor has praised my work, including the rest of the cast members and Sanjay Gupta vouched for me. Trade is also writing about me. I wanted my work to talk and my debut has resulted in just that. Sanjay Gupta makes his men look stylish like Yash Chopra made his actresses look beautiful.


From here on, will there be a change in the choice of films and roles you do?

I do not want to do too much commercial movies but also cinema with a message. People watch it for entertainment and to take good things out of it. Cinema is changing. Good acting is here to stay. I am happy that I have come at this time. I don't mind doing a ten to fifteen minute role if it's a strong script with stronger characters. I don't want to be on top in two to three films. I want to grow step by step.


How confident are you?

Today I have become very confident. My second film's going to Cannes Film Festival. I've given an outstanding performance in Anurag Kashyap's film. This I never thought of in my life. I thought I'd do a film with Sanjay Leela Bhansali, I'd try in Hollywood, etc. There were aspirations but today what I'm seeing in front of me, I am satisfied yet hungry for more.


You must've given auditions. Tell me one film you were that close to getting.

I've been auditioning for over three years and I've given about 50 to 60 auditions so far. I was almost about to get Mani Ratnam's Raavan. They were testing me for a couple of characters. I would've loved to work with him. He makes his film look so gorgeous. I had assisted Priyadarshan for a couple of years and he is a big fan of Mani sir. I always wanted to do my first film with Anurag Kashyap, I always wanted to work with Sanjay Gupta after watching Aatish. There are a lot of people I want to work with like Sujoy Ghosh, Sriram Raghavan and of course Karan Johar who is mixing it up so well with his co-productions with Balaji and Phantom. When two opposites merge it makes something interesting.


What about a merger with your father Shakti Kapoor?

I'd love to work with my father Shakti Kapoor. All my father's co-actors are making their comeback in movies and this is their second innings. But I'd like to believe that my father has started his third innings (laughs). He has done over 750 movies. He wants to work more. He always has this thing about entertaining people, be it on screen or off. You've had a dose of off screen entertainment from him I'm sure before I came in for the interview. He's always been a great father and a support system and I love him for that.


Tell me how are you putting up with your sister's success?

I am so proud of her. I am still celebrating her success in my head. I am feeling so bad that my film released one week after her film. I wanted her to taste more success. Both our films have done extremely well. Both have been appreciated in different ways by critics, trade and audiences. Shraddha is such a beautiful girl and has one of the most outstanding faces in Bollywood. I am predicting Shraddha to be a superstar in two and a half years to be honest. She'll be up in the top league. We live in the same house and I've seen how hard she works, how talented she is and how headstrong she is. I feel half of her talent is still left for her to be showcased on celluloid. Wait and watch!


Which is that one role you think you could've pulled it off easily?

I think Ranbir's role from Wake Up Sid. I am like that. Abhay Deol in Dev D, Shahid Kapoor's role in Kaminey. I relate to a lot of these characters. I relate to different characters. I hate cliché. I have grown up watching more foreign films than Hindi films and for me to pull off old school roles is a complete no-no.


What was so special about working with Ekta?

Ekta Kapoor is a rockstar. I would love to do all my films with Balaji if life permits me. Their team is so good. Their team is so versatile that anyone can do a job different from what they are doing or told to do. Hats off to Ekta for the trust she puts in her team. From the film's subjects she chooses, from the kind of actors she casts, from the kind of warmth she has towards her colleagues. I'd give this film only to two people - Sanjay Gupta and Ekta Kapoor.
BOLLYWOOD NEWS - LIVE UPDATES
Catch us for latest Bollywood News, New Bollywood Movies update, Box office collection, New Movies Release , Bollywood News Hindi, Entertainment News, Bollywood Live News Today & upcoming movies 2022 and stay updated with latest hindi movies only on Bollywood Hungama.