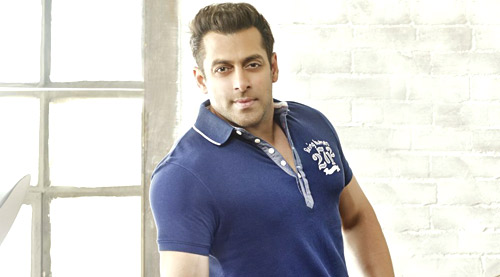 Though he hates it, Salman Khan never ceases to be in the news. He is a simmering bundle of contradictions. There's the Salman who kept me awake till 3 in the morning with his rather strange antics when I met him for the first time. Then there's the other Salman who went down from my hotel room at that unearthly hour to counsel Abhishek Bachchan on matters of the heart. At the end of the conversation he took off his Rolex wristwatch and gave it to Abhishek as a friendship band.

Extremely generous, Salman Khan turns livid when provoked and pushed into a corner. He once narrated an incident to me - this was when we were on speaking terms - where at a crowded restaurant some guys began heckling him by calling him unflattering names. Salman Khan tried to ignore them as long as he could. Then he blew up.

That's exactly what Salman is expected to do. Most of the time he doesn't disappoint his fans. I remember once I was at a restaurant with Salman (the same one where he had been heckled) when suddenly he began banging on the toilet door. Everyone in the restaurant just stopped eating/drinking/dancing and stared to see the inevitable fight.

Fortunately Zayed Khan emerged from behind the door. When he saw who was creating the ruckus he embraced Salman Khan like a long-lost buddy.

Salman is essentially a child who needs to be noticed constantly. All the time he unconsciously ends up doing things that attract attention. Most of the time he doesn't realize where his attention-seeking takes him. It could be to Aishwarya Rai's doorstep where at the time of their friendship, he pounded his hands to a bloody pulp on her door when she refused to let him in.

Or it could be from the backseat of Kareena Kapoor's car to the frontseat. There he was in the backseat with my friends Sanjay Leela Bhansali and Kareena while I seethed in the front seat next to the driver driven to despair by his antics I was trying to ignore him. Salman couldn't take that. To my horror he jumped from the back to the front seat straight into my lap as a bad cover version of 'Neele Neele Ambar Par' played on the car's stereo deck. Just because Salman Khan loved the song, we had to hear it over and over again.

Salman Khan has to get what he wants, go where he wants, even if a 'No Entry' board stares him frostily in his chiseled face. He'll ignore every warning sign and head first for the place he's most unwanted.

More than a film actor Salman sees himself as a rock star. He loves to be on stage while thousands of fans cheer from the audience. During that moment his most intimate infantile fantasy-of the child who climbs the parapet to get Mom to come running-is fully realized.


At home he's a wonderful son, not just to his biological mother but also to 'Helen Aunty', the woman whom his father married. The Khans run a very liberal household. Islam, Hinduism and Christianity have a free passage. It's a large open house where unexpected guests are always expected...and welcome.

Unlike the two other Khan superstars who haven't known proper parental guidance (Shah Rukh lost both his parents at a young age and Aamir couldn't see eye-to-eye with his father) Salman's familial background is as normal as it gets. Contradictorily, the rebellious streak shows up in his behaviour all the time.

Whether on screen or off it, Salman Khan opts for the maximum-attention mode of functioning. If he's known to get physically aggressive with his directors (Satish Kaushik and Puneet Isaar who worked on his last 2 films will ouch....sorry vouch for this) he's also known to go out of his way to accommodate filmmakers.

Shah Rukh Khan was supposed to play Mr Bachchan's son in Ravi Chopra's Baghban. When he backed out because of his back problem, Salman sportingly stepped in. And now he's Amitabh Bachchan's (AB) son in Chopra's Baabul.

AB is full of praise for Salman. "Salman is God's child. Very misunderstood, but has a heart of gold. Like Sanju (Dutt), Salman has a penchant for getting into trouble. But he means well, and is extremely kind-hearted."

Revathi in whose Phir Milenge Salman Khan played a supporting role to Shilpa Shetty will also vouch for the kind heart. Salman not only agreed to play a supporting role, but also refused to charge any money from Revathy who was his co-star in one of his earliest films Love.

So will the real Salman Khan please stand up? Is he an enfant terrible or a restless child with a heart of gold? Salman often says and does things which he doesn't mean. His naked aversion to the press doesn't add to his popularity. But ask Salman if he cares. He would rather be a rock star than a rock steady movie star with 'proper' press and values to match.

"The press didn't make my career. So how can they unmake me?" reasons Salman Khan.

But will he come out strong from his current situation is what one waits to see.
BOLLYWOOD NEWS
Catch us for latest Bollywood News, New Bollywood Movies update, Box office collection, New Movies Release , Bollywood News Hindi, Entertainment News, Bollywood News Today & upcoming movies 2020 and stay updated with latest hindi movies only on Bollywood Hungama.