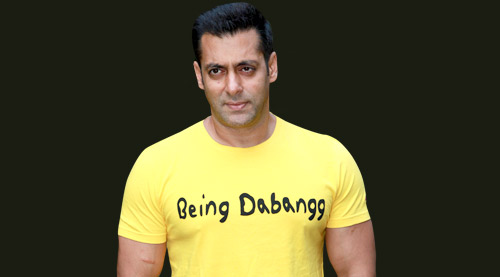 Whether one is a co-star or a media person, meeting a high-profile celebrity for the first time has its suspenseful element as well as mystique. What will be our personal perspective of someone famous, with all the images created by the media and the celeb's films, and after interactions with associates about him or her, not to forget the celeb's reputation?



I first met Salman Khan 15 years after I started out as an active film journalist, and the interesting coincidence hits me now that the first person I ever interviewed was the only other talent (besides Salman) who hit big-time with the actor's lead debut, Maine Pyar Kiya-his music director Raamlaxman. And even more amusing, the film for which I first met the actor was Maine Pyar Kyun Kiya!



My first mental imprint is of a nonchalant Salman lighting a cigarette at Mehboob Studios: a camera clicked, and he immediately covered the cigarette with his other hand and admonished the man, "This is a bad habit! I cannot set a bad example just because I am slave to this habit! So, please do not print photographs of me smoking!"



Years later, speaking on the new No Smoking diktat in movies, he told me, "Stars should not be seen smoking in public. We do have an impact on the people. I have no right to spoil anyone else's health just because I personally am willing to face the consequences of my addiction."


In the same first interview, his mischievous sense of humour surfaced when I asked him about his 17 year journey in cinema. With a deadpan expression, he asked, "Has it really been 17 years since I began shooting? Yeah, guess that's true - my hairline has receded and my waistline has increased!"



Another example of his humour in a later meeting was on mentoring new talent in all fields, especially actors, like Hrithik Roshan, Arjun Kapoor and Varun Dhawan. He quipped, "Oh yeah, yeah, I want competition for myself!"



A third example: why did he never play a super-hero? "My super-hero is Sal-Man, not Super-Man or Spider-Man!" he said, and roared with laughter.



But Salman knows how to laugh at himself. "I do not have any serious knowledge of acting!" he stated once. And he denied not doing any tragedies in his career by pointing out how films like Hello Brother had become tragedies because no one except his family wanted to watch them!



Role Play


In about five interviews (one done on phone), Salman came across as a man determined to live up to the brat image, like so many before him. He has probably played this role with élan in all his public life, secure in the knowledge that his family, close friends and associates know the real Salman. I do not know the man closely, so with me, the veneer was never off.



Yes, there were times when the real, ardent Salman peeped out momentarily, like during our meeting in 2012 at the time of Ek Tha Tiger at Yash Raj Studios, when I asked him if he had any hero in real life, and what did a hero mean to him?


"Anyone who does small, extraordinary things that others do not is a hero in my eyes," he had replied. "Anyone who does not consider doing the right things as embarrassing is a hero for me. Like someone who removes the gravel dumped by the roadside, replaces the cover of an open manhole, prevents a thief from escaping with a stolen street-lamp and respects ladies and seniors and shows it. They are all heroes to me."


He felt that the greatest villains are those who silently watch a crime being perpetrated out of vested interests. "They are the most ghatiya (loathsome) people, like the television crew that watched a rape happen but did not call the cops or go to help."


What did patriotism mean to him? "For me, it is about thinking what you can do for the country, not about what others are not doing!" he declared firmly. "I run an NGO, the Salman Khan Being Human Foundation, and I know exactly what problems people come to us with for help. But things are very disheartening today. The government is levying income-taxes and so many others, but why are we not seeing the benefits of the crores of money that they collect? I have been honestly paying huge amounts in tax for more than 20 years."


Salman continued, "Why do we pay taxes? Isn't it so that the government can use the money to help the underprivileged get a decent lifestyle? Every Indian deserves a life of dignity - the basic necessities of roti, kapada, makaan, bijli (electricity) and paani (water supply). Education is a very distant dream for so many, 65 years after Independence, but even these five basic needs are not attended. Every morning when I leave home, I can see beggars. It's enough to make one's blood boil. And sometimes I feel…."


With this, Salman stopped and asked me whether I knew what he wanted to say. Hazarding a guess, I told him, "That we were better off during British rule?" He gave a smile, strode the distance between us and hugged me, stating "Exactly!"


Rs. 10 Versus a Crore!


That Salman Khan inspires great affection in his associates is well-known. And everyone, we are sure, must have valid reasons for this. Preity Zinta recalls with affection how he did his cameo in her own production Ishqk In Paris, a kind of repayment for her cameo in his home production Main Aur Mrs Khanna. Hema Malini recalls how he himself offered his services for her film that attempted to re-launch Esha Deol, Tell Me O Kkhuda. "I made him do a song cameo," said the actress.



Even yesteryear actress Sadhana stated, "I am a fan of all the three Khans, but Salman is my favourite for being larger-than-life like the heroes of my times-they were stars who looked like heroes!" Recently, Rani Mukerji stated that "Salman is a rock-star. When he arrives, eyes turn automatically towards him. He has 'star' written all around him. Other stars analyze trends and adapt to them, but Salman decides them and sets them!"


Even his father Salim Khan says, "There are so many times jab ussne dosti mein film kar li (accepted films to oblige friends), or did films because someone told him a sob story. He has done a record number of guest roles that did not save the films but only added flops to his name, because the moment he came in for a cameo that needed a few days' work it was projected as a Salman Khan film, and that disappointed audiences."


The senior Khan admitted, "I have a wonderfully healthy and friendly relationship with my children, though with Salman, I have to respect his huge standing and tweak my paternal approach to him while remaining an objective father!"


And it was not really a surprise when Chandra Barot, the director of the original Don co-written by Salim Khan narrated, "My son wanted a two-wheeler, and I was apprehensive for his safety and could afford to buy him a car. When we went to Salim-saab's house for a festival, I told Salman to persuade my son against buying a bike. While talking, Salman told him, 'Your daddy would take all of us as kids for a drive in his red convertible car at the time of Don. He would then give each of us ten rupees to have ice-cream, and in those days, the costliest one would cost Rs 2.50!' A man who earns in crores and was a kid of only 11 or 12 then, still remembered the value of ten rupees!"


Salman on Himself


So how has he learnt life's lessons? "I have learnt that everything isn't what you think it is. Every time you think you know the answers, or everything about something-God whacks you!"


But he also describes himself thus: "You keep pushing me down every time, and I will stand up again!"


And we hope he believes in that even now.
BOLLYWOOD NEWS
Catch us for latest Bollywood News, New Bollywood Movies update, Box office collection, New Movies Release , Bollywood News Hindi, Entertainment News, Bollywood News Today & upcoming movies 2020 and stay updated with latest hindi movies only on Bollywood Hungama.