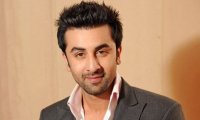 November 2007, 4 Diwalis ago, a young, lanky actor made his big Bollywood debut in Sanjay Leela Bhansali's Saawariya. Even though the film tanked at the B.O., this young boy got appreciated for his screen presence and acting prowess by one and all. Today as we come close to Diwali 2011, this young boy is one of the hottest and most sought after actors of Bollywood. He has proved his potential with films such as Wake Up Sid, Rocket Singh-Salesman of the Year, Raajneeti, & Ajab Prem Ki Ghazab Kahani and is now rightfully playing the lead role in a film aptly titled Rockstar. He is none other than Ranbir Kapoor. Bollywood Hungama's Nikhil Ramsubramaniam caught up with Ranbir at his palatial bungalow Krishna Raj where the actor was in a relaxed mood and spoke about his character Janardhan Jakhad, his experience with Imtiaz Ali, his debutant co-star-the beautiful Nargis Fakhri, sharing screen space with his favourite Shammi dadaji and of course those magical music sittings with A.R.Rahman. Read on…
What was your first reaction when you were offered Rockstar?
Well Rockstar wasn't directly offered to me. There is a quite an interesting back-story behind it. When I was about to start shooting for Saawariya, one day me and my friend went out driving and discussing movies in general. I remember Rockstar was being made with a different actor and by a different production house at that point of time. My friend told me this one line description of the film which is basically a journey of a musician who becomes an iconic Rockstar only after her suffers a heartbreak. I really liked the story and was waiting for the film to be made. Cut to 3 years later, Imtiaz came to me with another film. While discussing that film, I asked him, "What happened to Rockstar which you were supposed to make?" He said there were some problems with the budget and script etc. 2 months later I got a call from him and he said that he had gone back to the drawing board, had fleshed out the script in detail and was now keen to make Rockstar with me. So it was like a dream come true moment for me.
You play Janardhan Jakhad who later becomes Jordan the Rockstar. Could you tell us more about the character?
The story starts off with Janardhan Jakhad's character who is bit of a village bum, a bit of an idiot. He lives in Pitampura and studies at Hindu College. He sings, plays the guitar and wants to become a Rockstar but doesn't quite know how to go about things. He is quite frustrated as everything that he churns out is eventually rejected. One day someone tells him that you will never be able to make great music unless you have suffered a heartbreak. He takes this advice very seriously and starts hitting on the hottest girl in college trying to make her break his heart. In the process, they end up becoming friends and it's their love story which spans almost 10 years. During the course of this how he grows as a musician and ends up becoming Jordan- the iconic Rockstar forms the crux of the story
Is the film inspired from the life and times of legendary rocker Jim Morrison?
Not at all… Imtiaz Ali is a very original writer. He is one of the finest writers we have in our industry. His characters are very rooted, very Indian. Janardhan Jakhad has a poster of Jim Morrison in his room but that's about it. He even says that he wants to be like him one day so Morrison is like a benchmark for him. But Jakhad's journey, course and experience is completely different from that of Jim Morrison.
Your look and get-up in the film is quite different from that of a conventional Rockstar. What do you have to say about that?
Firstly, the Rockstar title in this case cannot be taken too literally. This is not your typical head-banging kind of a Rockstar. He does become an iconic Rockstar but to become that person he has to go through a life changing journey to reach that level of greatness. So this film is more of his journey and love story.
You have worked with most of the leading actresses (Deepika, Priyanka, Katrina, Sonam). How was it working with a rank newcomer like Nargis Fakhri?
Well...it didn't feel like I was working with a rank newcomer. Since Nargis was new to the craft of acting, she had to be in the moment and go through the emotions. But after I see her performance now, I am shocked. It's such a finely nuanced performance that I don't feel as if it's her first film.
Is your look in the film modeled on any particular iconic Rockstar?
We didn't base the look on any one particular Rockstar as in our country we don't have really have many iconic Rockstars. We just wanted to stay true to the character. He is from Pitampura so in the beginning of the film, you see him wearing these tight jeans, tight sweaters and silk fabric shirts. As the film progresses, the character is exposed to various cultures of places like Kashmir, Prague and Verona and somewhere it starts getting reflected in his dressing sense as well. His physical appearance has really been worked upon by Aki Narula, Imtiaz and Aalim Hakim. It all goes very seamlessly with the character and the narrative of the film.
How has been the experience of working with Imtiaz Ali?
We all know Imtiaz is one the most recognized directors in our industry. Beyond that I think he is one the finest human beings I have met. His knowledge about Indian literature, culture, poetry, history is so profound that it translates on screen beautifully. He also understands the complexities of relationships like very few do. He is just a great guy. As a director he was generous to share his personal experiences so that I can use bits and pieces of that as well to fine tune the character. Everybody on the film wanted to give their best shot because Imtiaz has really motivated us.
Rockstar is also extra-special for you as it gave you a chance to share screen space with the legendary icon- late Mr. Shammi Kapoor. Take us through that experience…
Firstly when you are making a film called Rockstar, it would be gross injustice if you didn't have the original Rockstar in the film. Shammi Kapoor is the original Rockstar of our industry. We wanted someone in a special appearance for the character of an ustad, a shehnai player. We wanted someone who could give the character a lot of dignity, grace and a certain presence. I don't think anyone else was more apt than Mr.Shammi Kapoor. In spite of achieving so much, he still took his role seriously and was like a little child on the sets. He used to practice the shehnai to make it look as authentic as possible and even worked hard on his lines which was really amazing. I clearly remember a day before shoot he called me and was a bit worried if he would be able to pull it off at this age. I told him, "Don't worry Shammi dadaji, we all will take care of you and will have lots of fun shooting for the film." When I put the phone down, I realized that I was giving assurance to a legend like Shammi Kapoor. Such is the quality of the legendary actor; he is humble beyond words and is just a great artist and left us with a lot of love and dignity.
Not many films about Rockstars have been made in India…the only one which comes to mind instantly is Rock On. Are you guys wary of comparisons with Rock On?
Not at all… like I said it's a different film. Rock On was about a group of friends forming a band. Rockstar is one man's journey and is primarily a love story. It's a very Hindi film…it's not trying to be a wannabe kind of a film. When you see the film, you will realize it that there is no similarity to Rock On or any other film for that matter.
The film has music by the great A.R.Rahman. You were part of the music sittings too with Rahman. How was that experience?

Rockstar is a story about a musician so it was very important have a talent like Mr.Rahman who would add a lot of depth to the character not just superficially but by also taking the narrative forward. I was lucky enough to be present at the music sittings with Mr. Rahman and got to see him work from close quarters. It was really inspiring to see a true artist like Mr.Rahman whilst at work. Just to see him so devoid of all the superficiality and the frills that get attached to his name is simply magnificent. He is dedicated and passionate towards his work beyond words. He still shows child like excitement while at work and is always open to criticism. In fact he hates it when people compliment him, he is not somebody who has 'Yes' people around him, he works in solitude and that's why he is what he is. He has been constantly giving us great music and has taken Indian music worldwide. It was my honour and privilege to be alongside a legend like Mr.A.R.Rahman during the making of Rockstar.
Mohit Chauhan has been chosen as your voice in the film. Considering Mohit is known more for his soft, romantic numbers, do you think it's an apt choice?
Imtiaz was very clear to have one uniform voice in order to stay true to the character. I think it was my disadvantage that I can't sing. Both he and Mr. Rahman thought Mohit Chauhan was the best. I agree Mohit has been known more for his soft romantic songs but the way he has reinvented himself and pushed the envelope in this album is simply outstanding. I hope that when you see the film you identify with the character with the voice.
Rockstar has been shot at various locations from Mumbai to Delhi to Prague. Which has been your most memorable location?
We shot in Mumbai, Delhi, Dharamsala, Kashmir, Hyderabad, Kolkata, Prague and Verona in Italy so because of this film I got to see many places. I think my favourite location was Kashmir. I used to go there quite a lot as a child with my dad when he used to shoot movies. But now I went there after almost 18 years and it was just amazing. The people are sweet, the valleys are beautiful and I don't think there is better food than Kashmiri food anywhere in the world. I hope the tourism really catches on in Kashmir as it's indeed 'Heaven on Earth'.
Finally after Rockstar, what are your forthcoming films?
Right now, I am only working on Barfee directed by Anurag Basu. My co-stars in the film are Priyanka Chopra and Ileana D'cruz. Barfee is a fun, happy go lucky, children friendly film. People have a wrong perception that it's a serious film but it's not true at all. The backdrop is of a love story and I feel that children will really like the film. The film is 50% complete. Post that I start work on Ayan Mukerji's film Yeh Jawani Hai Deewani where I am paired with Deepika. I have consciously not taken anything after that as I want to wait and watch how Rockstar is received by the audience. But yes I will be soon signing a couple of films as I want to take up more work.
There is buzz that you have been offered the film based on Chetan Bhagat's 2 States to be now made by Sajid Nadiadwala and Karan Johar. Is it true?
Well…it's on the anvil but like I said till Rockstar releases I am not hearing any scripts. Having said that, it's an exciting project. I really liked Chetan Bhagat's book but have yet to read the adapted screenplay. I hope something comes out of it.
BOLLYWOOD NEWS
Catch us for latest Bollywood News, New Bollywood Movies update, Box office collection, New Movies Release , Bollywood News Hindi, Entertainment News, Bollywood News Today & upcoming movies 2020 and stay updated with latest hindi movies only on Bollywood Hungama.