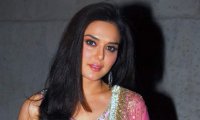 The other day I read about this pretty actress who started off with a bang a decade ago courtesy two back to back blockbusters, only to find herself struggling to kick-start a new film of her own. Out of sight though trying hard not to be out of mind, there are many actresses out there who have been good, made a promising start, found a good bouquet of films coming their way as well but somehow losing their way eventually. Call it misfortune, some bad decisions or carelessness at some point in life, the fact remains that for many such women out there it has been an uphill journey that seems really out of reach.


In this week's 'Reflections', let's explore the journey of these actresses who could have been far more visible than what they are today.


The ones who are still trying it out


The fact is that there aren't many out there who are actively wishing for a comeback. In fact most of the write-ups that one sees around their 'expected comebacks' are either PR generated or plain speculative with no facts forming any basis whatsoever. A select few who have been actively making an effort are Preity Zinta, Ameesha Patel and to an extent Esha Deol.


Preity's last role in a commercial outing was close to four years back when she did Jhoom Barabar Jhoom (2007). Ever since then she has been largely seen in offbeat affairs like The Last Lear and Videsh - Heaven On Earth with a small appearance in Heroes. Yes, the lady has been busy with IPL but that hasn't extinguished the fire in her to make a huge comeback on the big screen.


Film(s) in hand: (Rumoured) Jai Ramji


Ameesha Patel can well be accused of committing professional Hara Kiri for playing second fiddle to her junior Priyanka Chopra (Aap Ki Khatir), being one of the six leading ladies in Honeymoon Travels Pvt. Ltd, again playing second fiddle to Vidya Balan in Bhool Bhulaiyaa and final nail in the coffin being Thoda Pyaar Thoda Magic where even her 'Lazy Lamhe' couldn't salvage her Bollywood positioning.


Film(s) in hand: (Both stuck) Chatur Singh Two Star, Run Bhola Run


As for Esha Deol, she just let it all slip away after delivering the best performance of her career in Darling. Roles in films like One Two Three and Hijack that followed after that are a testimony to that. No wonder it has been over three years since one saw her and it is still uncertain whether her Tell Me Oh Khuda would ever see the light of the day.


Film(s) in hand: Tell Me Oh Khuda


The ones who may just say goodbye


Then there are a few actresses who have not yet called quits even though offers have more or less dried up. Known as an actress of calibre, Sushmita Sen could well have scaled further heights after showing flashes of brilliance in her intermittent outings. However, when it comes to her, there is always a thought that the lady chooses to do things on her own will. Also, the accusation of her not being really serious about Bollywood as the be-all for her has also come in her way when it comes to be being a go-getter.


Resultantly, when the world would have thought that post Main Hoon Naa with Shah Rukh Khan it was a journey up for Sushmita, it wasn't quite the case with back to back flops (Kisna, Bewafaa, Main Aisa Hi Hoon, Chingari, Zindaggi Rocks). Yes, she had a success in Maine Pyaar Kyun Kiya with Salman Khan but that wasn't enough to salvage her position that only slipped further with choices like Ram Gopal Varma Ki Aag, Karma Aur Holi and Dulha Mil Gaya. As for her comic outings like Do Knot Disturb and No Problem that anyways had problems of their own to contend, Sushmita wasn't no less the worry factor. Today with not a single film in hand, the lady seems to have almost waved films goodbye.


Film(s) in hand: None


One wonders whether Amrita Rao is also following the same route if news of her getting ready to walk the aisles is any indication. She may well be thinking of doing so if response to her comeback outing Love U... Mr. Kalakaar! is any indication. After being off the scene for two years and leaving behind the twin disappointment of Short Kut - The Con Is On and Victory, the Ishq Vishk deserved better. However, box office is telling a different tale and with not even a single film in the pipeline, it seems quite improbable that Amrita would be gearing up for another comeback soon.


Film(s) in hand: None


The ones who may just throw a surprise


There are few actresses out there who are pretty much aware of the fact that playing a conventional heroine is a definite no-no for them. They have moved out of the phase in which a few 'comeback seeking' actresses are currently struggling. They are neither too young to be seen romancing the boys nor too old to even play an elderly sister. They are women like Karisma Kapoor, Urmila Matondkar, Raveena Tandon (interestingly all three had made their debut in 1991), Shilpa Shetty (1993) and Tabu (1994).


Having first made an impression close to a couple of decades ago, none of these five actresses has had a film of theirs release for ages now. Karisma waved goodbye to films with a lesser known Baaz (2003) as her swan song though Mere Jeevan Saathi, a delayed release, arrived later (in 2006). Rest assured the lady can walk into a film the day she wants to. After all amongst the bunch of ladies around who are on the wrong side of the 30s, she is the most capable of creating frenzy.


Film(s) in hand: None


Urmila's last 'heroine' role was in Ek Hasina Thi (2004) though she did a few offbeat films after that. She made a comeback of sorts as a vamp in Karzzzz (2008) but that turned out to be an anti-climax. As of today she neither has a single film in hand nor does she seem keen either to pick up one.


Film(s) in hand: (Stuck) Non Stop Fun


The one who is making a comeback though is Raveena Tandon who would be seen in Bbuddah after a seven years hiatus with a box office flop Dobara (2004) being her last release.


Film(s) in hand: Bbuddah


Shilpa Shetty at least quit with a head high as her Apne and Life In A... Metro were successful while her 'Shut Up And Dance' act in Dostana is still making people groove to it's tune. No wonder she seems least bothered about making a comeback even as her two of her films (The Man, The Desire) lie incomplete in the cans.


Film(s) in hand: (Stuck) The Man, The Desire


Ditto for Tabu who played a leading lady opposite none other than Mr. Bachchan in Cheeni Kum (2007) and has been wary ever since then to pick up any film which is small. Though it is hard to explain what made her go for the 'bhabhi' part in Toh Baat Pakki, one can be rest assured that the lady would be willing to give her nod of approval if a script is really worthwhile. Though there are whispers that she has actually done that quite recently with Kabeer Kaushik's Maximum, one hopes it turns out to be THE film that was worth the wait for her.


Film(s) in hand: (Rumored) Maximum, (Stuck) Banda Yeh Bindaas Hai


The ones who are forever in demand


And then there are Sridevi and Madhuri Dixit who never went out of fashion and have forever been in demand. Tempted by offers coming to them practically every month, if not a week, they have been resisting lest they indulge in deja vu.


Madhuri Dixit would know as she has suffered this earlier in a false attempt that went by the name of Aaja Nachle. It was a comeback that was not to be and it disturbed Madhuri to such an extent that today she touches anything that comes to her with a barge pole. Though she is said to be in talks with filmmaker during every India visit of hers, there aren't any concrete plans yet.
Film(s) in hand: None


As for Sridevi, her comeback talks for over half a decade have become so routine that one is suspicious even when something with a semblance of an announcement is made. Though it was recently being said that she was supposed to be working in a film directed by first timer Gauri (wife of R Balki of Cheeni Kum fame), seems like that was a false call as well with the lady herself not quite acknowledging the claims. In any case there have been quite a few paper announcements being made earlier, the one leading the bunch being the sequel for Mr. India. With her last big commercial film being Judaai that had released close to a decade and a half ago and forgetting the stuck-in-the-cans arrival of Meri Biwi Ka Jawab Nahin a few years down the line, one just hopes that the wait doesn't extend any further.


Film(s) in hand: None
BOLLYWOOD NEWS
Catch us for latest Bollywood News, New Bollywood Movies update, Box office collection, New Movies Release , Bollywood News Hindi, Entertainment News, Bollywood News Today & upcoming movies 2020 and stay updated with latest hindi movies only on Bollywood Hungama.