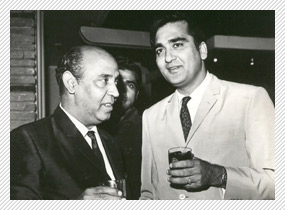 Fifty years at work; over 200 films as lyricist; and an incredible 100-plus as dialogue writer, most of which saw him also write the very foundation of the film - the screenplay. And a huge track record of hits in each capacity. On September 23, 2012, it will be 25 years since Rajendra Duggal, known to the world as Rajendra Krishan, left the film world much poorer by his exit.
How many of us do not know his classics, or watch and sing his creations even today? Check out a few perennial pearls from his treasury: 'Chup Chup Khade Ho' (Badi Behen), 'Gore Gore O Baanke Chhore' (Samadhi), 'Bholi Surat Dil Ke Khote' and 'Shola Jo Bhadke' (Albela), 'Eena Meena Deeka' (Aasha), 'Aplam Chaplam' (Azaad), 'Man Dole Mera Tan Dole' (Nagin), 'Yeh Zindagi Ussiki Hai' (Anarkali), 'Chal Udd Jaa Re Panchhi' (Bhabhi) and 'Yun Hasraton Ke Daag' (Adalat) in the '40s and '50s and 'Woh Bhooli Dastaan' (Sanjog), 'O Meri Maina' (Pyar Kiye Jaa), 'Mere Saamnewali Khidki Mein' (Padosan), 'Govinda Aala Re' (Bluffmaster), 'Jahaan Daal Daal Par' (Sikander-E-Azam), 'Phir Wohi Shaam' (Jahan Ara), 'Itna Na Mujhse Tu Pyar Badha' (Chhaya), 'Aa Jaan-E-Jaan' (Intequam) and 'Aaj Ki Mulaqaat Bas Itni' (Bharosa) in the '60s. And that's only a select portion of his crème-de-la-crème.
Go into the '70s and we find the ocean of film music richer by priceless pearls like 'Sukh Ke Sab Saathi' (Gopi), 'O Mere Raja' (Johny Mera Naam), 'Dal Roti Khaao' (Jwar Bhata), 'Pal Pal Dil Ke Paas' (Blackmail), 'Rafta Rafta' (Kahani Kismat Ki), 'Dekha Na Haaye Re Socha Na' (Bombay To Goa) and many more. Even in the '80s, when he had reduced his work, he still spun 'Pehli Pehli Baar Dekha Aisa Jalwa' (Silsila) and 'Sun Rubia' (Mard) , both for Amitabh Bachchan, among his few prestige assignments that had younger music makers like Shiv-Hari, Anu Malik and Anand-Milind.
Rajendra Krishan was a star among his fraternity. And yet he never tom-tommed about himself, or got the media to hype him when many lesser names even from those eras did! Very few of today's old music buffs recall his name, and not many from his peak-time even know what he looked like! But Rajendra Krishan lives on with and through his incredible volume of work that effortlessly gives him a rock-solid position among the top five greatest lyricists of all time, as well as among the biggest names in screenwriting.
"There was only one lyricist in this industry from the '40s to the '60s after whom producers, financiers, directors, composers and even stars ran as if he was a mega-star, just to get him to work with them, and that was Rajendra Krishan-ji!" And that, amazingly, is a quote from the son of one of Krishan's contemporaries!
At his peak, Krishan was called the King of Madras (Chennai's old name) - and with good reason too! The man whose first car came as an appreciative gift from his Badi Behen producer had a good knowledge of Tamil, which made him the obvious choice as scriptwriter for remakes into Hindi - a trend that was more rampant from the '50s to the '70s than it is today! The genius usually reworked these scripts and penned the Hindi dialogues with a pan-Indian appeal, and among such blockbusters were Nazrana, Rakhi (produced by South titan Sivaji Ganesan), Shaadi, Main Chup Rahungi, Waris, Gopi and of course the classic Pyar Kiye Jaa. Even in Mumbai, the master-writer scripted films like Albela, Nagin, Padosan, Bombay To Goa and others. His last film was Aag Ka Darya, whose audio was out in 1995, but the Dilip Kumar-Rekha film never could release in the theatres.
Though he never formed a prolific team with any specific composer, Krishan's most frequent association is said to be with Madan Mohan. But the man spun hits with generations of composers, from Husnlal-Bhagatram, Shyam Sunder and Anil Biswas to C.Ramachandra and later Hemant Kumar, Madan Mohan, S.D.Burman, Chitragupta, Ravi, Shanker-Jaikishan, Salil Chowdhury and finally Kalyanji-Anandji, R.D.Burman and Laxmikant-Pyarelal.
Says actress Sadhana, "He could write an immortal song in minutes, by itself or to a tune. But he never drummed up publicity through any journalist." Her filmmaker husband R.K.Nayyar and she never looked outside Krishan in their home productions or Nayyar's directorial ventures like Love In Simla, Aao Pyar Karen and Inteqam.
Krishan, for all his heavy literary exposure in his formative years, when he voraciously devoured the cream of Hindi and Urdu literature and poetry, kept his verse completely simple and yet pithy - the raison d'etre for the range and quantum of hits he spun out with such terrific speed.
The Chennai influence also made simplicity a compulsion, and his freelance approach and inherent sense of humour (which made possible his great rapport with funsters like Bhagwan, Mehmood and later I.S.Johar) lent Krishan's scripts, dialogues and lyrics a straightforward and lucid quality that adapted wonderfully into every genre of filmmaking from loud melodramas to love stories and comedies. He ranks among the trendsetters of simple, everyday phraseology in film lyrics, and depth and meaning pervaded Krishan's simplest verse. And who else could have written, 42 years ago, a song as socio-politically prophetic as 'Ramchandra Keh Gaye Siya Se Aisa Kalyug Aayega / Hans Chugega Daana Tinka, Kauwa Moti Khaayega' (Lord Ram predicted to Sita that an era would come when the swans would get to eat grains and sand while the crows would feast on pearls) in Gopi?
Philosophical gems, devotionals - mostly but not exclusively about Lord Krishna - lullabies, patriotic songs and every other genre including cabaret numbers - Krishan often wrote his most lasting songs in a matter of 15-20 minutes, and often on the back of any paper readily available - like a cigarette packet or even an unrolled stub! Ironically, since he did not always recall his flashes of inspirational genius, he lost so many invaluable gems because the paper pieces got misplaced!
However, what is chronicled in his immortal music is among the greatest single contributions to Hindi film sangeet. And they don't make them like Rajendra Krishan anymore.
BOLLYWOOD NEWS
Catch us for latest Bollywood News, New Bollywood Movies update, Box office collection, New Movies Release , Bollywood News Hindi, Entertainment News, Bollywood News Today & upcoming movies 2020 and stay updated with latest hindi movies only on Bollywood Hungama.