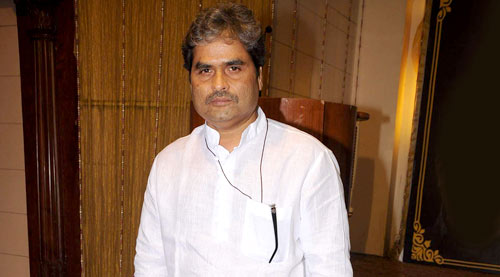 Your whodunit Rahasya has been released to terrific reviews. The film almost didn't get released?
If Vishal Bhardwaj and Arushi Talwar's parents had their way, my film would've never been released.

Manish, you are accusing Vishal Bhardwaj of trying to sabotage your film? Please explain?
Few people know that Rahasya has released after a back-breaking legal battle that I fought for 11 months at the Bombay High Court. I'd completed the film in Jan. 2014. In

Rahasya director accuses Vishal Bhardwaj of sabotage

February 2014, the Talwars (Aarushi's parents) filed a case against the film asking the Bombay High court for a stay order on the film. We stalled the release of the film at that time and

decided to get a clearance from court before we release the film. The court proceedings took time and many months crept by as I struggled in court to get the film released.

What did you do then?
In Sept. 2014 (8 months later) we finally got a go-ahead from the court but only to begin the publicity of the film. But as soon as we launched the trailer of the film and announced the

release date as January 30, 2015, the Talwars approached the high court alleging that we were attempting contempt of court. We explained to the high court that we have just begun

the publicity as the court gave us a go-ahead for the same. We shall release the film only subject to the court's verdict on the same. And, when the next hearing came up on January 19,

the court proceedings did not go in our favour. So we immediately pulled back all the advertising of the film. And we decided to postpone the release date. But on the next hearing, on

January 27, we won the case! And the judge passed an order in our favour allowing us to release the film. This left us with only 3 days to publicise the film (since we'd stopped the

publicity). Yet, we managed to release the film and it's gathering a good response.

Vishal Bhardwaj is known and respected as a fine filmmaker and artiste. Why accuse him?
Ironically, Vishal Bhardwaj is my favourite Indian filmmaker. I have loved most of his films starting right from Makdee and Maqbool. But you know how our industry

works. One's own gain is all that matters. The Aarushi murder case has been a hot topic in the media since 2008. "Bacha-bacha jaanta hai, Aarushi murder case ke baare mein...."

That makes it a very saleable commodity for filmmakers. Because the curiosity level is so high about the case that everyone will want to see a film based on the case. Vishal had been

planning to make a film on this case for a very long time. He had been visiting the Talwars' relatives, their lawyers and talking to them about the rights of their story. But I went ahead

and made my film in eight months flat and started gearing up to release the film. When the Talwars got wind of this, they filed a case against our film and Vishal supported them

because delaying our film was beneficial to him.
If your film was not based on the Aarushi Talwar case why
would they be bothered to spend so much time and energy in trying to stop your film?
Because there are some similarities. My film definitely revolves around the murder of a young girl where her father is the prime suspect for having killed her. This probably was
understood by Vishal and his director protege Meghna Gulzar as a premise very similar to their film's storyline. And perhaps, a film with such a storyline would hamper the exclusivity
and freshness of their film. The kind of revenues that they expect from their film makes the money spent on the litigation seem like a petty expense. Anyway, it's not Vishal who's
spending his own money. He's backed by financiers for whom Rs. 1 Cr. spent on litigation is a minuscule amount.
Even if your film was based on the Aarushi case why would Vishal Bhardwaj spend so much money to stall it? There can be two films on the same subject?
When there are multiple films made around similar subjects (especially if the subject is a real-life, famous or infamous person/persons), the one that releases first is the one that usually
does well or earns respect. The ones that follow are labeled as "Me too". Some years back, five films about Bhagat Singh were made at around the same time. Only the one that
released first starring Ajay Devgn did well. The rest of them tanked, including the one that starred Sunny Deol and Bobby Deol (it tanked even though Sunny Deol at that point in time
was a bigger heavyweight at the box office as compared to Ajay Devgn).
The Talwars took legal recourse to stop your film from release when you claim your film had nothing to do with Arushi?
A couple who've been in jail since the last six years, who were dentists earning a limited income, and - who have not been earning AT ALL for the last six years, where did they get the
resources to fight a high court case for 11 months? The makers of my film Rahasya had to spend Rs. 50 lakhs in fighting the case, towards lawyers' fees, etc. The Talwars had got
in the best lawyers in India, who charge a hefty fee per hearing. By a conservative estimate, the Talwars must have spent close to Rs. One Crore on this litigation. From where did they
get such resources?
You tell me?
Also, a couple who are accused of murder, are languishing in jail since six years, will they rather logically speaking spend their time, energy and resources in proving their own
innocence or will they waste their time, energy and limited resources in fighting a case against a fictitious film? I pondered about their motive for fighting this case so vehemently but it
just did not make sense to me. Because, despite any similarity that might exist, my film is not a depiction of their case at all.


So why were they desperate to stop you?
I learnt that the Talwars were backing another film titled 'Talwar' (now renamed as Nyyoda) being produced by Vishal Bhardwaj and funded by a major Media group that

planned to release this film and advertise it through their various publications, TV channels, etc. That's when everything fell in place in my mind like a jigsaw puzzle. And the Talwars'

cat was out of the bag. This case was nothing but a ploy to stall our film Rahaysa. The lawyers of the Talwars were being paid not by the Talwars but by those who had a financial

interest in that film Nyyoda.

What did they stand to gain by stopping your film?
This litigation against Rahasya was filed, continued and prolonged so that Nyyoda could release first and could take monetary advantage of the inherent hype about the

Aarushi murder case. It was a good business strategy. And the Talwars also stood to gain since the film Nyyoda portrays them as innocent and shows them as victims of a corrupt

and inefficient police and CBI.

You apparently had shown your film to Rajesh Talwar's sister-in-law Mrs Vandana Talwar?
After filing this case against my film Rahasya, the Talwars had asked me to show them the film. Since I had nothing to hide or fear, I held a screening of Rahasya for them.

But after seeing the film, Mrs. Vandana Talwar showed the producer's people two booklets that detailed their entire case from their point-of-view portraying them as innocent and

accusing the CBI and the police to have botched up the investigation and having let the real culprits go. Mrs. Vandana Talwar said to the producer's people - "Hum chahte hain ke koi

film-maker hamari asli kahani bataaye duniya ko..." But I declined since my film was already complete at that time. And my film's plot was completely different from the Talwars'

case.

Then what happened?
Soon after that, Mrs. Vandana Talwar went ahead and struck a deal with Vishal Bhardwaj and sold the rights of their family's story to Vishal Bhardwaj and their film 'Talwar' (now

renamed Nyyoda) began to roll. I learnt about this only recently when media reports about this film Nyyoda leaked out. Luckily for me, the honourable judges too

probably read these reports and comprehended the strategy played out by the Talwars with the help of Vishal Bhardwaj and the media group involved.

What is the lesson that you've learnt from this whole experience?
Nothing is what meets the eye. "Jo dikhta hai, voh hota nahin hai. Aur jo hota hai, woh dikhta nahin hai"
BOLLYWOOD NEWS - LIVE UPDATES
Catch us for latest Bollywood News, New Bollywood Movies update, Box office collection, New Movies Release , Bollywood News Hindi, Entertainment News, Bollywood Live News Today & Upcoming Movies 2023 and stay updated with latest hindi movies only on Bollywood Hungama.