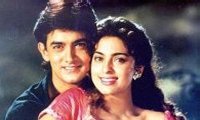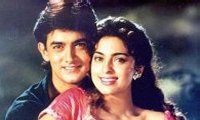 It was April 1988. An avalanche of violent films and cacophonous melodies had crashed onto Hindi cinema's smooth terrain, causing massive craters in family audience turnout at theatres. Nasir Husain Films, makers of feather-light family entertainers with great music since their debut 1961 film, Jab Pyar Kisise Hota Hai, seemed to be stagnating with flops like Zamaane Ko Dikhaana Hai and Manzil Manzil for the first time. New blood was the crying need of the hour. And on Friday 23, Qayamat Se Qayamat Tak hit the screen just like the life-saving prescription of an ace doctor - and movies and music were never the same again.


The right angle


Recognizing this eventuality, the box-office whizkid founder of the banner Nasir Husain decided that reinvention was imperative. Videocassettes had become a culture and the audience had to be lured back to the big screen with quality content if both cinema and its aesthetics had to survive. He was now planning a love story even as son Mansoor Khan was writing his to-be-debut film, Jo Jeeta Wohi Sikander.


Mansoor loved his father's script's basic idea and Nasir suddenly decided that young Mansoor helm the project, while... Sikander could be made later. The script was fine-tuned by the cinema-inclined youngsters in the family - Mansoor himself, his sister Nuzhat (now better known as Imran Khan's mother) and Nasir-saab's nephew Aamir Khan, who had been a child artiste in Nasir's Yaadon Ki Baraat and Aamir's father Tahir Husain's Madhosh and had done a small adult role in Ketan Mehta's Holi.


Aamir Khan, of course, was also aiming to take up acting, and the tradition of heroes debuting in love stories had been consolidated by hits like Bobby, Love Story, Ek Duuje Ke Liye, Betaab, Woh Saat Din and Hero. But a number of auditions were held with newcomers by Nasir and Mansoor and Aamir was offered the film by his uncle because nothing else worked out!


Since the 1966 Teesri Manzil, R.D.Burman had been a fixture with the banner, but in the '80s second half, the composer too was under a commercial cloud. The composer had known Mansoor since he was a tot, and the youngster, who had made a short film called Umberto to hone his craft, felt a tad uncomfortable about working with 'RD Uncle' in case he had a creative difference of opinion and could not dare to voice it with someone who had seen him as a kid! Youngsters Anand-Milind, then struggling to make it big, had worked on Umberto's music score and were signed up. However, the pillar of Nasir Husain's films since his debut directorial Tumsa Nahin Dekha (1957) - Majrooh Sultanpuri - was retained, though Majrooh was even older!


Explains Mansoor, "I always like to fix the tune first and thus am connected more intimately with the composer. After that, I leave the songwriting to him and the lyricist, so there was no intimate connection between Majrooh Uncle and me!"


And Anand-Milind, the sons of genius composer Chitragupta, lived up to the banner's reputation for immortal music. Gossamer melodies like 'Ghazab Ka Hai Din', 'Akele Hain To Kya Gham Hain' and 'Ae Mere Humsafar' (all duets by the long-struggling Alka Yagnik and Udit Narayan, both of whom got their decisive breakthroughs) and Alka's 4-liner, 'Kaahe Sataaye', connected instantly across ages and classes.


Of course, the leader of the pack at the charts was the zingy 'Papa Kehte Hain', on whose fluid notes Aamir Khan serenaded into the hallowed portals of instant stardom. The film established the last singer-actor collaboration of substance and depth - that of Aamir with Udit - and the thunderous success of the music heralded the return of melody with good lyrics and was a clarion call to the stalwarts that a new guard of composers and singers were set to take over.


A fresh take


"I liked the beginning of my father's script, but thought that I could add my own new take on a storyline inspired by Romeo And Juliet and similar stories even in Hindi films of lovers from warring families," says Mansoor Khan. "But unlike dad, I did not want a happy ending to the story, which would have been simplistic and unconvincing. The hatred was so intense that I had to show its futility with the death of the youngsters."


Mansoor, however, was very careful that he did not tread the standard path of death by violence or suicide, as his father's banner was traditionally associated with wholesome films. So it was a powerful twist of fate that killed the lovers. The climax was shot in both Mumbai and Ooty in the first shooting schedule - but written by Mansoor on location itself, with his father penning the incisive lines!


And if Aamir Khan was family, how did the filmmakers home in on Juhi? Well, the former Miss India had done a shampoo ad made by Mansoor's company Scan Media! Not many know that at that point of time, Mansoor was slated to do a serial, and had the actress in mind for that as well! The supporting cast was a mix of veterans from theater, television and cinema - Goga Kapoor, Viju Khote, Asha Sharma, Dalip Tahil and Ravindra Kapoor - with newcomers Raj Zutshi and Shehnaz.


Mansoor also went in for a fresh, young team of technicians, led by future award-winning cinematographer Kiran Deohans and editors Zafar Sultan and Dilip Kotalgi as well as art director Shibu.


Path-breaker


As always, path-breaking and trendsetting films break all existing rules, and so was the case with QSQT, as it is affectionately referred to even today. Filmed in Cinemascope, it was the first of six films in two years (Tezaab, Ram Lakhan, Tridev, Chandni, Maine Pyar Kiya) that lured families back to the big-screen thanks to its youthfulness, the wholesome blend of the entertainment and emotional quotients and the arrestingly filmed songs that could not be fully enjoyed in the ribbon-like appearance of a non-stereophonic small screen!


Besides proving the second biggest hit of 1988, QSQT won the National award for Best Popular Film offering Wholesome Entertainment and a slew of popular and smaller awards. Completing 50 weeks in the theatre, it had some truly interesting trivia to its credit - GenY star Imran Khan, Nuzhat's son, playing Aamir's character as a child, and Aamir's first wife Reena Dutta spotted fleetingly in the 'Papa Kehte Hain' song sequence. Reena and Aamir had been married even before QSQT was launched, but the actor never disclosed it as he felt that it would affect the box-office prospects of the film! And true enough, his newfound female fans were heartbroken both by his reel death and his real marriage!


Some films are meant to make destinies of individuals as well as cinema in a broader aspect. In this aspect, QSQT was a worthy member of an exclusive group that includes Barsaat, Mother India, Bobby, Zanjeer, Sholay and just a few more before its time.