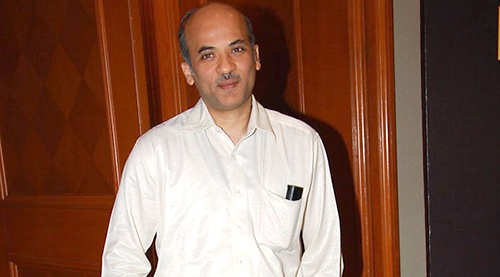 The very name of 'Sooraj Barjatya' has always been synonymous with clean, light hearted films that mirror Indian values and traditions. While Sooraj Barjatya has always been known to be a low-profile man, his works always speak superlatively about him.
Satish Sundaresan of Bollywood Hungama spoke to Sooraj about his new film Prem Ratan Dhan Payo, a film that will see the return of Salman Khan as Bollywood's most adored character 'Prem'.

Over to you, Sooraj ji...

To start with, what are you feeling now? Are you feeling nervous, excited or you are taking each day as it comes?
I think it's a little bit of all the three. There's always a fear as to what will be the audiences' reaction after seeing the film, because they are the ones who have come to see the film after paying for the tickets.

In a nutshell, what is Prem Ratan Dhan Paayo all about and what does it mean to you?
To me, Prem Ratan Dhan Paayo means unconditional love without wanting anything in return. And if I had to tell you the gist of the film, in a nutshell, the film is about one boy named 'Prem' who comes and changes lives in a family who is wanting the same love, but were asking in various other ways.

We all know the reason why Salman Khan was signed up for the film. But, what everyone wants to know is the reason behind you signing up the following members of the film:

Sonam Kapoor
Her Indianness

Armaan Kohli
His hunger and excitement to do the role

Swara Bhaskar
For her talent

Neil Nitin Mukesh

In the film, I wanted someone for the role of a prince. I like the way Neil Nitin Mukesh carries himself. So, I signed up for the 'actor' in him as I thought that he will do total justice to the role.

How much of the rumor is true that the film was earlier titled as Bade Bhaiyya?
Not at all. The film was never titled that.

Is it true that you got the title of Prem Ratan Dhan Payo when you were meditating in the morning?
That's really true.
Recently, Salman Khan's mother Helen and the veteran actress Waheeda Rahman surprised everyone fans by grooving to the Prem Ratan Dhan Payo's title track in their first Dubsmash video. How did you react after seeing that?
It was so very emotional for me. I was really moved. Not just them, there are so many others who have done it. They have taken time out of their busy schedules to do this. I really feel that there is definitely something magnetic in the melody. It has been my biggest hit number till date. I am so happy for everyone who has been associated with this song.
How different is 'Prem' in Prem Ratan Dhan Payo from all the other 'Prems' that Salman Khan has played so far?
Unlike his earlier films, he will be an evolved person who is out to change lives. He is not judgmental in this film.
Did you feel that when CBFC cleared the film with 3 cuts that they were justified in doing so?
Absolutely. It (the cuts) has nothing to do with the main story. It was the 'Ramleela' sequence in which certain words had to be deleted, but, purely in the interest of the film.
The only person missing from the cast in Prem Ratan Dhan Payo is Alok Nath. Any specific reason of not casting him in Prem Ratan Dhan Payo?
I always want him to do a role wherein he can do full justice to the role and the one he rightly deserves. I did not want to give him a role just for the heck of it.
Did you miss his presence in the film?
Quite often.
What role does music play in the film and which is your favourite track?
Music has always played a huge part in all my films and Prem Ratan Dhan Payo is no different. The music helps in carrying the film forward. Himesh Reshammiya has done a wonderful job. He has delivered exactly what I wanted. My favorite track is the title track, which is very catchy.
Whose idea was it to rebuild the iconic 'Sheesh Mahal' of Mughal E Azam and why?
It was a joint decision. We required one structure like that which represented family bonding. We wanted one structure wherein any mirror you look will show you the good times that you spent with the family. That's why the mirrors were important. A lot of credit goes to Nitin Desai and Mani Kandan for making the 'Sheesh Mahal' scene come alive.
People are raving about the Salman Khan's sword play scene in the film. Is it true that Salman Khan took special training for the sword play scene in the film?
There were the action directors who were called in from abroad, who taught him the sword fights. Being such an experienced man, Salman Khan easily learnt the steps with utmost ease.
These are the times when technology reigns supreme. In times like these, do you still write the script by hand, even today? Any specific reason/s for the same?
The flow of ideas is very natural and easy flowing that way. I find writing with hand more convenient. For me, writing is prayer. Writing with hand actually helps me get connected directly to the conscious rather than going through mechanics.
Handling one star is a mammoth task in itself. In every film, you handle a whole galaxy of stars, without any complaint from anyone. What is the secret?
The secret is 'Homework' and 'planning', both of which needs to be done and executed to the minute detail possible.
With films like Maine Pyaar Kiya, the 100 crore club was almost unheard of. But, these are the days of 100 and 300 crore clubs. How important are the 'crore clubs' to you?
As long the money invested is recovered and the audiences' appreciation is positive, I am happy. I feel that if the audiences appreciate your film, the money will then come in automatically. I want my audiences to have a smile on their faces by the end of the film.
Is it true that Prem Ratan Dhan Payo boasts of having the longest song in Bollywood ever (where Salman Khan and Sonam Kapoor will be seen playing football at a marriage ceremony)?
It is not a song. It is one of the sequences that has been choreographed by Ahmed Khan.
If you had to rename the film, what will that be?
I will still name it as Prem Ratan Dhan Payo. I cannot change the name at all as I am really happy with this title.
What's your take on the ongoing 'award waapsi'?
I feel that people should sit together and come to a conclusion peacefully.
Lastly, now that Prem Ratan Dhan Payo is complete, what next?
That would take a while as I have to launch a couple of TV shows. Also, I would really want to sit for a while to decide as to what to do next.
BOLLYWOOD NEWS
Catch us for latest Bollywood News, New Bollywood Movies update, Box office collection, New Movies Release , Bollywood News Hindi, Entertainment News, Bollywood News Today & upcoming movies 2020 and stay updated with latest hindi movies only on Bollywood Hungama.