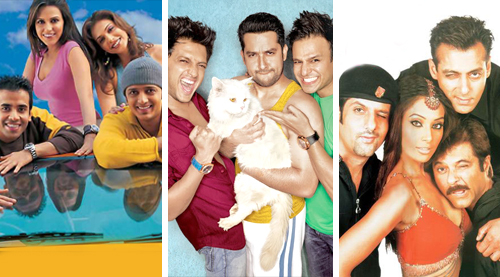 Does the failure of the third instalment of Kyaa Kool Hain Hum 3 (KKHH3) spell danger (as in audience boredom and apathy) for the Part 3 films being planned or made? We do not think so.

After all, by no means is KKHH3 the first sequel to a sequel (as a part 3 can be called). And essentially, every film is accepted or rejected by people on individual merits or demerits. What is certain is that part 3 is generally thought about only if part 2 does well, but as with all sequels and remakes, there are exceptions that prove the general rule.

Part Three: Analysis of sequels to sequels

Take KKHH3 itself: in terms of return of investment, Kyaa Kool Hain Hum was among the topmost hits of 2005-that year was unique - along with another adult but classy comedy, No Entry. After the modest faring of Masti in 2004, it suddenly showed that the Indian audiences were ready for A-grade adult comedies. And KKHH seemed the boldest one of them all.

Sequels had just started coming into vogue around that phase, and the standard rules was that they had to be designed as bigger and better movies. With a change in director and the girls, the heroes Tusshar and Riteish Deshmukh were placed in a different setting when the sequel was born, titled Kyaa Super Kool Hain Hum, a full seven years later.

However, what was considered "bigger and funnier" was emphatically not so from the point of view of the audience. And so KSKHH, obviously much bigger in budget, just made a slim profit.

In 2013, however, Grand Masti, as unpretentious as it was whacky in concept despite the stale jokes and one-liners, went on to collect 100 crore as well. Probably that set the (optimistic) stage for KKHH3.

But then sequels always have a fixed maxim: they must be good standalone entertainers and should try to deliver more than the original. And that proved the story-less KKHH3's undoing. After all, Grand Masti promised to be raunchier than Masti and delivered. As one of the actors stated, "It is a family entertainer-but the family members must watch it separately!" This actually happened-its audience comprised groups of men and women as well as couples- of all ages from 18 to 80! The makers were honest about what they were serving, and the audience warmly accepted the 'hot' dish!

And so, since the director (Indra Kumar) is an experienced name, he will ensure that the next film in this franchise, Great Grand Masti, will surpass the second part.

The only other definitive flop among the third films of a franchise was Murder 3. Mahesh Bhatt, however, attributed this to the absence of Emraan Hashmi, who had starred in the earlier super-hit films, and may decide to play the Murder card a fourth time, despite Emraan's current career-trough.
His other franchise with Emraan Hashmi, Raaz, is now the first definitive "part four" of Hindi cinema. Called Raaz Reboot, it is being shot abroad. Vikram Bhatt helmed all the films except for part 2, titled Raaz-The Mystery Continues (2009), which, ironically, was the least successful but the most ingenious story. And though Raaz was the biggest hit of 2002, Raaz 3 (2012), filmed in 3D, made the most money, thanks to the inflation in ticket rates in 11 years!
The same was the case with another Bhatt franchise, Aashiqui (1990) and Aashiqui 2 (2013), both co-produced with T-Series and designed as total musicals. Part one zoomed Nadeem-Shravan, Sameer and Kumar Sanu to the Numero Uno slots, while the latter slalomed music makers Jeet Gannguli, Ankit Tiwari and Mithoon into centre stage. And the reason why we mention this franchise is to highlight the barely-known fact that Aashiqui 3 is being planned on a grand scale with Hrithik Roshan in the lead!
Coming up next is Housefull 3, from producer-story writer Sajid Nadiadwala and writers Sajid-Farhad, now entrusted with the new film's direction after the original director Sajid Khan did not accept it. When Housefull 2 had released in 2012, Nadiadwala had promised a successor every alternate year with Sajid Khan, Akshay Kumar and Riteish Deshmukh as fixtures, but that did not happen. And Sajid Khan is now optimistic that the third part will do so well that a fourth part will be made-with him again!
Housefull and Golmaal as a series have seen an ascending revenue graph so far. Golmaal 3 has the distinction of being the first-ever third part to be released, and scored over Golmaal-Fun Unlimited (2006) and Golmaal Returns (2008) businesswise by entering the 100 crore league. But most viewers still consider the first or second parts as the best (read funniest).
So far in Hindi cinema, comedies, horror and action dramas have therefore dominated series that saw three parts, and two more that have an ascending box-office graph from parts one (at which time even a sequel was not envisaged) are the Krrish and Dhoom brands.
The latter was named Dhoom (2004), Dhoom 2 (2006-the result of the fantastic success of Dhoom) and Dhoom 3 and had a progressively bigger (star status-wise) antagonist to the two cops in John Abraham, Hrithik Roshan and Aamir Khan. We have been hearing buzz of a Dhoom 4 with either Amitabh Bachchan or Salman Khan, but nothing is confirmed.
But Rakesh Roshan has categorically ruled out any further instalments to the Krrish franchise, which actually took off after the thunderous success of India's first A-grade 'alien' drama, Koi...Mil Gaya (2003). Rakesh and his writers then ingeniously created a super-hero thanks to the benevolent after-effects of the alien's goodwill and gave Hrithik Roshan a dual role in Krrish. The father and son thus combined to save the world in Krrish 3 (2013), so titled because it was the third film in the series.
This series has the unique distinction of being the only one wherein the story is taken forward. So while Krrish, like many other films, was a 'true sequel" to Koi...Mil Gaya, Krrish 3 was the first true sequel to a true sequel!
At the end of last year came Hate Story 3, the third film in a series that was about hate and revenge. This brand prides itself on an intense storyline and modest actors, and so the story is the hero. While Part 1 came in 2012 and was a modest success, the next film released in 2014 and was a brilliantly directed thriller that did much better as well. The 2015 Hate Story 3 thus got a great reception even if the story was fatheaded. Both the latter films also succeeded in their music, including a re-created song each.
At a smaller level, just for the record, we have also seen three instalments of My Friend Ganesha.
Definitely being made now is ABCD-Any Body Can Dance 3, despite ABCD2 not possessing the same cinematic calibre as ABCD. However, the business done by the sequel (in 3D) makes up, we guess, for the decline in the story and musical standards.
There are other ambitions too in a profit-conscious industry-Hera Pheri 3 was announced at a lavish event but may reportedly not be made at all, and (from the same producer, Firoz Nadiadwala) Welcome Back (successor to Welcome) might just have a third part. Also, talk about a third Munna Bhai film refuses to die down.
Like sequels, 'tri-quels' (to coin a term) are here to stay.
BOLLYWOOD NEWS - LIVE UPDATES
Catch us for latest Bollywood News, New Bollywood Movies update, Box office collection, New Movies Release , Bollywood News Hindi, Entertainment News, Bollywood Live News Today & Upcoming Movies 2023 and stay updated with latest hindi movies only on Bollywood Hungama.