In one of the most shocking turns of events on stage, comedian-actor Chris Rock was left stunned at the 2022 Academy Awards after Will Smith came on onstage and slapped the comedian across the face. The incident occurred after Rock, who was introducing the award for Best Documentary, poked fun at Jada Pinkett Smith about her hairdo. For unversed, Pinkett is suffering from auto-immune disease alopecia which results in hair loss.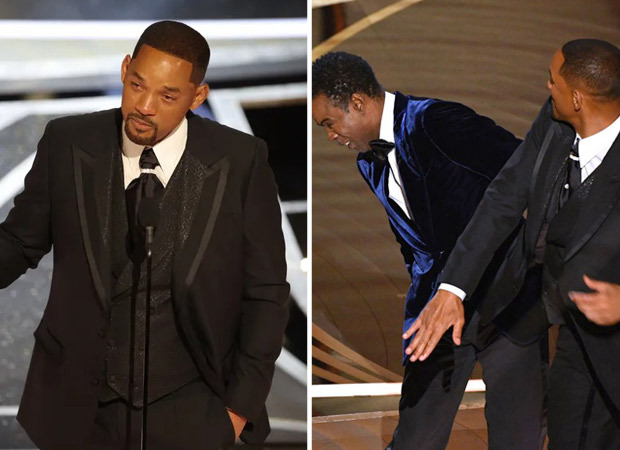 Oscars 2022: "He could have killed him" – Judd Apatow reacts on Will Smith slapping Chris Rock; Sean Diddy Combs, Jodie Turner Smith, Conan O'Brien react
Rock mocked Pinkett Smith's baldness and made a reference to the 1997 movie G.I. Jane (which features a bald Demi Moore). Rock said, "Jada, I love ya. G.I. Jane 2, can't wait to see ya." While Smith laughed from his seat at first. Pinkett Smith was unamused and eye-rolled at the joke. Then, Smith took the stage and smacked Rock. "Oh wow," said Rock. "Will Smith just smacked the s--- out of me."
"Keep my wife's name out your f---ing mouth!" Will Smith, seemingly angry yelled back at Rock from his seat. "Wow, dude, it was a G.I. Jane joke," said Rock, to which Smith repeated again, "Keep my wife's name out your f---ing mouth!"
The Oscars 2022 ceremony was derailed and the audience was left stunned due to this incident. Many celebrities took to social media to talk about it.
"He could have killed him," wrote director Judd Apatow in a since-deleted tweet. "That's pure out-of-control rage and violence. They've heard a million jokes about them in the last three decades. They are not freshman in the world of Hollywood and comedy. He lost his mind." He added, "I have more hair on my back than on my head and I can take a joke about it."
Apatow continued, "Seems like Will Smith's plan to get comedians and the world to not make jokes about him is not going to pan out. The Williams family must be furious. Pure narcissism. Also- GI Jane was gorgeous. What exactly is insulting about being compared to a ripped, stunning Demi?"
Furthermore, he tweeted, "Will Smith screwed over who deserved his moment without that toxic nonsense before him. I'm glad Chris is ok. Will learned nothing training for Ali. Will Smith's punches are as soft as his raps."
Judd Apatow getting ratio'd to hell feels like a fitting end to the night! #Oscars pic.twitter.com/AcXZGj7C0m

— Kate Aurthur (@KateAurthur) March 28, 2022
Just saw the Will Smith slap. Anyone have a late night show I can borrow just for tomorrow?

— Conan O'Brien (@ConanOBrien) March 28, 2022
and as far as *that incident* goes….. i am still processing. i have second hand embarrassment for all involved.

— Jodie (@MissJodie) March 28, 2022
Let me tell you something, it's a very bad practice to walk up on stage and physically assault a Comedian.
Now we all have to worry about who wants to be the next Will Smith in comedy clubs and theaters.

— Kathy Griffin (@kathygriffin) March 28, 2022
BREAKING: Will Smith Being Sent to Live with Aunt and Uncle in Bel-Air

— Zack Bornstein (@ZackBornstein) March 28, 2022
WENT OUT OF RM
& MISSED REASON FOR
WILL'S PUNCH..JUST SAW IT, BUT STILL NOT SURE
WHY.

— Cher (@cher) March 28, 2022
Violence isn't ok. Assault is never the answer. Also? This is the 2nd time that Chris has made fun of Jada on the #Oscars stage, & tonight he went after her alopecia. Punching down at someone's auto-immune disease is wrong. Doing so on purpose is cruel. They both need a breather.

— Sophia Bush (@SophiaBush) March 28, 2022
There is NEVER a justification for VIOLENCE! Never, ever, ever!!

— Shanola Hampton (@shanolahampton) March 28, 2022
Will smith just fully sent it and punched Chris rock in the face on the Oscar's

— THE CHAINSMOKERS (@TheChainsmokers) March 28, 2022
I'm getting under my couch.

— billy eichner (@billyeichner) March 28, 2022
So disappointing that Will Smith played Muhammad Ali but he couldn't even knock out Chris Rock.

— Michael Ian Black (@michaelianblack) March 28, 2022
Da hell is going on in this video man pic.twitter.com/jMnEvGU2yi

— Kurrco (@Kurrco) March 28, 2022
Will Smith, later in the night, won the Best Actor award for King Richard. Taking stage, he was overwhelmed. In the tear-filled speech, he said, "In this time in my life, in this moment, I am overwhelmed by what God is calling on me to do and be in this world. ... I'm being called on in my life to love people and to protect people and to be a river to my people."
"I know to do what we do you gotta be able to take abuse; you gotta be able to have people talk crazy about you. In this business, you gotta be able to have people disrespecting you, and you gotta smile and pretend like that's okay," he said, before comparing himself to his character from King Richard, who was a "fierce defender of his family."
It was also reported by the press in the auditorium that after the altercation, Denzel Washington had gone to speak to Will Smith. In his speech, the actor said what Denzel told him, "at your highest moments, be careful because that's when the devil comes for you."
Addressing The Academy for the incident, he said, "I want to apologize to the Academy. I want to apologize to all my fellow nominees."
Smith then said, "Art imitates life: I look like the crazy father. Just like they said about Richard Williams. But love will make you do crazy things." He later added, "Being able to love and care for my mother and my family, my wife ... Thank you for this honor. Thank you for this moment. ... I hope the Academy invites me back."
This marked Will Smith's first Oscar win and his third nomination. He was previously nominated for Best Actor in 2002 for Ali and in 2007 for The Pursuit of Happyness.
BOLLYWOOD NEWS - LIVE UPDATES
Catch us for latest Bollywood News, New Bollywood Movies update, Box office collection, New Movies Release , Bollywood News Hindi, Entertainment News, Bollywood Live News Today & upcoming movies 2022 and stay updated with latest hindi movies only on Bollywood Hungama.