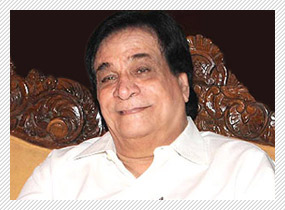 A TV commercial of a leading credit card company says 'There are many things money can't buy...' It is indeed true that emotions can't be purchased or sold, but can be expressed. And if one has to confer the 'degree' of 'MoE' (Master of Expressions), then, it has to be none other than Bollywood's very own Kader Khan, the man who gave words its enviable status under the sun. Even though he is no longer as active on the silver screen, his works still are as inspirational as ever for everyone alike.


Satish Sundaresan of Bollywood Hungama caught up with this man and came back not just being impressed... but having surrendered to Khan and his words! Presenting the Part 1 of this 2-part exclusive interview with the phenomenal man called Kader Khan.


Khan saab…Salaam walekum. To start with, it seems that even a fish can live without water, but the Indian audiences just can't live without seeing you on the silver screen. When will you be staging a comeback?

Inshallah! My fans will soon be seeing not just me, but also my sons in a forthcoming play called 'Taash Ke Patte' and a film called Nawaabi Sharaabi.


Looking back in time, as a child, you used to bunk mosque prayers and eventually got caught by your mother. Right?

My mother always insisted that I attend the mosque prayers, which I generally used to bunk, thinking that my mother will never come to know. And whenever she used to ask me about my prayers, I used to confidently reply positively. But every time I lied, she used to scold me. One day, when I asked her how she came to know that I lied, she showed me my dirty feet and said that "You feet are dirty. That means you didn't go to mosque at all." It's mandatory for every Muslim to do 'vazoo' at the mosque, which involves proper cleansing of the body.


If you were bunking prayers, what you used to do then during that time?

Strange it may sound, but the fact is that, I used to bunk prayers and sit at the nearby graveyard and mimic everybody whom I had met the whole day! What I was unaware was that there used to be people who used to regularly watch me 'perform' there! One night, when I was all alone in the graveyard and was lost in my own world of mimicking people, an old man held a torchlight on me and asked me what I was upto. When I said that these were 'frustrations' that I take it out through my mimicry acts, he immediately asked me, "Will you act in my drama?" And that was the first time ever I had heard the term 'drama' in my whole life! And the next I knew was that I was at his house practicing for my 'debut' stage performance.


How was your first on stage performance? Was there only bouquets or brickbats also?

As I entered the stage I was nervous initially. But the very moment the play ended, the audience came rushing and picked me like the way they hold a Ganpati. And as a token of appreciation for my performance, a man from the audience came out of nowhere and handed over a crispy Rs.100 note to me and said, 'Please take care of this note. This will get converted into a lakh of rupees one day'.


Despite your drama Local Train fetching you the Best Director and Best Writer awards, your stepfather abused you and kicked you out of the house?

That's true. When I went home with the trophies of Best Director and Best Writer, my stepfather was JUST not in a mood to talk to me at all! He kicked me, abused me and even called me a traitor! That's when I decided to move out of the house. Then, eventually, I went onto become an Assistant Lecturer in an engineering college.


How does it feel to see your transformation from being an Assistant lecturer teaching Applied Mechanics and Hydraulics into an actor, who is also known as the rainbow of the silver screen?

The fact remains that I never wanted to do films. I was very happy doing theatre and my teaching. That's the reason today, when I look back in time, I never fail to have a smile on my face when I recall the journey that I traveled from being an Assistant Lecturer teaching students to what I am today!


Wasn't it tough to divide your time between the likes of Stanislavski, Maxim Gorky, Chekhov, Dostoevsky on one hand and teaching engineering subjects on the other!

(Laughs) Ideally, it should have been that way, but, due to my good luck, I never had to struggle to balance these two. And the one man responsible for this is my guru Pramod Joshi, who was instrumental in 'introducing' me to great authors like Maxim Gorky, Chekhov and Stanislavski. That's where I got my confidence from. It was only after reading their works; I understood that all of the great authors and poets are as human as anyone of us.


Is it true that you wrote the dialogues of Jawaani Deewani in a span of mere 3 hours? And that the (late) director Narender Bedi instantly signed you for Rs. 1500?

This is absolutely true. There was a particular scene in the film which many writers just could not write the way he wanted. But when I was offered to write the same, I wrote in just 3 hours flat! After reading the script, the (late) director Narender Bedi instantly signed me for Rs. 1500 and hugged me tightly! Not just that, even the shoot of that scene which was supposed to happen in a month, immediately got preponed by 10 days! That was my all time high as a writer.


This Rs. 1500 then graduated to Panasonic TV, golden bracelet and Rs. 25,000 cash from the late Manmohan Desai for writing the climax of his film Roti. Right?

That was the first time I sat in front of a big director (late Manmohan Desai) and narrating scenes. Despite being nervous, the actor in me helped me narrate the scenes before him. The moment I was done with the narration, he jumped with joy and called his wife and made her also listen to what I had written. The moment she heard it, she had tears in her eyes. All that she said was that her husband had been dying for the last six months for such scenes and that I had done more than that! Getting such an appreciation from someone like her boosted my morale to a different level altogether! He then, made me narrate the whole script about ten times! He then, went inside to his other room and brought a small Panasonic TV, a golden bracelet, Rs. 25,000 cash and asked me how much I was getting paid till now? When I said, "Rs. 25,000", he immediately said "Now your price is 1 lakh rupees"! I was left dumbfounded for a long time as that was the first time ever that I was to earn that kind of astronomical sum for my work. All of this and much more stand as reasons as to why I shall continue to remain to be his greatest fan till my last breath.


You have worked with both, the late Manmohan Desai as well as the late Prakash Mehra. What's the difference that you found in them both?

The late Manmohan Desai always believed in using fast tempo gimmicks in his screenplay of his films, while the forte of late Prakash Mehra was dialogues and hardcore performances.


You even conquered the South with the remake of the Jeetendra- Hema Malini starrer Meri Aaawaz Suno. How as the south experience?

The people down south are very strict and punctual about timings. They give you the complete money in advance and keep the dates chart in front on you. What more can a writer ask for! The southern experience was really very satisfying.


Your dialogues and literary works are an eternal inspiration for many. But, were there anyone who formed your inspiration?

Besides Saadat Hassan Manto and Ghalib Ibrahim Jalees, I also admire and follow the works of greats like Munawwar Rana and Rahat Indori. I, till today, am heavily inspired by their works.


You have justified the pen in all possible ways, except for lyrics writing. Why did you never try your hand at that?

One has to be really very passionate about the lyrics in order to get into it. But that passion was not there in me for penning lyrics. There used to be many offers for lyrics writing, but since I was already doing story writing, acting, screenplay and dialogues, I was hardly left with any time and energy to pen lyrics!


Do you feel that emotions like pain, sorrow etc... in your writings, can be attributed to the kind of childhood that you had?

Whenever there is a feeling or a mention of pain, I immediately recall many of the incidents that had taken place in my life. And that's how words start flowing freely from my pen. And if there is something that has not occurred in my life, I just can't relate to it. That's why I quit Prakash Mehra's Jaadugar, after writing around just ten scenes, as I felt that I just couldn't write any further as I was not able to relate to the script.


You formed a wonderful pair with almost everyone on screen. Whom do you feel formed your best pair?

I enjoyed working with almost every co-star of mine. So, there's nobody whom I can single out as my best co-star.


Who do you feel is the apt candidate today to fill the vacuum that's created in your absence in Bollywood?

Without blinking an eyelid, I will say that it has to be my son Sarfaraz Khan.


Dharmendra once said that he always used to wear a black coat during every awards function hoping that his name will be announced anytime and he better be prepared to go on stage to receive the award. Did you attempt to do anything of that sort?

I never did anything of that sort. But yes, I did feel very bad when films like Muqqadar Ke Sikandar, Namak Halaal, Sharaabi didn't get any awards. If these films would have received awards, it would have made given me a sense of gratification and fulfillment towards my works. That's the reason I never bothered about awards neither I attended any award functions.


Watch this space for Part 2
BOLLYWOOD NEWS
Catch us for latest Bollywood News, New Bollywood Movies update, Box office collection, New Movies Release , Bollywood News Hindi, Entertainment News, Bollywood News Today & upcoming movies 2020 and stay updated with latest hindi movies only on Bollywood Hungama.