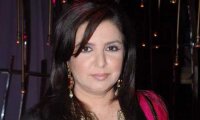 On Wednesday, Madhuri Dixit took over the first-look function of Shirin Farhad Ki Toh Nikal Padi when she appeared in a figure-hugging red-dress which made the other two ladies at the venue director Bela Sehgal and leading lady Farah Khan see red...literally.


Says a friend of Farah and Bela, "Both the ladies couldn't believe at how slim Madhuri looked. They both threatened to leave the event immediately." Madhuri who has lost oodles of weight and is according to Sanjay Leela Bhansli looking younger than during her Hum Aapke Hain Hain Kaun days, wowed everyone with her presence.


Farah Khan who has done a take-off on Madhuri Dixit's Hum Aapke Hain Kaun look in Shirin Farad Ki Toh Nikal Padi, couldn't believe what she saw when she came face-to-face with the Dixit.


Laughs Farah, "I was the only one talking to Madhuri. When Sanjay Bhansali and Boman Irani saw what she looked like, they lost their tongue. She looked stunning."


Madhuri apparently loved the Hum Aapke Hai Kaun act and told Farah it was her fantasy to see Farah wearing the famous purple saree from Sooraj Barjatya's film.


Says Farah appreciatively, "Yeah, she said that. She was too sweet. She laughed non-stop while watching the trailer of my film."


Watch Promo: Shirin Farhad Ki Toh Nikal Padi