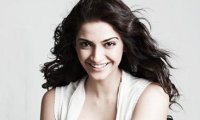 Sonam Kapoor is gearing up for the shooting of Raanjhana, a love story that would pair her up with Dhanush of 'Kolaveri Di' fame. With Aanand L Rai at the helm of affairs, who gave an altogether different dimension to Kangna Ranaut with Tanu Weds Manu, Sonam is expected to bring on a different side of her persona in the film which is set on the 'ghats' of Banaras.


However, Sonam isn't looking at this or any other film of hers as a way to take on her competition. Whether it is turning into a village belle (something that Priyanka Chopra would be doing soon in Teri Meri Kahaani) or bringing on high style and glamour (as was the case in her last release Players where she had Bipasha Basu for company), Sonam is happy to declare that she is not competing with anyone here.


Says Sonam, "As a matter of fact, I never compete with any of the heroines, whether I am starring alongside them or not. I don't think there is any reason to look at any competition and work while keeping that in mind. I truly believe that I am my own competition and that's the way I wish to be."


What has further helped Sonam's cause is the trust and confidence that Aanand has shown when it comes to her styling in Raanjhana. Said to be playing a spunky girl who has a mind of her own despite the small town setting of the film, Sonam is expected to bring in a different dimension to her persona. Now that would be quite a shift from the days of Players where the requirement from director duo of Abbas-Mustan was to go grungy and bring on high sense of style quotient that could make the globetrotting film look ultra chic and glamorous.


"In fact they had so much confidence in me being stylish that they allowed me to wear whatever that I wanted", smiles Sonam, "They didn't give me any input whatsoever on what to wear and just explained to me the situation. So I was told that 'Hey Sonam, you have to look spunky here and hot there'."


Now that she is progressing in her career, Sonam is continuing to follow the principle of lesser but quality work. No wonder, she has done hardly seven films in her near-five year career so far and is currently committed to only Raanjhana with a special appearance in Bhaag Milkha Bhaag.


"One of the major reasons why I am seen in lesser films is that most of them have demanded good time from me. They are the not the ones that get completed in 40 days that could allow me to pronto move on to my next assignment", says Sonam who has been party to some really elaborate schedules, courtesy Saawariya, Mausam and Players to name a few, "Moreover I don't want to do something forgettable. Whether a movie works or not, people should remember the character that I have played. This is the reason why they still know me as Bittoo, Aisha, Aayat, Simran or Sakina. Yes, I work hard but then I want to have a life besides movies as well."