Organised gang rape and murder of an eight year old in Jammu and Kashmir state has SHOCKED the nation to the core. There is a rightful outrage against this inhuman, heinous act from all sections of the society and Bollywood is not far in this too. Right from Karan Johar to Sonam Kapoor have CONDEMNED this act and have asked for instant justice. Down south, Kamal Hassan too gave a very stern reaction to this shameful incident.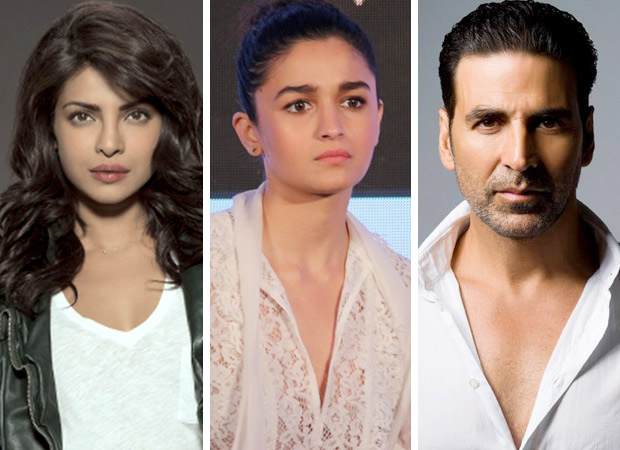 For the uninitiated, an eight year old girl from the Kathua was abducted in a political ploy to overthrow the tribal Bakheral community from the particular area of Jammu and Kashmir and gang raped in a temple before killing her. With highly placed police officers apparently involved in this unspeakable crime, law and order went for a toss as no proper charge sheet was filed in this case. This led to outrage of masses and Bollywood celebrities too voiced their strong dissent to this. Priyanka Chopra, Alia Bhatt, Akshay Kumar, Hrithik Roshan, Farhan Akhtar, Varun Dhawan, Anushka Sharma, Rajkummar Rao, Javed Akhtar, Sonam Kapoor, Anil Kapoor, Kamal Haasan, Nandita Das, Abhishek Bachchan, Ayushmann Khurrana and Neha Dhupia took to Twitter to strongly condemn this act. Hope the government takes cognizance of the heinous crime committed and hope we give justice to the martyr Asifa.
Following are the tweets posted by Bollywood celebs.
How many more children like baby Asifa will be sacrificed at the intersect of religion & politics? How many more children will have to suffer unimaginable crimes before we wake up? I'm disgusted. It's time for swift action. We owe it to Asifa and to humanity. #justiceforAsifa.

— PRIYANKA (@priyankachopra) April 12, 2018
Imagine what goes through the mind of an 8 yr old as she is drugged, held captive, gang raped over days and then murdered.
If you don't feel her terror, you are not human.
If you don't demand Asifa get justice, you belong to nothing.

— Farhan Akhtar (@FarOutAkhtar) April 12, 2018
A 8 year old is drugged, raped & murdered and another one is fighting for justice for herself and the death of her father in custody.
We have a choice either raise your voice or be a silent spectator.
'Stand up for what is right even if you are standing alone.'#Kathua #Unnao

— Riteish Deshmukh (@Riteishd) April 12, 2018
Does it have 2 b ur own daughter fr u 2 understand? She could've been mine. I feel angry as a man, father & a citizen fr failing Asifa. I m sorry my child v didn't make this country safe enough fr U. I'll fight fr justice at least fr future kids like u. V mourn u & won't forget u

— Kamal Haasan (@ikamalhaasan) April 13, 2018
Must read: How India reacts to the Kathua perversion will determine if the nation's moral slide can be arrested https://t.co/nB9wDKKRm4 via @scroll_in

— Nandita Das (@nanditadas) April 12, 2018
We need to fight for justice for this child. We cannot continue to allow these things to happen. We must not move on or get over this we all have to react asifa was India's daughter we cannot fail her we need #JusticeforAsifa pic.twitter.com/MK3czCJCnZ

— Varun DAN Dhawan (@Varun_dvn) April 12, 2018
Can't believe this is happening!!!! Shocked and appalled at what this has come to.. really hope justice is served! Really really really hope ???? https://t.co/m5LId8mAzi

— Alia Bhatt (@aliaa08) April 12, 2018
We have failed as a society! Being a father, I am shaken and filled with anger reading about what happened to a 8 year old kid. My heart goes out to Asifa's family. I refuse to accept we really let THIS happen. Justice has to be served NOW. #JusticeforAsifa

— Sanjay Dutt (@duttsanjay) April 12, 2018
I look at this first as a mother and it's completely heartbreaking, as a woman I feel rage and as an Indian I am absolutely ashamed ! #JusticeForAsifa https://t.co/DNid9qz9R3

— Twinkle Khanna (@mrsfunnybones) April 12, 2018
Ashamed appalled and disgusted by fake nationals and fake Hindus. I cannot believe this is happening in my country. https://t.co/V8tKoo6viX

— Sonam Kapoor (@sonamakapoor) April 12, 2018
Yet again we've failed as a society. Can't think straight as more chilling details on little Asifa's case emerge...her innocent face refuses to leave me. Justice must be served, hard and fast! https://t.co/xrW5RVffLe

— Akshay Kumar (@akshaykumar) April 12, 2018
This is beyond horrible. How can anyone in their right senses defend these monsters? #JusticeforAsifa #JusticeforHumanity https://t.co/54dBAdECXu

— Rajkummar Rao (@RajkummarRao) April 12, 2018
#Asifa pic.twitter.com/CpsaqMWKYe

— Abhishek Bachchan (@juniorbachchan) April 12, 2018
Who was Asifa ? She was an eight years old daughter of Bakerwals. Who are Bakerwals ? A nomad tribe who when spotted the Kargil intruders promptly informed the army .Who are the people who are trying to protect the rapists of this little girl . ? Now it is your turn to answer.

— Javed Akhtar (@Javedakhtarjadu) April 13, 2018
Questioning humanity and all that is righteous in this world. Justice has to be served. #Asifa https://t.co/spgADzQBhG

— Anil Kapoor (@AnilKapoor) April 12, 2018
This really d work of human beings?Breaks my heart 2know v r capable of such atrocities.V need even more activism,courage, outspokenness, communication,awareness, aggression.Whatever v need 2make sure this doesnt happen again,lets do it!!Punishment? education ? Whatever it takes! https://t.co/HeDN8EP7Py

— Hrithik Roshan (@iHrithik) April 12, 2018
Inhuman!!! Appalling !!!!! Justice has to has to be served!!!!! #Asifa

— Karan Johar (@karanjohar) April 12, 2018
Also Read: PICS: Akshay Kumar showcases his philanthropic side for the people of Satara and it is truly heart-touching
BOLLYWOOD NEWS
Catch us for latest Bollywood News, Bollywood Movies update, Box office collection, New Movies Release & upcoming movies info only on Bollywood Hungama.