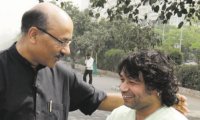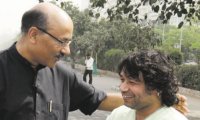 In this Walk the Talk on NDTV 24x7 with The Indian Express Editor-in Chief Shekhar Gupta, singer Kailash Kher talks about his struggle in Delhi,
the 'light' he found in Mumbai, and his music - ad jingles, film songs, his band Kailasa, and why Allah Ke Bandey is like a Nirma ad for him
Hello and welcome to Walk the Talk. I am at Mumbai's Marine Drive, and my guest today is Kailash Kher - singer, entertainer, spiritualist, performer,
rockstar... kya hain aap?
It's a matter of pride for me to be here with you on this show. When I came to Mumbai from Delhi nine years ago, I didn't know that I'd have such an enriching
journey and experience. People who've been here for 30 or 35 years feel that I've been around for nine years, and suddenly....this experience and realisation,
it's from god.
I am very privileged to have you on this show and I am worried because your skill and talent cross so many genres, and I am not the best informed person
on Hindi cinema or music.
That is why I am excited. For the first time, I am meeting a person who is very much part of this world and yet very much away from this so-called glittery and
flashy world that makes people dream a lot. Each time I observe you, speaking to people and all, I used to dream that one day, there would be a day when I
would also be next to you.
You are also a charmer, I can see that. This city would have loved you from the day you came.
Yeah, in the beginning, the city didn't accept me but within one year, some miracle happened and this city just embraced me and today here I am.
And India embraced you.
The whole world.
Yes, with the one number that announced your arrival...
Yes, 'Allah Ke Bandey'. That was a film song. Before that, many jingles happened, and later random film tracks started happening, and then one day, I
read my name along with Sunidhi Chauhan. Playback singer Sunidhi Chauhan comma Kailash Kher. So I was quite overwhelmed, and very excited like a kid. I
kept the CD and went to Delhi to show it to my younger sister and my brother, ki dekho main playback singer ban gaya hoon…
So, do you hum 'Allah Ke Bandey' often even now?
Yeah, I still do. It is like Nirma ad for me. It is like any washing powder ad which comes in the daytime, day, night, you know, 100 times a day.
Tell us about a few things you did, not all odd 20 you did.
I did my first job with some CA for a salary of Rs 600. I used to take a bus from one corner of Delhi to another; it would take almost two-and-a-half hours to
reach there. So only going and coming from there would suck up the entire day. By the time would return to my so-called den, there was no energy physically,
and no time to learn anything else except dal, roti and noon, tel, lakdi, so all those things taught me many things other
than music. And that is the kind of thing that comes out from me in music.
And you also realised that if music was to be a career, you had to leave Delhi.
Yeah, 100 per cent. In Delhi, I could never dream that music can be a career, because I observed the music scene in Delhi those days - it used to be either
very classical, elite, or like people who are singing in restaurants. It used to confuse me - should I get into this? If I am going to be a musician, what am I going
to do? Neither I want to sing in the restaurant nor will I be able to become a pandit or ustad who will sing …
For a tiny audience?
A limited audience. Old audience, old in the thought process, and old in many ways. Not old in a wrong way but gold wala old, so, that way, I would not
connect with both.

Now you are connecting with both.
Yes. That is what is called a miracle, because had I been learning formally, I would have been a methodical singer, then today I would have been singing
(sings) zoo, zoo, zoo, la la la, ha ha ha, hey, hey, hey. So I would be also in the same league where many people are already doing
music and then people are following them.
But you do that. For your own band, you do things that are quite spiritual and Sufi, but you also do Love, Sex Aur Dhokha.
When I get tagged as a Sufi singer, I get excited. I never thought that I will be known as "some singer" but today I am known as a Sufi singer, which is a good
thing, though I don't know what Sufi is. But whenever I write, I write what is inside me and what I feel what my sensibilities are and because of that, there is a
spiritual connect which comes from within. I don't use my intelligence, because I don't have one. I am completely unintelligent and illiterate musician that way.
Which means an undoctored musician?
Yeah, that is the correct word actually.
Do you have any favourite composition which can be described as Sufi or which people have described as Sufi? I know you don't like the description.
Yeah, (sings) lal paa bazaar main, rah bhool laptayay…. This is hardcore Sufi that I sang in Dev (sings) piya ke rang rang di ni odini,
rang di ni...
And do you still do jingles?
I recently did many brands.
So, which is your favourite jingle?
The most happening one is Dermi Cool.... (sings) chubti jalti garmi, chubti jalti garmi ka mausam aaya, chubti jalti ghamorian laya,
aaya mausam thanday thanday Dermi Cool ka… the other is Castrol... (sings) Arre CRB nahin dalo gay toh mehenga padega... and then there is
(sings) na sar jhuka hai kabhi aur na jhukayainge kabhi…

That is the HDFC ad.
Yes. And recently I sang for Benani Cement... (sings) yeh goonj hai aasmani, cement ho toh Benani...
The remarkable thing about you is that I see the same joy on your face when you talk about a jingle and when you are talking of an original composition.
Because singing in itself is a thing which is created by Almighty and is part of nature....
Your life had hit a real low in Rishikesh, how low did it go?
Oh, it was actually... see, there was a history behind that, and it was a crescendo of all that pathos and hardships...
You thought you had come to an end.
Yes. I was not hopeful at all because the problem with me happened...I think I am over sensitive. At times, I take things so deeply that I used to have many
complexes about my failures and I could not pursue learning Indian classical which I so passionately wanted to, and many failures used to distract me, and at
times, I thought of finishing this life, so that was the extreme in Rishikesh...
Did you feel like running from it all?
Yeah, I felt like killing myself, literally. In fact, I tried once, but somebody from my group held my hand and the very next day, some spark, some light came...
And brought you to Mumbai?
Yes and something happened and the entire mindset … jaise bolte hain na jahan chaha wahan raha woh sab hua and then…

You are an unusual singer who can do very well even if he did not sing for Hindi cinema.
Yeah. Many people are surprised that how you are surviving, how you don't have dates because, see, music for me is not only my career, it is part of my
being. When you finish with your career... suppose you are an IAS and you serve the nation till certain age. After that, you start an NGO or do something else,
so there is a purpose, you know, larger than life. I think my purpose is already being fulfilled by my profession.
The other thing about you is that because you are such an original, you can almost not do a playback for a star. Your singing usually tells the story of a
film. In Paan Singh Tomar, your voice in the background provides a thread to the film.
It was, you know, nature's way to show that there is one singer who can be part of a film as a part of a film, not as part of some one particular character...
You said you do your own compositions for your band (Kailasa). Do you follow a certain approach? Simple words, rustic, earthy words and you fit them into
a model.
Many times Naresh and Paresh, who are my partners in my band, don't understand the literal meaning of what I write, like (sings) ay re sakhi mangal bao
re, dharti ambar sajawo re, utray ge aj maeray pe ki sawari, a re koi kajal lavo re, mohe kala tika lagavo re, un ki chab se dikhon main toh
pyari, lachmi ji waro, nazar utaro aaj maeray piya ghar aawain gay… so you know, in waiting, in longing, sometimes it frustrates you, you get completely
shattered and bored, you know, unwillingness to do things, but you can also see the celebration part of it because you are waiting for who? Who you love. And
if your love is intense, if your love is real, even waiting should be part of that entire package so maybe that is why (recites) ay re sakhi mangal bao re,
dharti ambar sajawo re, utray ge aj maray pe ki sawari, a re koi kajal lavo re, mohe kala tika lagavo re, un ki chab se…
She wants to also get decked up; she also wants to have a black tika spot so she doesn't catch an evil eye...
So, Naresh and Paresh find these thoughts and writing very interesting and they create the sound accordingly, very minimalist yet very appealing and organic.
So those sounds create some vibes and that is what attracts, you know, when you say I don't know technically kya hai but kuch toh ai jo dil ko chu raha
hai. Toh woh dil to chonay wali baat hi hoti hai...

So what is your favourite of all time from, say, cinema?
From cinema, of course, Allah Ke Bandey, and then Rang de ni, and then Yun hi chala chal and recently I sang Prasoon Joshi's track which is
called Arziyan and Maula maula that is a typical Sufi- influenced poetry. And from my album Rangeelay, which we have released
recently, my favourite is a song called Babaji, which is a gift to my son, Kabir. (Sings) Main ek achamba gaon, main man ke thaat sunaun, ek
achamba gaon, main man ke thaat sunaun, jab kabhi kabhi, oh mera babaji niharain aasman se
And one of your longest-lasting favourites, besides Allah Ke Bande, Saiyaan?
Saiyaan, teri deewani....saiyaan, tu jo chu ley pyar se aaraam se mar jaon...
You know, this has been imitated many times but it has never worked because you know why... because I was searching for a description for you but I
think the right description for you is something that has come to my mind now after this conversation, it is one word: original. So does that fit?
Yes, of course.
That is why it is so brilliant to have this conversation with you early in the morning.
Oh, I am really honoured and privileged. I am a little bit nervous and overwhelmed, and I am going to write about it, I am going to tweet about it and what not
actually. Duniya main jitney bhi madhiyam bachay hain... all the mediums I am going to actually, you know…
Thank you so much Kailash.
Thank you so much, Shekhar.