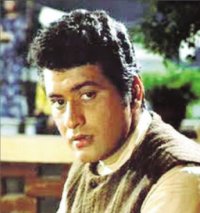 From the time he officially turned director with Upkar in 1967 (he had earlier ghost-directed the patriotic Shaheed), Manoj Kumar emblazoned the silver screen with star-studded epic-sized musicals. Purab Aur Pachchim in 1970, Shor in 1972 was followed by Roti Kapada Aur Makaan (RKAM) in 1974.
The film, a melodrama about love, betrayal and unemployment, RKAM is significant in that it marked the return of the star to essay the role of Bharat, the conscience of the nation torn by the growing corruption in our society and the struggle of the common man to make ends meet.
While Upkar was inspired by Lal Bahadur Shastri's slogan Jai jawan jai kisan, RKAM was inspired by Indira Gandhi's Garabi hatao slogan. Hence in a sequence simmering with indignant drama, Manoj Kumar burns his university degree in his father's funeral pyre, epitomizing frustration and dejection of the youth.
The pronounced political undercurrents of the drama notwithstanding, RKAM is at heart a love triangle where the jobless hero Bharat (Manoj Kumar) is ditched by his ambitious girlfriend Sheetal (Zeenat Aman) who chooses to marry the rich industrialist Mohan Babu (Shashi Kapoor) instead.
The narration was liberally interspersed with Laxmikant-Pyarelal's music especially, 'Main Na Bhoolunga' which reverberates to remind the guilt-stricken, greedy heroine of her betrayal.
Although Manoj Kumar denies it, the love triangle in RKAM is strongly reminiscent of Guru Dutt's Pyaasa where the poet was abandoned by his fiancée for a rich suitor. It was the prostitute Gulabo (Waheeda Rehman) who soothes the poet's wounded heart. In RKAM its Tulsi (Moushumi Chatterjee) who provides solace to his shattered heart.

The Voice of India
RKAM continues to be topical even after 38 years of its release. The issue of unemployment continues to haunt us even today. In order to attract the masses, the commercial element was cleverly weaved into the film. So we see Zeenat Aman swaying her hips to, 'Hai Hai Yeh Majboori' in Lata Mangeshkar's seductive voice, and 'Mehngai Maar Gayi'. The mix of socio-cultural concerns with the melodramatic plot never defeated the narration's purpose of keeping the audience involved till the end when Sheetal must end her life in order to redeem herself.
Vastly underrated at the time of its release, the writer-director-actor's genuine concern for the collapse of the great Indian Dream is what makes the film relevant even today. His cinema invariably showcased the disillusionment of Indians after the Partition. From the farmer in Upkar to the working-class father in Shor, Manoj Kumar epitomised the disillusionment of the 'Nehruvian' dream. In RKAM, this passion and drama is seen in the repressed anger of Amitabh Bachchan who plays sibling, to the hapless Tulsi (Moushumi) who is raped (a sequence that was condemned as being voyeuristic and titillating at the time of its release).

Guest appearance
Manoj Kumar was a master filmmaker whose penchant for drama did not allow his characters to topple under the sheer weight of the plot. Even the cameos are vividly etched. Premnath who had essayed the role of the altruistic Khan Badshah in Manoj Kumar's Shor returned in RKAM as the sword-wielding Sardar Harnam Singh. Amidst this rush-hour of high maintenance characters, it's easy to overlook the amazing Aruna Irani as a wry, self-deprecating mistress of a sleazy businessman. Aruna's Panditji mere marne ke baad....mere mooh mein gangaajal ki jagah thodi madira tapka dena, defines the role of marginal people in Manoj Kumar's cinema who have no choice but to laugh at destiny's devious ways.
When Sheetal prefers riches over love, Bharat sings the heart wrenching, 'Aur Nahin Bas Aur Nahin Gham Ke Pyale Aur Nahin'- on television. His anguish ricochets out of the screen to engulf you.

From dusk to dawn
RKAM has been wrongly interpreted as a potboiler. Yes, it did bring together 'ingredients' from formulistic cinema, but the drama and conflict in the plot is constructed with meticulous care. It is a tightly woven narrative leaving no room for superfluous moments. In the filmmaker's opulent oeuvre RKAM stands tall for its determined stand on the 'burning issues' of poverty and unemployment. The characters, especially those played by Amitabh Bachchan and Moushumi Chatterjee represent the growing cynicism of young India towards politics and politicians which thwart middleclass aspirations, something which holds true even today.
And yet the film's tone never gets cynical. Even when Bharat in sheer frustration throws his graduation degree into the funeral pyre, we know he will find his way out. That's the magic of cinema. We can still hope and dream through the suffering.

Manoj Kumar speaks on Roti Kapada Aur Makaan
"The idea for the film stemmed from a recital I had heard at a school function. A student named Dewan sang 'Maang Raha Hai Hindustan Roti Kapada Aur Makaan'. I was in class eight. The scene where I throw my degree in my father's funeral pyre was inspired by a newspaper report in 1972. A young graduate tore up his degree in front of the vice-chancellor as soon as it was given to him. That set me thinking about degrees and jobs. At the time when I made the film, it was considered a multi-starrer with Shashi Kapoor, Zeenat Aman, Moushumi Chatterjee and Amitabh Bachchan. But I didn't sign stars. I signed actors.
Amit was not a star when I signed him. I met him on the sets of my film Sajan where he was screen-tested. His family was known to me. I was the first filmmaker to offer him a role while he was still working in Kolkata in a private company. He came to Mumbai when I was shooting for three of my films Purab Aur Pachchim, Yaadgaar and Pehchan. He signed some films, but was replaced.

I remember telling him at RajKamal studios not to return to Kolkata because I had a very special role for him. That's how Roti Kapada Aur Makaan happened in Amit's career. Zeenat Aman's role was offered to Sharmila Tagore. In fact Shor was a by-product of Roti Kapada Aur Makaan. I was not supposed to make Shor. But my company's PRO Gopal Pandey narrated some of Moushumi Chatterjee's scenes in Roti Kapada Aur Makaan to Sharmila, She insisted she'd play Moushumi's rather than Zeenat's role. Because of Sharmila's refusal to do Roti Kapada Aur Makaan I did Shor first. Moushumi's role - I had seen her in Tarun Mazumdar's Bengali film Balika Badhu in Kolkata. She symbolized the rape of the common woman. As for the music the credit goes to Laxmikant-Pyarelal. My first priority is good lyrics. The songs must take the story ahead. I explain the situation to my composers. I was in Hardwar with my children when I heard Hai hai yeh majboori on the loudspeaker at four in the morning.
In the film, Zeenat danced and I just watched. The irony of the situation was, Bharat couldn't join her in the rain because he had to go for a job interview. Also, after playing patriotic roles in Upkar and Purab Aur Pachchim, how could I be shown getting intimate with the heroine? In the culture that I come from, men didn't touch women before marriage. Trust me; it was very hard for me to emote romantic scenes without touching the heroine."


BOLLYWOOD NEWS
Catch us for latest Bollywood News, New Bollywood Movies update, Box office collection, New Movies Release , Bollywood News Hindi, Entertainment News, Bollywood News Today & upcoming movies 2020 and stay updated with latest hindi movies only on Bollywood Hungama.