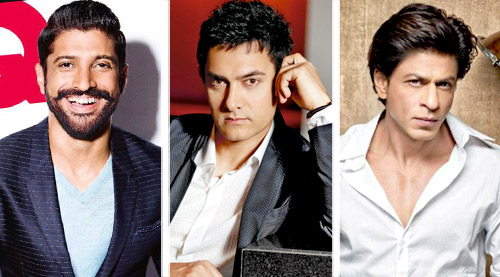 "The sensationalism on some level has taken over. The headline is there to shock you and when you read the fine print, you realize that it was said differently and in another
context," said Farhan Akhtar in a video interview to Bollywood Hungama's Content Head Broadband Faridoon Shahryar. Farhan was talking about the unethical manner in which Aamir and Shah Rukh
Khan's views on the growing intolerance in India were presented by a certain section of the media. "The fact is that Mahira is in the film (Raees). We are very happy with the work that she's
doing in the film. We all respect our armed forces. But there's a certain cultural exchange that needs to exist because ties between people are also very important in the peace building process,"
Farhan said.


You recently spoke about the controversy surrounding Aamir Khan & Shah Rukh Khan as well. You are one of the few celebrities in Bollywood who has always spoken about social issues. Do you feel
disheartened with the way things have been deliberately misrepresented and misquoted in what Aamir and Shah Rukh said and how it was twisted?

Not just Aamir or Shah Rukh, but I feel that if anybody gets misquoted, it's very unfortunate. When you are speaking to media or speaking anywhere, the least you're going to expect is that the
context in which you've said something is put forward in the same context. The sensationalism on some level has taken over. The headline is there to shock you and when you read the fine print, you
realize that it was said differently and in another context. Secondly, I do believe that we live in a very thriving democracy where people have the freedom to say what they are feeling and what is
troubling them if there's anything troubling them. And there are people who have the right to disagree with them. But once that happens, the debate that needs to be surrounded should happen at a
certain level of dignity. But when it is brought down to the level of a street brawl and when the intentions are being questioned, that's a bit unfortunate. Instead, one should try to understand
why the person is saying what he is saying and even if we feel that the person is wrong, you know what is it that we can say to them needs to be considered. By targeting them and pointing fingers,
you are actually proving their point.


Do you think that the film industry is a soft target?

Most public personalities are soft targets and not just members of the film industry.


But don't you think that the film industry is treated frivolously? They are used by many political leaders for their political campaigns but when it comes to talking about social issues, they
are told that they should not talk about it…

I don't know if anyone says that you shouldn't talk about it.


I've seen it myself. During the 'Jio MAMI 17th Mumbai Film Festival', here in Mahboob studio itself, a gentleman got up and told Dibakar Banerjee that we are not here to hear about you returning
your national awards but we are here to hear you talking about cinema.

Maybe that's a one-off incident in all honesty. I've been at many places where people I know have spoken about social issues. In every interview that you do, the current issue that is trending is
what people ask me about. Nobody stops you from saying what you have to say. But I feel that it is your responsibility, as a person who belongs to the same society as everybody else, that if there
is something that is on your mind, there's something that is troubling you, you find the right way to do it. Again, that's also a responsibility that you have to put it out the right way and put
it out in a way that it can be constructive as opposed to just firing an arrow in the dark and hoping that somebody feels something somewhat.


As far as Raees is concerned, the diktats that are coming in stating Pakistani artistes are not supposed to be a part of films in India and Mahira Khan is a part of Raees. Keeping
in mind the way Sudheendra Kulkarni was targeted; do you foresee resistance that'll crop up in the near future?

Well, not yet. We'll see. Let the film come around to release. Right now, the fact is that she's in the film. We are very happy with the work that she's doing in the film. And eventually, there has
to be a certain kind of line of artistes collaborating here. Everybody respects what happens at the border. We all respect our armed forces. But there's a certain cultural exchange that needs to
exist because ties between people are also very important in the peace building process. So, if you stop every single form of communication and every single form of exchange, you're just going to
keep further alienating yourself. So a certain degree of sensitivity vis-Ã -vis cultural exchange is important.
BOLLYWOOD NEWS
Catch us for latest Bollywood News, New Bollywood Movies update, Box office collection, New Movies Release , Bollywood News Hindi, Entertainment News, Bollywood News Today & upcoming movies 2020 and stay updated with latest hindi movies only on Bollywood Hungama.