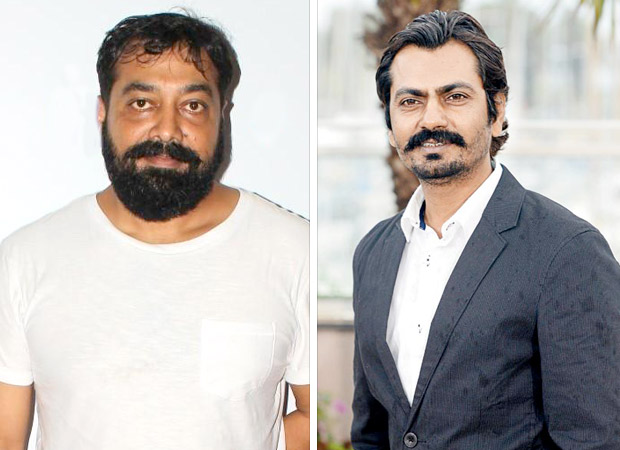 It was in 1999 when audiences realized the greatness of Nawazuddin Siddiqui when he rocked the show in a one-scene appearance in Sarfarosh. But it took him a long time to become the prominent actor that he's today. It was Gangs Of Wasseypur 2 that featured him as a lead actor and made him a household name. The credit goes to director Anurag Kashyap. However, even before this flick, Anurag Kashyap and Nawazuddin Siddiqui had a wonderful association and the actor has talked about it in his autobiography 'An Ordinary Life: A Memoir'.
Nawazuddin Siddiqui said that he met Anurag Kashyap for the first time during the rainy season at Mumbai's Andheri railway station. Anurag was shocked when he was told that it was Nawazuddin who acted in Sarfarosh. Till then Anurag thought that a real life thug was brought in for the role since the performance was so convincing! Later, Anurag Kashyap was casting for Manoj Bajpayee-starrer Shool. Nawazuddin Siddiqui was desperate for work and he insisted on doing the role of a waiter who takes orders from Manoj and Raveena Tandon. Anurag knew about the immense potential in the actor and advised him not take it up. But Nawazuddin was adamant and finally bagged the role.
Some years later, Nawazuddin Siddiqui bagged the role of Asgar Mukadam in Anurag's second directorial venture, Black Friday. The actor nailed it in in the interrogation scene which takes up the major part of his screen time. For some reason, the women on the sets of the film started gushing about Nawazuddin's eyes! Even actor Pawan Malhotra's wife Aparna remarked that his eyes are beautiful. Both Anurag Kashyap and Nawazuddin Siddiqui had a good laugh over it. But later when Anurag was scrutinizing the scenes, even he got appealed by the actor's eyes. From that day, he started telling Nawazuddin, "Tu toh meri item hai"! He also told the actor that, "Badi zabardast shaadi hoti hamari!" Nawazuddin at this point writes in his memoir, "If either one of us was a girl, we would have married each other. I am his muse, he says, and he is mine, I tell him."
For Anurag Kashyap's Gulaal, Nawazuddin Siddiqui was offered the role of Bhati, which ultimately was done by Deepak Dobriyal. The role required him to drive a jeep and so excited was the actor that he enrolled in driving classes promptly. He could barely control his emotions when he was about to board the train to Jaipur. But before he could begin his journey, he got a call from someone in the film's team and he was told that he has been dropped from the film! The world came crashing down for Nawazuddin Siddiqui.
Later, he realized that he became a victim of internal politics. Someone apparently told Anurag Kashyap that Nawazuddin Siddiqui is asking for Rs 1.5 lakh as fees. However, Nawazuddin didn't do so and had quoted Rs. 1 lakh, knowing that the film is very tight budgeted. The same person told Nawazuddin that his fees have been reduced to Rs 80,000 by Anurag! When Anurag Kashyap found out, he called the actor and apologized profusely. The actor was touched by this gesture.
Sometime later, Anurag Kashyap called him for a shoot in Chandigarh. At first, the actor was bitter over the Gulaal experience but later, he went for the shoot. It's only when he reached there that he realized that Anurag had called him to do an 'item song', 'Emotional Attyachar' from Dev D. Nawazuddin Siddiqui wrote in the memoir that Anurag always had the idea of casting him in such song. In his words, "I had always taken the 'item girl' tag in jest. I had no idea that the bugger had plans of casting me in an 'item number' from the very first time he met me."
Today, both are busy in their respective careers and hence, don't get time to interact. But Nawazuddin Siddiqui says that nobody quite understands him as deeply as Anurag Kashyap. Anurag too held him in high regard. Anurag had become good friends with Shweta Bhardwaj, who at that time had auditioned for Dev D, but ultimately didn't get the part. While referring to Nawazuddin, she once asked, "Kaaliye ke saath kya kar rahe ho?" (What are you doing with this black guy?) The moment he heard that, Anurag Kashyap left in the middle of the dinner. "When a director believes in you like this, how can you not give him beyond your best", said Nawazuddin in his memoir.