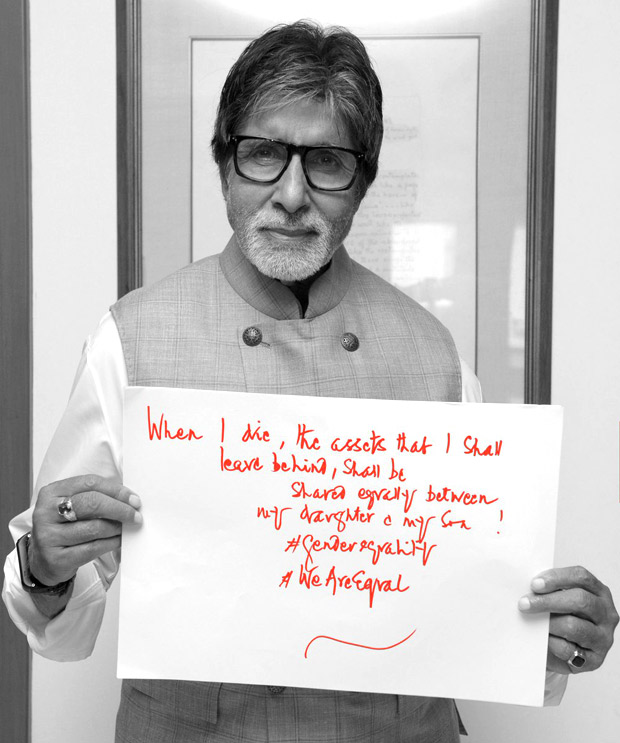 >
Today the fight for gender equality has reached an all-time high with people and celebrities across strata of society campaigning for the same. Lending his voice to the campaign now is none other than veteran actor Amitabh Bachchan. In fact just a week before International Women's Day, Amitabh Bachchan took to twitter to show his support for gender equality.
But it wasn't the thought of the megastar that caught our attention, instead it was what is written on the placard he holds in the image that did. Reading, 'When I die, the assets that I shall leave behind, shall be shared equally between my daughter and my son! #GenderEquality #WeAreEqual'. The statement comes across as more of a line from the veteran actor's last will and testament.
While, in terms of gender equality this does come as a massive support considering the fact that since ages, assets are usually left to the male child of the family with little to nothing being left in the name of the girl. Later posting on his blog about the placard, Amitabh Bachchan talked about it saying, "The office of the public servants that promote various campaigns are keen for this .. and so I do it .. though talking about it and exhibiting its plea is hesitating for me .."
Back on the film front, Amitabh Bachchan will next be seen essaying the role of Subhash Nagre once again in the film Sarkar 3.