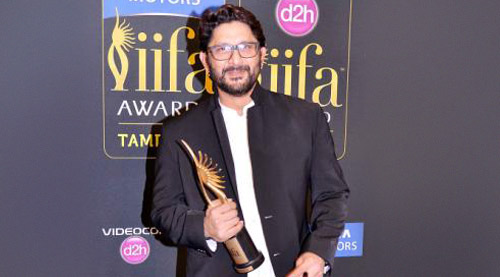 Diwali over, then Christmas, what's the next big fest in Bollywood? The various Film-fake awards!


One of the actors being considered for Arshad Warsi's part in Abhishek Chaubey's Ishqiya (2010) was Shiney Ahuja. After hearing the script, in order to establish that he had understood his
character quite well, Shiney reasoned, "Accha, toh tumhara ishq, ishq; aur hamara ishq, sex? Got it."


Anybody who's seen the movie will be familiar with that line (delivered by Arshad eventually), which became not just the picture's tagline but also in some ways its spine. If there was a well
deserved best writing/dialogue award given to Ishqiya, of course Shiney wouldn't have been part of it-he wasn't even part of the film.


I'm sure there are a million such instances that illustrate how filmmaking is too collaborative a medium for anyone to tell exactly who pitches in how and into which silo-let alone among the
credited cast and crew. Usually one attributes a film's overall quality to its director, and sometimes the producer. Actors are only as good as the characters they portray. Writing has a lot to do
with their performances. Stars earn admiration for green lighting unlikely scripts.


It must be hard for a critic to reward a picture for 'best editing', unless they've seen the rushes, and if cinematography or dialogue or art-direction singularly calls attention to itself
(everything else being mediocre), then there's something wrong with that film anyway.


And yet every year, filmmaking turns into a competitive sport. Each movie seems like a relay race team comprising various filmmaking departments competing against the others'. Judging pictures with
unrelated intents, purposes and storylines is a lot like comparing apples and oranges-technically you should be able to do that, because they are both fruits after all.


We have our favourite fruits. We can have our favourite films. All one needs to say is that the award-winning picture or performance isn't the best, only the "favourite" of a certain jury or voting
public that year. This essential "favouritism" inherent to every award show is the reason Woody Allen says he skips them all, which is really his bad.


Here's what top prizes and nominations tend to do. They acquaint lay audiences with film titles they would have otherwise never heard of. Those films with massive budgets would've never got made in
the first place if it weren't for the hope of critical acclaim that in turn guarantees global attention. If America didn't have the Oscars, Hollywood would have much fewer incentives to make
anything but Guardians Of The Galaxy all through the year. There's also the Golden Globe, given out by the foreign press in LA. Britain has the coveted BAFTA, France has its Cesars...
Since 1954, India has had its Filmfare, which it appears worked quite similarly up until the '80s, when the most number of 'best actor' trophies went to Naseeruddin Shah, for Aakrosh (in
'81), Chakra ('82) and Masoom (in '84)-all fabulous performances. I don't know if that's the reason there were no sponsors for Filmfare awards to be held at all in '86, and I can't
find winners of '87 and '88 anywhere!


In '91, Filmfare was supposed to have been rigged. This was evident from presenter Dimple Kapadia going up to announce the 'best actor' award even without opening the secret envelope. Aamir Khan
for Jo Jeeta Wahi Sikander was the front-runner. Anil Kapoor for Beta got it. Aamir swore never to attend any award shows thereafter. It was considered a big deal. The Filmfare was a
big deal.


Satellite television eventually took the shine off the awards around the mid '90s. They became about popular films and attendance of stars alone. You rarely heard about lesser known pictures or
performances.


At any rate I'm fairly sure nobody makes a movie hoping to bag a Filmfare anymore. They aim for popularity, yes. And if popularity is the only measure of success, then what's the point of awards?
You may as well hand out all trophies to the movie that's made the most money that year, no?


Well that's what happened as several 'Filmfake' awards sprung up to cash in on television viewership. Now as the year ends, there'll be one almost every weekend in the beginning of next, with
roughly the same faces walking down the red carpet.


As Shah Rukh Khan puts it in his mock online interview with The Viral Fever's 'Arnub', "Earlier I used to pay to get awards. Now they pay me to receive them." It's not even a joke. He performs in
return. We have fun watching these shows. Like television news, these award nights are in part a masala picture. There is drama generated with close-up shots of stars, when their rivals or exes get
on stage. Comedy is supplied by the host. Dancing cheerleaders look lovely. Who cares if the match is fixed? No one I know of!
BOLLYWOOD NEWS
Catch us for latest Bollywood News, New Bollywood Movies update, Box office collection, New Movies Release , Bollywood News Hindi, Entertainment News, Bollywood News Today & upcoming movies 2020 and stay updated with latest hindi movies only on Bollywood Hungama.