South Korean juggernaut BTS, the biggest band in the world who were appointed President Moon Jae-in's Special Envoy for Public Diplomacy, addressed the world leaders at the 76th UN General Assembly! Three years after their last appearance at UNGA and last year's virtual appearance, the group made their return to New York to attend this year's session to talk about youth, the pandemic, future generations, and culture. Introduced by President of Republic of Korea Moon Jae-in, the septet came up on stage to present the stories of youth trying to live healthier lives or their thoughts on climate change.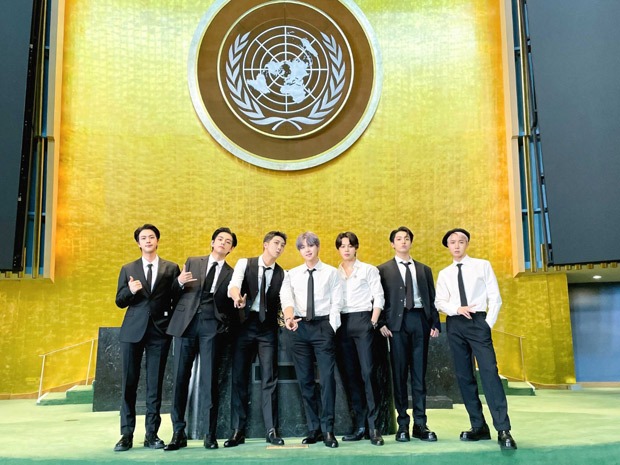 BTS shared their remarks during the SDG (Sustainable Development Goals) Moment as the representatives of the youth today. This is the third time the band gave a speech at the UN following two occasions in 2018 and 2020. Preparing for their speech, BTS asked the youth across the globe through their social channels "What were the past 2 years like for you, and what's your world like today?" They received countless stories from all over the world and presented some of them today, acting as messengers to make the voice the future generation heard.
A group that speaks volumes through their music about mental health, growing up, life, resonating with youth and beyond, BTS took centerstage to inform the world leaders about life in the pandemic, how the youth of this generation should be addressed, and how positivity and hope will go a long way in these trying times.
"There were times during the past two years when I too felt bewildered and troubled, but still, we had people who cried out "let's live on, let's make the best of this moment," said Jin about the lost feeling and monotonous life at UNGA 2021. This was also something they addressed last year through their chart-topping song 'Life Goes On' from BE album.
Jungkook cited, "Sometimes it feels like the world is stuck in place. It feels as if you've lost your way. There was a time when we felt the same way."
Addressing the mental toll that this pandemic has left on everyone, Jimin said, "We are in the ideal time of our lives to take on new challenges. It wasn't as if you could blame anyone. You must have felt the frustration...the world changed like if we were transported in a flash to a parallel one."
Your participation made this speech possible.
We were thrilled to have the honor of telling the world the stories of #YouthToday together with you.
We will always be by your side.#YourStories are just beginning.#BTS #방탄소년단 pic.twitter.com/hdNF2QY6jA

— BTS_official (@bts_bighit) September 20, 2021
SUGA further said even when COVID-19 took a lot from us, the silver lining was we somehow began to see appreciate the simplest of things. "It was a time for us to mourn, for the things that COVID-19 took away from us, a time to discover how precious each and every moment we had taken for granted was," he added.
Discussing environmental issues, j-hope said, "Everyone agrees that Climate Change is an important problem but talking about the best solution might be, that's not easy. It's a topic that is tough to make conclusions about." To which, RM added, "I learned that there are many young people interested in environmental issues and choose it as their field of study. The future is unexplored territory, and that's where we more than anyone will spend our time. And they are searching for the answers."
V said that there is light at the end of the tunnel and there's a lot more to see in the future. "I hope we just don't consider the future as grim darkness. We have people concerned for the world and searching for answers. There are still many pages left in the story about us and I feel like we shouldn't talk like the ending has already been written," he said.
Talking about the youth and how life seems grim to them, RM, the leader of BTS said that calling them a lost generation is a bit of a stretch. "I've heard that people in their teens and 20's today are being referred to as COVID-19 lost generation. That they lost their way at the time they needed the most opportunities but I think it's a stretch to say they've lost," RM said.
[#오늘의방탄] UN SDG Moment with #BTS
새롭게 시작되는 세상에서, 모두가 서로에게 'Welcome'이라고 말해주길???? #문화특사소년단 #방탄소년단 #BTSARMY #YouthToday #YourStories #PermissiontoDance pic.twitter.com/eE5XhIFaRR

— BTS_official (@bts_bighit) September 20, 2021
Jimin presented a chart that had stories from the youth and their fans (ARMY). He said, "In these pictures, you can see there are kids that are trying to learn new things. They are not lost; they are finding new courage and taking on new challenges."
Furthermore, Jin said instead of calling them 'lost generation', we should address them as 'welcome generation' who will readily persevere through the changes and what they've dealt with. "Instead of the lost generation, a more appropriate name would be the 'welcome generation' because instead of fearing change, this generation says "welcome" and keeps pushing ahead," he said. This is something BTS has shed light on their latest chart-topping track 'Permission To Dance' where they mention that 'when we fall, we know how to land.'
"If we believe in possibilities and hope, even when the unexpected happens we won't lose our way, but discover a new one," RM added, emphasizing the hope that the group has been giving to millions of people around the world throughout the pandemic, through their music and encouraging words.
"There will be choices we make that might not be perfect but that does not mean there won't be anything we can do," SUGA mentioned during his speech.
Being an advocate for COVID-19 vaccine, j-hope mentioned all seven members are fully vaccinated. "What is important are the choices we make when we are faced with change right? Some of you heard the news that we were coming to the UN and a lot of you were wondering whether we were vaccinated. Yes, all seven of us, of course, we received COVID-19 vaccination."
BTS ended their address by saying, "We thought the world stopped but it continues to move forward, I believe that every choice that we make is the beginning of change, not the end. I hope that in this... new world we can say to each other: 'Welcome'."
After their speech, a video of their performance was played at United Nations General Assembly where the group performed their song 'Permission To Dance'. It was filmed at the United Nations' headquarters and outside with a diverse group of people joining in the hopeful message of the song. They became the first-ever group and third artist after Beyonce and Shakira to perform at UNGA. They started singing in the General Assembly Hall, and then moving to the lobby. BTS came out individually through seven doors to the plaza where they continued to show off their dance moves dripping in bright energy. The epic performance capped off with the band doing the "International Sign" gestures for "Joy," "Dance," and "Peace" alongside dancers on the North Lawn.
At the very beginning of their career, BTS made 'youth stories' as a part of their music; they presented their own stories, life, and beyond through their music. 8 years down the line, they continue to be the voices of youth while their message transcends generations – be it hope, positivity, love, standing up against racial discrimination – everything they say, they stand by it, and inspire millions. As almost a million people tuned in to watch 21st-century pop icons deliver a speech at UNGA, BTS became the very definition of 'welcome generation' that welcomes diversity into their fandom, encourages everyone to spread love, talks about how this generation is misunderstood and not lost and impact millions! BTS continues to lead by example and there's a lot to look upto.
ALSO READ:
BTS to hold Permission To Dance on stage online concert on October 24, 2021
BOLLYWOOD NEWS
Catch us for latest Bollywood News, New Bollywood Movies update, Box office collection, New Movies Release, Bollywood News Hindi, Entertainment News, Bollywood News Today & upcoming movies 2021 and stay updated with latest hindi movies only on Bollywood Hungama.