The tension between India and Pakistan is only increasing day by day. Indian CRPF soldiers were killed in a deadly terror attack in Pulwama, Kashmir on February 14. India counterattacked on February 26 and destroyed Jaish camps in Pakistan. On Wednesday morning, Wing Commander Abhinandan Varthaman was captured by Pakistani Army.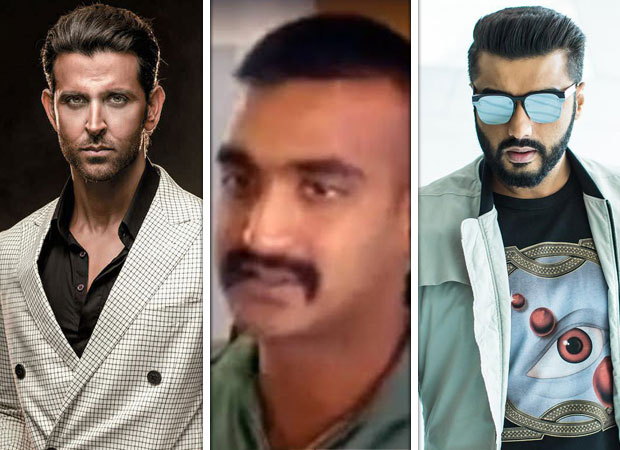 Indian Pilot Wing Commander Abhinandan Varthaman was taken into custody by Pakistani forces. The commander was lynched by a mob before the Pakistan Army took him into their custody and gave him medical attention.
As the soldier remains captured by Pakistan Army, Bollywood celebrities are praying for him and his safe return to the country.
We are all praying for the safe return of Wing Commander Abhinandan Varthaman #IAF gratitude from the daughter of a retired Indian Airforce officer @fbhutto for choosing humanity first & a way to peace???? Dugga Dugga & God bless https://t.co/6ztsyV5Dss

— sushmita sen (@thesushmitasen) February 27, 2019
It's a war against terror not between 2 nations yet. Dear Media —-you can actually stop this escalation .. please let's be responsible and work towards peace.

— Ranganathan Madhavan (@ActorMadhavan) February 27, 2019
May we all raise our voices for peace, and may those in power listen. May all our soldiers stay safe and all the warmongers on television and on social media go get killed on the front. https://t.co/3cAbkTLCrk

— VISHAL DADLANI (@VishalDadlani) February 27, 2019
Strength and resolve to the family and loved ones of #WingCommanderAbhinandan. The nation's prayers and thoughts are with him in this tough hour. May this stoic, dignified officer be back on Indian soil soon.

— Nimrat Kaur (@NimratOfficial) February 27, 2019
We all applauded the IAF yesterday and we are proud of them. Now let's all pray for Wing Commander Abhinandan to return home safely and both countries to solve this situation without bloodshed on either side.

— Milap (@zmilap) February 27, 2019
Our soldiers are fighting hard to protect the Nation. We stand by our Soldiers .
Amidst the tensions rising across the Nation, have decided to re-schedule the launch of #MadameTussauds WAX Statue
Will Post New Date Soon????@MadameTussauds @tussaudsdelhi #BringBackAbhinandan ????

— DILJIT DOSANJH (@diljitdosanjh) February 27, 2019
My prayers with #wingcommanderabhinandan hope he is safe & we see him back on home soil very soon...

— Arjun Kapoor (@arjunk26) February 27, 2019
Thoughts and strength to #WingCommandarAbhinandan amd his familly....India stands tall and proud with you....

— Karan Johar (@karanjohar) February 27, 2019
The whole country prays for you #wingcommandarabhinandan ????????
Hope "better sense prevails" & we see you soon on our soil. ???????? #saynotowar

— Vikrant Massey (@masseysahib) February 27, 2019
Salute #WingCommandarAbhinandan for his dignity & calmness in dealing with his captors. Praying for his safe passage back to India.

— Ritesh Sidhwani (@ritesh_sid) February 27, 2019
Calm, composed & dignified .. Strength and courage to #WingCommandarAbhinandan and his family.
India stands tall because of officers like you ????#jaihind ????????

— Rahul Dev Official (@RahulDevRising) February 27, 2019
We hear the voices and we are in solidarity and glad! #SayNoToWar #BringHimHome https://t.co/re2Ft4hfwK

— Swara Bhasker (@ReallySwara) February 27, 2019
Such courage, dignity , honor and grace under pressure. My thoughts are with you #WingCommanderAbhinandan #respect

— Hrithik Roshan (@iHrithik) February 27, 2019
Heartbreaking yet thought provoking the images of our #WingCommanderAbhinandan captured by Pakistani army. Yes emotions run high, yet all one can wonder, Is war really the road to peace here? Just pray that Abhinandan returns home peacefully and safe.

— arjun rampal (@rampalarjun) February 27, 2019
Stay strong #WingCommanderAbhinandan I salute your dignity and calmness. It brought tears to my tears . Salute to you and your family !! An entire nation stands with you Sir!

— Huma Qureshi (@humasqureshi) February 27, 2019
I join millions of Indians in praying for safe return of WC #Abhinandan. Admire the courage with which he is facing the situation, calm, composed and strong. I appeal to the Pak Authorities to treat him well and ensure his quick and safe return to India.

— Madhur Bhandarkar (@imbhandarkar) February 27, 2019
BOLLYWOOD NEWS
Catch us for latest Bollywood News, Bollywood Movies update, Box office collection, New Movies Release & upcoming movies info only on Bollywood Hungama.