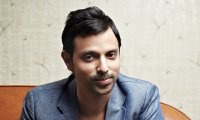 There is only one word to describe Mukul Deora- 'Multi-faceted'. Coming from a very strong political family, Mukul knew it right from the beginning that he was more inclined towards the creative arts. After having completed his business management from London, Mukul began pursuing his interest in music and started his career as a DJ. He later wrote, composed and produced his debut album 'Stray' which did quite well. In the interim he was also running a packaging solutions company which he later sold. He's also dabbled in conceptual art and had a solo art show titled 'BREAK' in Mumbai couple of years ago. Mukul is now in the news as he has turned producer with Bheja Fry 2 (sequel to the hugely successful 2007 flick Bheja Fry). As we meet at his office of Watchtower Films in suburban Mumbai, Mukul shares his journey from being a musician to turning producer. Read on…


From being a business management graduate to a musician to a conceptual artist to now a producer, it's been quite a journey for you…isn't it?

Yeah…I know it's been quite a journey. I love movies, music, literature, art, and architecture…basically anything that involves creativity. Each medium has its own characteristics which one needs to understand. I am not confined to any one particular medium and am willing to delve into any medium that gives me an opportunity to express my creativity. I write songs myself, I compose music, I do conceptual art, video art, I have designed the interiors of my office, I also design my clothes. I have run few companies and now am making movies (smiles).



I write songs myself, I compose music, I do conceptual art, video art, I have designed the interiors of my office, I also design my clothes.
So how did the idea of entering the movie business come to your mind?

Films are an interesting space because at the end of the day you are expressing your creativity but at the same time it has to make business sense too. I was always interested in movies. 10 years ago I couldn't make a movie which I liked but the market has changed a lot in the last 5 years and so has the audiences' sensibilities. Hence I decided to enter the movie making business and set up Watchtower Pictures. I didn't want it to be a flash in the pan idea. I wanted to build a proper company and that's how Watchtower Pictures came into being. It had to be something stable. We have a distribution arm too and distributed Patiala House recently. Bheja Fry 2 is our first production which is now ready for release.


When did Watchtower Pictures come into existence?

It came into existence about two years ago. It's named after the popular Bob Dylan song 'All Along The Watchtower'. I love Bob Dylan. The aim was to create a more stable platform where a lot of new things can be brought to the audience. I started a record label around 5 years ago called 'Dudup' (the sound of your heart beat). It was a platform for new musicians in India and we released a couple of compilations. Same way I want Watchtower Pictures to be a platform for new and interesting movies.



Watchtower Pictures is named after the popular Bob Dylan song 'All Along The Watchtower'. I love Bob Dylan
How did you decide on Bheja Fry 2 to be your first production venture?

I loved the first Bheja Fry. I knew the producer of that film Sunil Doshi. I always believed that the film had scope for a sequel but Sunil and his team weren't interested in making a sequel for various reasons. In the meanwhile I was also meeting a lot of filmmakers exploring different concepts. Sagar Ballary was one of them. I've known Sagar for a while, in fact he was supposed to do a music video for my first album. That however didn't work out. Sagar and I discussed 2-3 ideas that we could probably work on and finally zeroed in on making a sequel to Bheja Fry. We managed to get an OK from the original producers and I decided to produce the sequel. Sagar and Sharat Kataria started working on the script and that's how the project took off.



Sagar and I discussed 2-3 ideas that we could probably work on and finally zeroed in on making a sequel to Bheja Fry.

The first promo of Bheja Fry 2 is indeed hilarious. What kind of feedback have you been getting?

The response has been quite phenomenal. We worked very hard on getting the first promo right. In fact, I worked almost a month just on the promo as I firmly believe that the first look of your film is very critical to get the right attention. Each of the subsequent promos which you see will all add to your curiosity about the film, It's a well thought, well acted, well scripted, well directed and well produced movie.


A unique thing about the Bheja Fry series is that there are no big names yet it does boast of some phenomenal acting talent…

Indeed. For me it's very important if an actor can actually act. In the first Bheja Fry movie too you had some fabulous actors such as Rajat Kapoor, Ranvir Shorey, Sarika and of course Vinay Pathak. In the sequel too, everybody right from Kay Kay to Suresh Menon to Minissha to Amole Gupte is a very good actor and has done a fabulous job.


Bheja Fry started the trend of 'small budget high concept films' but Bheja Fry 2 does seem much bigger on scale and budget. What do you have to say about that?

Yes...the budget has shot up with Bheja Fry 2. The script demanded that we shoot on a luxury cruise liner and on an island. We did a lot of recce trips to Singapore and surrounding areas like Bintan Island where finally began shooting. We also explored various cruise liners before zeroing in on the Star Cruise Virgo. I think with any movie, it's essential that the budget remains within limits. We tried our best but the script demanded that we shoot at certain locations and I didn't want to compromise on that. Having said that, when you see the film you will realise that we have focussed strongly on the content and not just spent money for the heck of it.


Considering you are a musician too, have you composed or written any songs in the film?

No, we have 3 composers. Sagar Desai has done the background music, Sneha Khanwalkar has composed one song while Ishq Bector has composed a few promotional tracks. I have not composed any song but was creatively involved during the music sittings. 'Bharat Bhushan' as you know from the first part is a singer, he loves music, hence we thought it made sense to have couple of songs in the film but you won't find songs just put in for the situation. Besides songs are an important part of films in India. We are lucky we got 4 good songs so why not make the best use of it.


You already have a successful producer Aarti Shetty Deora in the family. Did you take any inputs from her?

I have taken her dad's inputs (Mr. Manmohan Shetty). They are all family and I do listen to their suggestions as well.


What else is next after Bheja Fry 2?

We are working on the adaptation of The White Tiger... it's a very big project. We've just got the rights and it's collaboration between me and John Hart- a New York based producer who produced Revolutionary Road. It will feature Indian actors but it will be at par with any international movie say like a Slumdog Millionaire.
BOLLYWOOD NEWS
Catch us for latest Bollywood News, New Bollywood Movies update, Box office collection, New Movies Release , Bollywood News Hindi, Entertainment News, Bollywood News Today & upcoming movies 2020 and stay updated with latest hindi movies only on Bollywood Hungama.