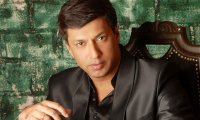 Respected Sir,


There has always been a strong element of reality in each of your films. While Chandni Bar took us deep into the shady dance bars thriving in the city of Mumbai, Page 3 exposed the lifestyle of the rich and famous. In Traffic Signal too, you once again portrayed a side of Mumbai never seen before depicting the community which exists at the numerous traffic signals while with Fashion, you took us behind the scenes of all that happens amidst the glitz and glamour of the fashion world. Now the whole world is waiting with bated breath for your next biggie Heroine starring the timeless beauty Aishwarya Rai Bachchan. We all know that Heroine is based on the life and times of a superstar heroine from the dream factory we call 'Bollywood'.


Even as you and your creative team are busy working round the clock deciding on what to incorporate in this ambitious project, we as viewers would like to point out some things which we would like to see in Heroine....Bhandarkarsaab please make sure Heroine includes the following:


Bagging the first break: In a land filled with thousands of hopeful aspirants, it's only a handful who get lucky to bag that elusive break. Is it acting talent, just good looks, pure luck or having the right connections that help you get your first break is something we would like to see in Heroine...Needless to say it would also be interesting to see your take on the infamous casting couch which quite a few of our actresses have encountered at some point or the other.





Friendship and Rivalry: The popular saying goes that '2 actresses can never be friends'. We've all heard of numerous stories of cat-fights between leading ladies and how they bitch about one another. An insider's view on this topic will surely spice up proceedings in Heroine





Heroines and their starry tantrums: We've all heard of various stories about how actresses throw tantrums over the smallest of things right from getting the right make-up man to the size of their vanity van. Besides, there have been stories about actresses making unreasonable demands from various producers to fly their entourage of people which even includes their family members on outdoor shoots. It would be interesting to see if there is any truth to these stories whatsoever.






Secret to a Fab body & beautiful face: A well-toned body and a beautiful face is God's gift but in the days of cosmetic surgery and botox, many-a-times it's a doctor who becomes God for many of our B-town actors and actresses. While none of them accept having gone under the knife, in most cases their pictures give us an altogether different story. The extent to which our leading ladies go to acquire that fab body or that picture perfect face is something we are pretty confident you would delve upon in Heroine.





Scandals & Affairs: Scandals and affairs are part and parcel of every actresses' life. Even when they are so obviously in a relationship, they deny it using the standardised phrase that 'We are just good friends'. What are the various methods which our heroines resort to cover-up their scandalous affairs would surely make for interesting viewing in your film.





P.R. Machinery: These days the P.R. machinery of an actor has to work overtime to ensure that the actor stays in the news and people's memory be it for the right or wrong reasons. While there is no harm in promoting one's film during release, it's the extent to which some of our actors/actresses go by planting stories about them through their P.R. machinery. The funny thing is when the media asks for a clarification, they resort to a 'No Comments' stand. An insider view of how the whole P.R. machinery operates in building the image of an actor / actress would be an eye-opener for the aam junta.





Brand Endorsements: For most actors, brand endorsements serve as an excellent source of alternate income. No wonder then that as soon as a new face strikes big at the Box Office she ends up bagging many top endorsement deals. However, the cut-throat competition exists even within the endorsement space, so much so that there have been stories where a senior actress has influenced a top brand not to sign her junior as their brand ambassador. Madhurji it would indeed be great if you incorporate these elements too in your film.





Shady dealings & overseas trips: It's a common fact that not all is clean in the big, bad world of Bollywood. We've all heard stories of some actresses being linked to rich businessmen abroad while others having close connections with the underworld. Stories of actresses making frequent trips to Dubai and making a quick buck are not uncommon. What exactly happens in these trips is something a lot of us would like to know and hence do make sure that you touch upon these grey areas too in your ambitious venture Heroine.





Awards & Rewards: While they may all say that it's only the audience's love that matters, fact of the matter remains that almost every actor/ actress loves receiving awards for his/ her work. The debate over how fair these awards are has been a never-ending one and we hope in Madhur's film we get a sneak peek at the actual proceedings which take place on the night of the various award functions.
Hoping that you go though this letter and do pay heed to a few of our requests while making Heroine. Wishing you all the best for your most ambitious venture.
BOLLYWOOD NEWS
Catch us for latest Bollywood News, New Bollywood Movies update, Box office collection, New Movies Release , Bollywood News Hindi, Entertainment News, Bollywood News Today & upcoming movies 2020 and stay updated with latest hindi movies only on Bollywood Hungama.