It was an emotional night for legendary NBA player Kobe Bryant's family as they bid farewell to Kobe and his daughter Gianna Bryant along with the seven others who passed away in the tragic helicopter crash. The memorial for them took place at Staples Center in Los Angeles as many NBA players, close friends from the industry and family were in attendance to pay homage to Kobe and support his family during this tragic time.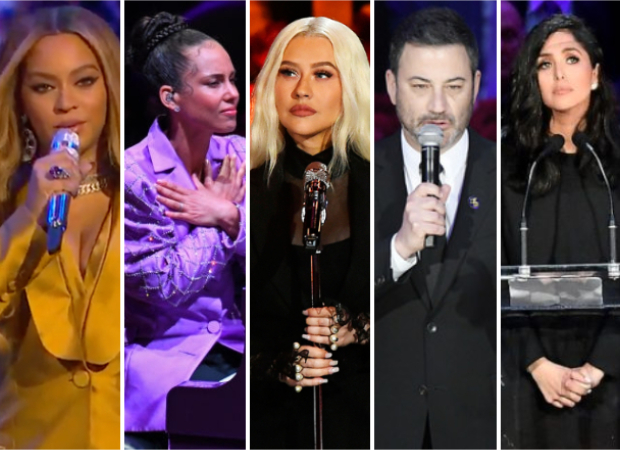 On Monday, Beyonce took the stage to perform 'Halo' as she bid adieu to Kobe. She tearfully gave a salute in the sky before a tribute video for Kobe featuring his achievements was shown on Jumbotron.
Beyoncé opens Kobe & Gianna's Celebration of Life with one of his favorite songs.

(via @SpectrumSN) pic.twitter.com/SfcdOhtbLx

— NBA TV (@NBATV) February 24, 2020
Alicia Keys took the stage as she played Beethoven's 'Moonlight Sonata' on the piano which was favourite of Kobe and his wife, Vanessa. "Vanessa, when you told me the Moonlight Sonata is such a beautiful part of your love story bc Kobe vowed to learn it for you, I was speechless," Keys wrote on Twitter following the memorial service. "I felt the depth of your love for each other & your girls with every note I played today. The love between u lights up the world."
Alicia Keys performs her rendition of Beethoven's Moonlight Sonata at Kobe & Gianna's Celebration of Life. pic.twitter.com/yzPY3lakWk

— NBA TV (@NBATV) February 24, 2020
Christina Aguilera delivered an emotional performance on 'Ave Maria' with an orchestra. She sang in Italian as she paid homage to Kobe and the place he grew up and learned to play basketball.
@xtina singing 'Ave María' at #KobeByrant Memorial ???? pic.twitter.com/NohGgbypOF

— #LIBERATION (@CuartasSanti) February 24, 2020
Jimmy Kimmel kicked off the emotional memorial service with a poignant eulogy for Kobe. "I don't think any of us could have imagined this," he said. "Everywhere you go, you see his face, his number, Gigi's face, Gigi's number at every intersection. There are hundreds of murals painted by artists who were inspired not because he's a basketball player, but because Kobe was an artist, too."
He further said, "Today we're joined by Kobe's teammates and opponents alike, his friends, his family and his fans, as we try to make sense of what happened to these nine beautiful people who were by all accounts so full of life, who left behind parents, friends, coworkers, classmates, siblings and children. I've been trying to come up with something positive to take away from this, and it was hard because there isn't much, but the best thing I think I was able to come up with is this: gratitude."
"It seems to me that all we can do is be grateful for the time we had with them and for the time we have left with each other."@jimmykimmel gives an emotional speech. pic.twitter.com/B6nrmF9QZ2

— The Association on FOX (@TheAssociation) February 24, 2020
Kimmel introduced Bryant's widow and Gianna's mother, Vanessa Bryant as she delivered a tearful eulogy. "First I'd like to thank everyone for coming today," she said. "The outpouring of love and support that my family has felt from around the world has been so uplifting. Thank you so much for all your prayers. I'd like to talk about both Kobe and Gigi. I'll start with my baby girl Gianna Bryant, an amazingly sweet and gentle soul."
"He was my everything."

Vanessa Bryant remembers Kobe at the Celebration of Life. pic.twitter.com/vHb9xP0qmm

— NBA TV (@NBATV) February 24, 2020
Speaking about Kobe, she said, "He was mine. He was my everything. Kobe and I had been together since I was 17.5 years old. I was his first girlfriend, his first love, his wife, his best friend, his confidante and his protector. He was the most amazing husband. Kobe loved me more than I could ever express or put into words. He was the early bird and I was the night owl. I was fire and he was ice, and vice versa at times. We balanced each other out," she recalled. "He would do anything for me. I have no idea how I deserved a man that loved and wanted me more than Kobe. He was charismatic, a gentleman. He was loving, adoring and romantic. He was truly the romantic one in our relationship."
"I looked forward to Valentine's Day and our anniversaries every year. He planned special anniversary trips and a special traditional gift for every year of our marriage. He even handmade my most treasured gifts. He just thought outside the box and was so thoughtful even while working hard to be the best athlete," she shared.
"He gifted me the actual notebook and the blue dress Rachel McAdams wore in The Notebook movie. When I asked him why he chose the blue dress, he said it was because the scene when Ali comes back to Noah. We had hoped to grow old together, like the movie. We really had an amazing love story. We loved each other with our whole beings, two perfectly imperfect people making a beautiful family and raising our sweet and amazing girls. A couple weeks before they passed, Kobe sent me a sweet text and mentioned how he wanted to spend time together, just the two of us without our kids because I'm his best friend first. We never got the chance to do it. We were busy taking care of our girls and just doing our regular everyday responsibilities, but I'm thankful I have that recent text. It means so much to me. Kobe wanted us to renew our vows. He wanted Natalia to take over his company and he wanted to travel the world together," she further said.
"Gigi would have easily become the best player in the WNBA."

Vanessa Bryant remembers her daughter, Gianna. pic.twitter.com/9tv3w8wL6a

— NBA TV (@NBATV) February 24, 2020
Speaking about her daughter, she added, "We didn't get the chance to teach her how to drive a car," she shared. "I won't be able to tell her how gorgeous she looks on her wedding day. I'll never get to see my baby girl walk down the aisle, have a father-daughter dance with her daddy, dance on the dance floor with me or have babies of her own. Gianna would have been an amazing mommy. She was very maternal ever since she was really little. Gigi would have most likely become the best player in the WNBA. She would have made a huge difference for women's basketball," she continued. "Gigi was motivated to change the way everyone viewed everyone in sports. She wrote papers in school defending women and wrote about how the unequal pay difference for the NBA and WNBA league wasn't fair. I truly feel she made positive changes for the WNBA players now. Gigi's goal was to eventually play in the WNBA. I'm still so proud of Gianna."
"He was thoughtful and wrote the best love letters and cards, and Gigi had his wonderful ability to express feelings on to paper and make you feel her love through her words. She was thoughtful like him. They were so easy to love. Everyone naturally gravitated toward them. They were funny, happy, silly, and they loved life. They were so full of joy and adventure. God knew they couldn't be on this Earth without each other. He had to bring them home to have them together. Babe, you take care of our Gigi. I got Nata, Bebe and KoKo. We love and miss you, boo and Gigi. May you both rest in peace, have fun in heaven until we meet again one day. We love you both and miss you forever and always. Mommy," she concluded.
"As I got to know him, I wanted to be the best big brother that I could be."

Michael Jordan on Kobe Bryant. pic.twitter.com/dTSp7VDosP

— NBA TV (@NBATV) February 24, 2020
"Now it's time for us to continue your legacy."

Shaq on Kobe's impact. pic.twitter.com/Zw2n3b1aMB

— NBA TV (@NBATV) February 24, 2020
BOLLYWOOD NEWS
Catch us for latest Bollywood News, New Bollywood Movies update, Box office collection, New Movies Release , Bollywood News Hindi, Entertainment News, Bollywood News Today & upcoming movies 2020 and stay updated with latest hindi movies only on Bollywood Hungama.