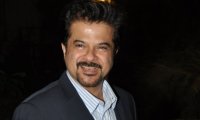 There's little that Anil wouldn't do for a friend. After his just-concluded visit to India, Tom Cruise and Anil Kapoor have become really close friends. Anil admits the two are much closer now than they were during the making of Mission Impossible: Ghost Protocol, so much so that Tom persuaded Anil to accompany him to the Dubai premiere of their film. Groggy and tired, Anil complied.
The two flew out together last Monday on Tom's private jet.
Tired and yet excited Anil said, "I have a very small cameo in MI:4. In fact it is the smallest role of my entire career. But what I've achieved is more than a role. I've made a friend. Tom and I have a lot in common. And as we spoke during his visit to India and then more importantly when we flew together in his jet to Dubai, we realized we started our careers in the same way. He told me about how he got his first film Taps, I told him about my beginnings. I told him how as a child I stole from my mother's gulag (mud piggybank) to see films at Chitra and Bharatmata theatres. He said he too ran away from home to watch films but not with stolen money. He used to sell newspapers to make money. So I joked with him that he started earning young while I started as a thief. Yes, we've been bonding big time. I even made him say jhakaas on the red-carpet. And he said it effortlessly."
After his Indian lap of MI:4 promotion was over, Tom persuaded Anil to go for the Dubai premiere. "Yes I went to Dubai because he wanted me to. Tom had a blast in Mumbai."
There is talk of the two coming teaming together for a Bollywood film, to which Anil says, "Right now, we're just …cruising. The possibilities are immense. India has the second-largest population in the world. Indian cinema and Bollywood have a global impact. And I seriously feel our stars like Shah Rukh, Aamir, Ranbir have the potential to become global names. But they are not hankering for Hollywood. Even I am not looking westwards for my success. I am happy to be an Indian actor. My roots and friends here. Even today I'd drop everything to help a friend. I've done innumerable films for friends. I'd still do the same even if I've to sacrifice a Hollywood project to do so."
The next step in Anil's global plans is to seriously do an adaptation of the series 24 for Indian television. "Yes, we've bought the rights. Every episode of the original would be done faithfully for Indian television with me playing the protagonist. Believe me, I will have the time. I am in no hurry. My movie assignments are not going to drag their feet. So, I can do whatever I want to. And there's plenty to be done at this stage of my career. I've undertaken a journey into the unknown. I can't wait to see where I go from here."