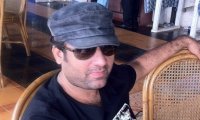 Let's get this straight. There are writers in Indian cinema and then there is Rajat Arora. I've never met this man or interacted with him till I interviewed him. But it was all in his voice. I could sense him as the character. He had all those qualities and a perfect 'Veni Vidi Vici' story. After decades, we have got what single screens were screaming for - standing ovation, whistleblowers, house-full boards and those lovers on the back seats wanting more. The Dirty Picture has given them more than just that, thanks to Rajat Arora and the team that he can't thank enough of. Ask any group of screenwriters about their work and the answers are bound to cut across a wide range of emotions, from the practical to the guilty to a sense that being a writer is an outrage of fate. The subject of writing provokes Rajat and how! I personally think that writers come in two broad categories: the organised and practical; and the disorganised and impractical. Rajat probably falls in both these categories because he believes, just like his characters, that no one is perfect. And then the more I listen to Rajat on the other side of the receiver, the more I started to believe that writers are like soldiers. There's no time clock because the clock is broken. It's about what you do. You never know what's going to happen and before you know it, it'll come to you in a jiffy and hit you hard. That's exactly what happened with Rajat Arora - he wrote the movie about an aspiring actress and before he knew it, he became the hero of the movie. But there's more to this story than what you think. Read on! UK's Harrow Observer columnist and Bollywood Hungama's London correspondent brings you the hero - Rajat, the heroine - Vidya Balan and the super hero - Ekta Kapoor, all in one in this Friday's 'boombaat' exclusive!
"There is no chance of any other actress portraying the role that Vidya did"
At this point, I'd like to say that it would not have been possible without the team effort, especially Vidya Balan. Without her, the film would not have shaped her 'Dirty' (laughs). Vidya is 'boombaat'. Period! I've never thought of any other yesteryear actress portraying the role of Silk that Vidya has performed and after watching the film, there is no chance that anyone can even portray such a character. What a performer and a professional Vidya is!

"The 'Bluff masters' (Sridhar Raghavan and Rohan Sippy) put me on to Milan Luthria"
I was doing television before I embarked my career in films. My dear friend Sridhar Raghavan was doing a film with Rohan Sippy and at that time Milan Luthria was also doing a film with him called Taxi No. 9211. He was looking for a writer and that's when Sridhar recommended me. The 'Bluff masters' put me on to Milan (laughs).
"Fiction can only happen with people"

I wouldn't call The Dirty Picture a biopic. Rather, all biopics are also a work of fiction. Fiction can only happen with people. It cannot happen with an idea or different things. Though it's challenging to write a biopic, it's equally challenging to write any other movie. But this one in particular has been a challenge worth it.
"I don't write stories with twists and turns and that's why I put extra efforts in my dialogues"
I write very simple stories. The stories are about characters and their personal growths, strengths and weaknesses. These stories don't have any twists and turns. As an additional weapon, I try to put extra effort in the dialogues. I still need the audience's attention towards the story but if the dialogues are strong too, it heightens the film in totality.
"The three things a writer must do is read, read and read"
The three most essential must dos for any writer in our industry is to concentrate on entertainment, entertainment and entertainment. The three things a writer must do is read, read and read.

"Our aim was never to make a Silk Smitha story but a story on the underbelly of the film industry in 80s"
I've never had the honour of meeting Silk Smitha in person. Secondly, the character of Vidya in the movie isn't inspired by Silk Smitha alone. Our aim was never to make a Silk Smitha story. We were making a film on the underbelly of the film industry in 1980s. In the 80s, there was a phenomenon of many item girls coming into the film industry called Silk Smitha, Disco Shanti, Polyester Padmini, etc. Our intention was to weave a story around that time.
"What I was fascinated about the item girls of the 80s is how they made it big in a male dominated industry"
The fascination about these women was that these women made it big. It was a rag to riches story. They made it very big in a male dominated industry of ours. At the same time, they made lots of money in a short span of their career. But unfortunately, the endings of most women were very sad. There were highs of unimaginable epic stories and lows of tragic instances. What happened between that is what we were fascinated about.
"Nobody wants to write a bad movie and nobody writes a bad movie"
Nobody wants to write a bad movie and nobody writes a bad movie. It's just that audiences don't like it. They are the judges, they are the jury. The decision is theirs. As far as the writers getting to centre stage are concerned, it's slowly but surely getting there. I don't think people neglect writing. It's just that by the time your movie releases, there are so many layers that add on - choreographer, director, actor, music director, editor, etc. Writer is one of them. Luckily for me, I've been blessed with a team so far that's paid me my due respect as a writer and have appreciated my profession.
"I'd like to write a breezy comedy"
I'd love to write an out and out comedy film because I love comedy films. I'd definitely choose to write comedy over any other genre if given a choice. In fact, if you've noticed, I try to keep the atmosphere in my writing very light. Even if it's a gangster movie or any action movie, I try to keep the dialogues light. So yes, a breezy comedy is what I'm looking for.
"I like to see my characters go through their struggles"

I feel that every human being has a good and a bad side. I like to dabble in the middle path called the grey area. I'd like to see how good they can be or how bad they can turn as characters. What would they do if things aren't going their way? My style of writing is more character driven than plot driven. There is a whole world out there which our characters breathe. We have struggles everyday but given the same struggles to our characters, it'd be interesting to see how they come out of it. I like to feel the character from the struggles they go through.

"The biggest change in audiences has happened because of television"
I think directors like Milan Luthria have become bolder in their story telling technique. Even in the case of Delhi Belly, it was a very bold film. I'm happy that audiences have started to like such kind of cinema. The biggest change in audiences has happened because of television. The movies that they can't watch on television, they choose to see it in the theatres. That's what I feel. The thing about Hollywood is that they've always grown bigger and better so that you are drawn to theatres. We too are trying to break grounds in our own way.
"Not many know this but Ekta is a very talented writer too"
Ekta is the most profound and a childlike person I've ever met. She has the more childlike feel towards the film and that passion comes out in her work. Not many know this but Ekta is a very talented writer too. She always takes a backseat. She has a very good understanding about the subject and has amazing suggestions. She backs her films like no other producer does.
BOLLYWOOD NEWS
Catch us for latest Bollywood News, New Bollywood Movies update, Box office collection, New Movies Release , Bollywood News Hindi, Entertainment News, Bollywood News Today & upcoming movies 2020 and stay updated with latest hindi movies only on Bollywood Hungama.