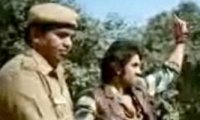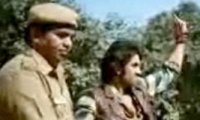 Ranbir Kapoor and his Rockstar seem to be asking for trouble. Even as the promo of this Imtiaz Ali directed film has managed to form an instant connect, something that seems to have missed the eyes of the Censor Board is the 'middle finger' gesture by Ranbir. Since there already have been a few instances earlier on when objections have been laid upon such on-screen acts, it seems that the day is not far away when Rockstar catches unnecessary attention for itself as well.


"It is surprising that Ranbir's middle finger gesture hasn't been caught yet", says a young filmmaker on condition of anonymity, "I wonder whether this was intentional or purposeful. On one side Censor Board makes such strict guidelines which are supposed to be universal for all filmmakers. On the other hand, they allow something as blatant as this. I refuse to believe they never caught this since this shot is long enough to be noticed. Also, the promo actually ends at that point to leave a lasting impression. I really believe that Rockstar has been left scot-free here."


He has all the right reasons to be peeved. After all there have been quite a few films this year itself that have faced the ire of Censor Board. In fact a similar act by Rani Mukherjee in No One Killed Jessica had found major resistance coming its way.


"To think of it, that was actually a fun moment in the film when Rani showed her middle finger. It was an expression of success. On the other hand, Ranbir's facial expressions convey that he is really angry and demonstrate a 'care-a-damn' attitude. I have no issues with Rockstar allowed for universal viewing with this shot retained as-is. My point is that rules should be same for all. If Rani was challenged then so should Ranbir be", says another industry insider.


Though one waits to see if this indeed ends up creating to an all around furore which is loud enough to wake up the Censor bodies, a few also feel that this could be a publicity gimmick that forms a part of the promotional campaign.


"It isn't as if the makers are not aware that something like this is bound to create a controversy. Seems like they planned for it by retaining this 'middle finger' shot for the closing moments of the promo so that it stays on. Any publicity is good publicity", a PR guru adds, "Regardless of whether objections lead to the shot being retained as-is or not, the fact remains that any debate would only end up benefiting the film further. It is a win-win situation."


Well, one waits to see drama further unfold.