The popular entertaining film, Baadshah, which completes 20 years today, had an ensemble cast. Shah Rukh Khan in the leading role obviously was quite entertaining but the other actors too left a huge mark. One actor who however stood out was Karishma Jain Chhajer, daughter of Baadshah's producer Girish Jain and niece of Ratan Jain, who played the young Sonu. She had a crucial part in the film, her chemistry with Shah Rukh was lovely and she also contributed to the film's humour quotient.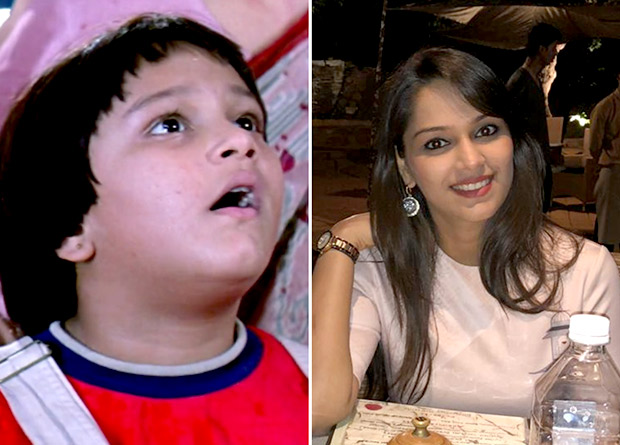 Cut to 2019. Karishma Jain Chhajer is now 27 and quite unrecognizable. Baadshah was her first and last film and in an exclusive interview to Bollywood Hungama, she goes down memory lane and recollects moments from the sets, how she bagged the part, working with SRK and other actors, why she didn't continue acting and a lot more.
What are your first thoughts when I say Baadshah and that it has completed 20 years?
That I have grown old! Shooting for it was one of the fondest memories of my childhood. When you say 'Baadshah', flashes of the shoot happening run right across my eyes.
How did you bag the film?
As a kid, I was always fond of dancing. My father (Girish Jain) and Bade Papa (Ratan Jain) also knew about my passion. So we had gone for the trial of Salman Khan-Sanjay Kapoor starrer Auzaar at Gaiety-Galaxy's Grace preview theatre. When the Hindi version of the 'Macarena' song 'Dil Le Le Lena' plays, my bade Papa, who's always been fond of me since I am the youngest, put me on the podium at the screen and told me to dance. I performed there and Abbas and Mustan uncle saw me. Then there were a couple of more such incidents where both of them must have seen me at parties. To build confidence in me, my father used to challenge me to go and talk to celebrities at these parties, ask them how they are doing and then ask them for a picture. Also, I was kind of a notorious kid running around here and there. So when they wrote Baadshah, they felt I was perfect for the role of Sonu and asked Bade Papa who without a second thought, agreed. So yeah this is how I landed up the role since they realized that I didn't have the fear and was open and extroverted.
Can you share some memorable moments from the sets of Baadshah?
My first scene with Shah Rukh was me and him climbing a flight of stairs when he is rescuing me from the kidnappers. The original scene was that he was supposed to lift me and climb. He had not seen me then and I was quite healthy. In the first take, he lifted me but he could climb only till half way. He then came down and told Abbas uncle, "Iss scene ko thoda change kar sakte hai kya? Baby thodi si heavy hai." He suggested that he'll hold my hand and run up. Then there was a scene which I feel was edited from the film where both of us had to get off the stairs. We did 4-5 takes as we were not getting the timing right. And in one of the takes, I lost my balance and fell down and I took Shah Rukh also with me. My leg hit him and he got a bit hurt.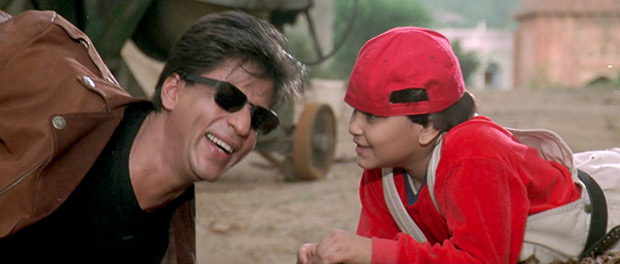 Go on…
Then there's a sequence where the kidnapper, played by Saurabh Shukla, urges me to talk on the phone with Shah Rukh Khan. So here I am supposed to slap Saurabh Shukla. I was however slapping him very aaram se. He's an adult after all. I was eating cheese balls in this scene and due to so many retakes, the snack was about to get over. This is when Abbas uncle spoke to me. He told me to imagine that those cheese balls have been snatched away by Saurabh Shukla and hence I have to get angry and slap him. That was it. I then slapped him really hard and the shot was okayed in one take! My first ever shot for the film was when I tell those two bald actors, 'O Taklu uncle, chocolate do na' and I slap them on their bald plate. So I banged their hard really hard! One of those actor even told me 'Aap ne bahut hi zor se maar diya'! Hence when I was supposed to slap Saurabh Shukla, I was very apprehensive.
How was it to work with Shah Rukh Khan?
He's a very humble person. Some people feel that he has a lot of attitude but in reality, he's a very nice human being. He made me feel very comfortable and help whenever I would get stuck with any scene. The scene where we both slide down, usme timing baith hi nahi rahi thi. He slides down and I follow him and then he has to get up after which I kick him. So we were not able to get the timing right. So he told Abbas and Mustan uncle to adjust the monitor towards him so that he can see when I am coming down and thus the timing can match. And I think I am the only girl in the whole world who has kicked Shah Rukh Khan on his bum! During meal times, he would tell me 'Yeh kha lo' or 'Woh kha lo'. He's very sweet and down-to-earth despite being a superstar!
Which are other actors of Baadshah who were nice to you?
All of them were very nice. Rakhee Gulzar was like a mother to me. In the climax, the car breaks the glass and enters the hall. Before that shot was canned, she asked the spot dada to give me cotton which I can put in my ears. She feared the loud noise of the breaking glass might cause me hearing problems. So she was so caring and its small things that make a lot of difference. Johny Lever uncle kept the environment on the set light and humourous. As for Amrish Puri, he has the Mogambo aura but in real life, he was complete opposite. I have grown up watching Mr India. And I was a kid and so I used to feel that in real life, he would be exactly the way he's in films. Hence, before shooting with him, I was very scared. But he made feel very comfortable.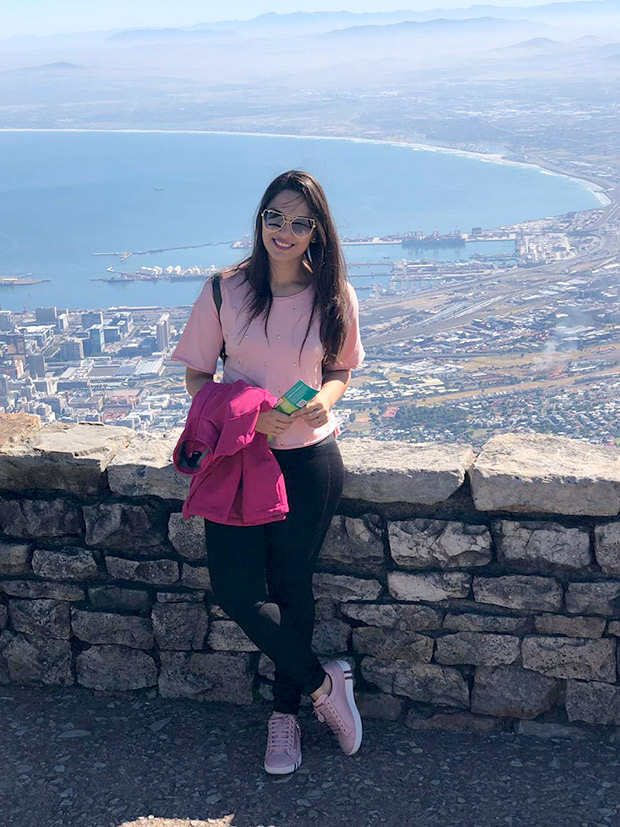 Why didn't you do any more films?
My father is highly educated. I used to miss out on my school while shooting for Baadshah. So my father felt that I am actually missing out on my education. He felt that education should be my priority and after that, I am free to choose whatever I want to. There were a few offers after Baadshah but he declined.
Do you feel like going back to acting now? Or would you like to dabble in any other department of filmmaking? What do you do now?
Not really. As I grew up, I realized I'd like to be behind the camera rather than be in front of it. After I finished my post-graduation in digital marketing, my father took control of the YouTube channels of Venus and asked me to join him. I really enjoyed my time there. I have seen these channels to what they were before and how they have million plus subscribers today. Then I joined Voilà Digi, a company I started with my brother Vinit Jain. Since he's studying and doesn't get much time, I take care of the work that needs to be done. Voilà Digi is also related to music. So my life and career is related to music and films!
Are your friends aware that you have acted in such a popular film?
Actually, I don't boast about this fact. I used to feel that once I tell people that I have acted in a movie, they might want to be my friends just for that aspect. So only those who became my close and good friends would I tell them. Also sometimes I have to tell them the truth when they ask me how come I have not worked in a film since I am Ratan Jain's niece. And once you tell one person, then it spreads. Funnily, many people are not able to believe that I am the same person who was in Baadshah. "Lagta nahi hai yaar, your face has completely changed," is what they tell me. But that's obvious as I have long hair now; then I had a bob cut.
Are you in touch with anybody from the team of Baadshah?
I am very much in touch with Abbas uncle and Mustan uncle. They are like family. For every function in our family – whether big or small – they are always there. Johny Lever and Charlie recognize me. Razak Khan also knew me well. But if I go and meet Shah Rukh Khan, he obviously won't come to know who I am unless I tell him that I acted with him in Baadshah.
Also Read: Shah Rukh Khan looks dapper in casuals at an event at Bandra Railway station
BOLLYWOOD NEWS
Catch us for latest Bollywood News, New Bollywood Movies update, Box office collection, New Movies Release , Bollywood News Hindi, Entertainment News, Bollywood News Today & upcoming movies 2020 and stay updated with latest hindi movies only on Bollywood Hungama.