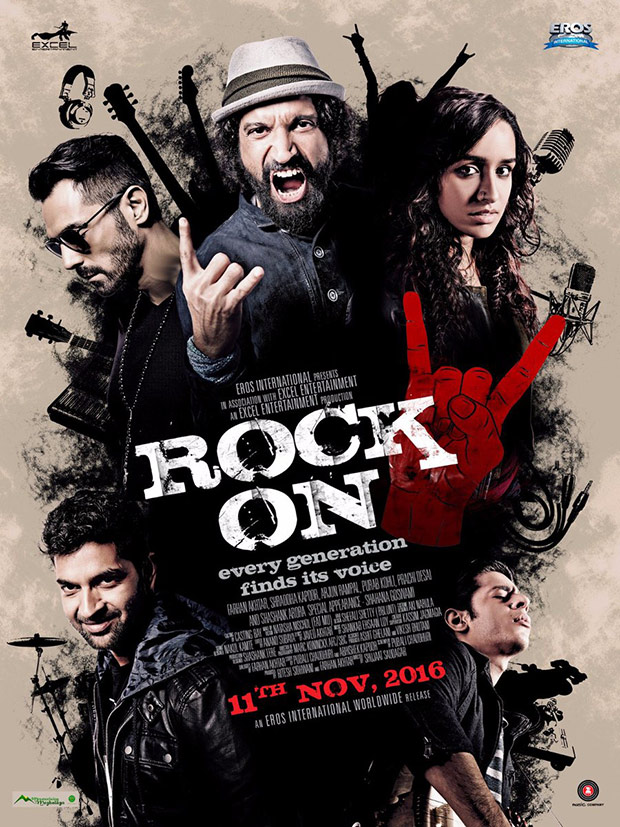 The sequel to the 2008 musical, Rock On!! 2 that is directed by Shujaat Saudagar, released this week. The film that retains original cast of Farhan Akhtar, Arjun Rampal, Purab Kohli, Prachi Desai also has a couple of additions like Shraddha Kapoor among others. Considering the sensitive situation in the country due to demonetization and a few other factors, the film has opened on a dull note.
In this box-office analysis, we take a look at the worldwide collections of Rock On!! 2 breaking the same into day-wise collections.
DAY-WISE BREAKUP FOR INDIA
Day 1 (Fri)  – 2.02 Cr.
Day 2 (Sat)  – 2.41 Cr.
Day 3 (Sun)  – 2.58 Cr.
Day 4 (Mon) to Day 7 (Thu) - 3.0 Cr.
Day 8 (Fri) To Day 14 (Thu) - 0.40 Cr.
Day 15 (Fri) To Day 21 (Thu) - 0.04 Cr.
Day 22 (Fri) To Day 28 (Thu) - 0.02 Cr.
TOTAL (NETT) – 10.47 Cr.
TOTAL (DOMESTIC GROSS APPROX.) – 14.54 Cr.
WORLDWIDE COLLECTIONS
India – 14.54 Cr. – (As of 08-Dec-16)
North America (USA and Canada) – 0.69 Cr. – (As of 27-Nov-16)
United Kingdom – 0.30 Cr. – (As of 20-Nov-16)
Australia – 0.12 Cr. – (As of 20-Nov-16)
New Zealand – 0.04 Cr. – (As of 20-Nov-16)
Malaysia – 0.0098 Cr. – (As of 20-Nov-16)
TOTAL (WORLDWIDE GROSS) – 15.70 Cr.
NOTE – * denotes trends / figures still being compiled
India figures are NETT. Overseas figures are GROSS.
Disclaimer: The Box Office figures are compiled from various sources and our own research. The figures can be approximate and Bollywood Hungama does not make any claims about the authenticity of the data. However, they are adequately indicative of the box-office performance of the film(s).