Amitabh Bachchan and Rishi Kapoor starrer 102 Not Out opened on predictable lines as Rs. 3.52 crore came in on the first day of release. It was expected that the film would see an opening in the range of Rs. 3-4 crore and this is exactly what happened. The collections were meant to rise primarily in the evening and night shows after a lukewarm morning and afternoon. That was because the Umesh Shukla directed affair is primarily catering to the middle-age and a segment of family audiences, and that population steps in mainly towards the evening.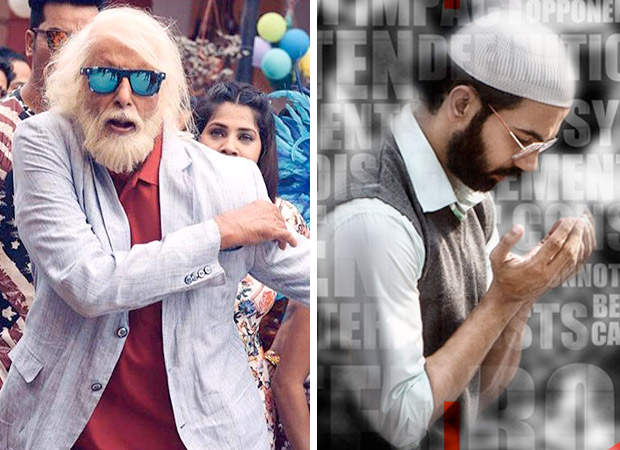 The film's opening is slightly better than Rani Mukherji's Hichki which had netted Rs. 3.30 crore on its opening Friday. It is slightly better than Amitabh Bachchan's own Shamitabh though which had collected Rs. 3.50 lower too, which means anything over Rs. 30 crore lifetime will allow it to sail through eventually. If the film manages to go past the Rs 5. crore mark today, a decent lifetime is on the cards.
The second release of the week, Rajkummar Rao starrer Omerta, has turned out to be a non-starter. Though there were apprehensions around whether the Hansal Mehta directed film would manage to touch even 1 crore mark on the first day, there was still some sort of wishful thinking for that to happen so that it eventually manages to cover costs at the least. However, the numbers have turned out to be much lower as the footfalls just didn't rise right through the day. As a matter of fact the release was pretty sparse as well with odd show timings not helping the cause either. It has only collected Rs 54. lakhs on its first day.
Rajkummar Rao's Newton, which was in the same zone, had collected Rs. 0.96 crore on the first day whereas Shaadi Mein Zaroor Aana was even lower at Rs. 0.75 crore. Here, Omerta hasn't managed to meet even this mark which pretty much tells the tale. Unless there is a miracle that takes place today and tomorrow, the film would be seen on digital medium that would definitely result in better viewership as well.