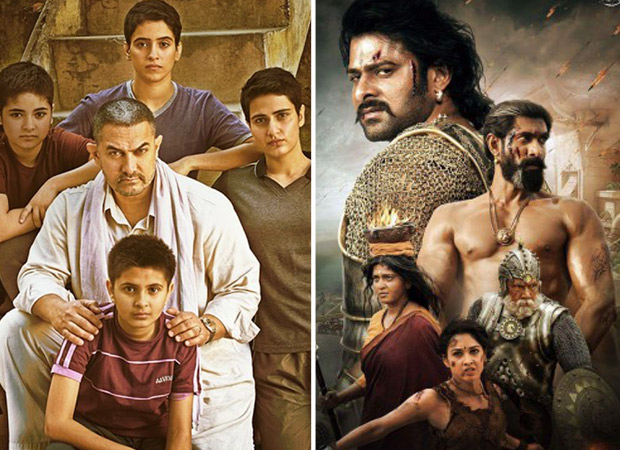 Film: DANGAL
Date of release: 23 December 2016.
Film: BAAHUBALI-2
Date of release: 28 April 2017.
Picture this: An Indian film grossing Rs. 1000 cr *worldwide*. One would've never imagined this a few monsoons ago. It's a reality today. A lot has changed in these five months.
Both DANGAL and BAAHUBALI-2 have made Indian cinema proud... have changed the way we think or look at movies... have pushed the envelope... have made each of us realise that we need to think beyond a few lucrative territories in India... have proved, yet again, that a good product can cut across boundaries and emerge triumphant. Yes, these two films will go down in history as game changers.
Moral of the story: Think big. Think global. That's the mantra for success!
It's time to celebrate. Both DANGAL and BAAHUBALI-2 have revived and rejuvenated the film industry. Every producer I meet or interact with these days is looking at making films that appeal to the global audience. Not just the traditional markets. A few announcements have already been made... A few are in the pipeline... You will hear about them soon. The quality of Indian movies is undergoing a change for better. We will witness the results in late 2018 or early 2019 onwards. Hopefully.
Having said that, you cannot expect every film to emulate the success of DANGAL and BAAHUBALI-2. Moreover, you need to think about the pan-India audience and global audience simultaneously to strike a chord. Films that reflect India, are Indian at heart, but made skilfully and intelligently, can find an audience worldwide.
The film ought to excite the audience. Only then will the viewer dig into his/her pocket/purse to pay for the ticket of the movie. I reiterate, a big star alone cannot guarantee success. A strong script is the king and the maker/director and writer/s are the king makers. Aamir Khan and S.S. Rajamouli are two shining examples of this statement. For them, their films come first. That's the level of commitment they have towards the craft. And it reflects in their movies and the business their movies do eventually.