Toilet – Ek Prem Katha Review {3.5/5} & Review Rating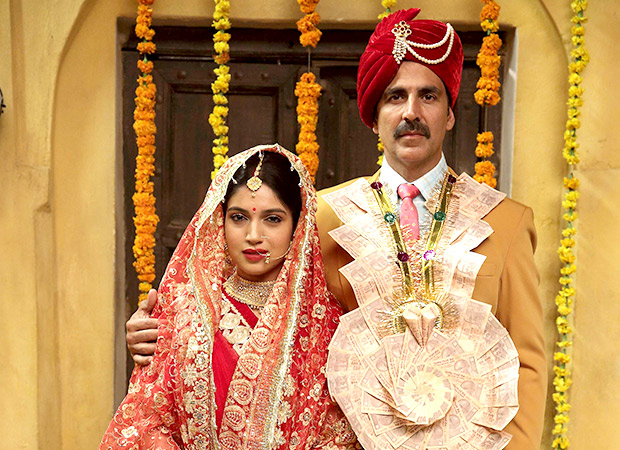 EXPECTATIONS
On the face value, when a film is titled Toilet - Ek Prem Katha, then, you aren't really sure about the kind of music that would be in the offering. It may appear to be a docu-drama in the offering with the music being strictly situational, primarily for the background, structured as per the film's theme and miles away from being anything romantic. However, this is where the Akshay Kumar factor comes into place. Given the fact that the actor thinks only commercial, he ensures that even in a film that has 'toilet' as a central element, the music (with lyrics by Garima Wahal and Siddharth Singh) is pleasant with love elements in there.
MUSIC
The first thing about the film's soundtrack that catches your attention is the silky voice of Sonu Nigam. The singer is fantastic all over again in this simply worded song that has some really pleasant music by Vickey Prasad. This new team ensures that the song brings with it the true essence of love with no adulteration whatsoever from any external elements. 'Desi' to the core with pure melody coming into play, 'Hans Mat Pagli' is an easy going number that sees Shreya Ghoshal's entry mid-way through the proceedings. The combination of Sonu-Shreya takes the song to a different altogether and worthy of repeat hear.
Once 'Hans Mat Pagli' - which lasts a good five minute duration - is through, there arrives 'Bakheda' that is yet another track written by Vickey Prasad. The song is pretty much a continuation of 'Hans Mat Pagli' in terms of the theme, genre, mood, milieu and ambience and as a result of which, there is no jerky feel at all to the manner in which the soundtrack proceeds. One can't really recollect if a song in the past has incorporated the word 'Bakheda' in a song and in case of this Sukhwinder Singh and Sunidhi Chauhan sung track, you truly enjoy the romantic mood which is created, what with 'ishq' being compared to 'bakheda'.
The song which turns out to be truly catchy is 'Gori Tu Latthmaar' and it manages to make an impression in the very first hearing. Rendered very effectively by Sonu Nigam who makes this truly difficult composition by Manas-Shikhar sound really seamless, this 'desi' number with a traditional/folk touch to it comes with such a feel-good factor to it that you fall in love with it. Moreover, Palak Muchhal's entry on the scene makes it sound even more pleasant, hence, making you play the song in your mind long after you have heard it once. As for the vibrant sound of 'Radhe Radhe', it truly works as well as an added bonus.
By the time 'Subha Ki Train' arrives on the scene, you pretty much know that the core essence of the soundtrack is that of sweet and good old romance. Put to tune by Sachet Tandon and Parampara Thakur who also sing this duet, this one has an easy going sound to it and yet again there is no adulteration whatsoever to the core tune and the arrangements. As a matter of song, the song could well have covered a much larger distance if one has to go by the core composition since it is the lyrics here, namely the core peg of 'Subha Ki Train', which doesn't really fetch your attention. Still, a pleasant sounding song again.
OVERALL
One has to give it to Akshay Kumar and his team of lyricists (Siddharth-Garima) and composers for allowing a pleasant soundtrack like this to slip in even for a film with a social theme. While the music should go well with the narrative, at least some of the songs would stay with audience in months to come as well, especially 'Hans Mat Pagli' which has an evergreen feel to it.
OUR PICK(S)
'Hans Mat Pagli', 'Gori Tu Latthmaar', 'Bakheda'