EXPECTATIONS
One thing is for sure that when Anurag Kashyap decides to put together music in his films, he does that in abundance. Dev D, Bombay Velvet and Gangs of Wasseypur (Part I and II) are clear examples of that. Now that he is coming up with his first true blue romantic musical Manmarziyaan, he has gone the whole hog again with close to a dozen odd songs. Amit Trivedi is roped in again as a composer and Shellee puts together the lyrics with support from Sikander Khalon as well.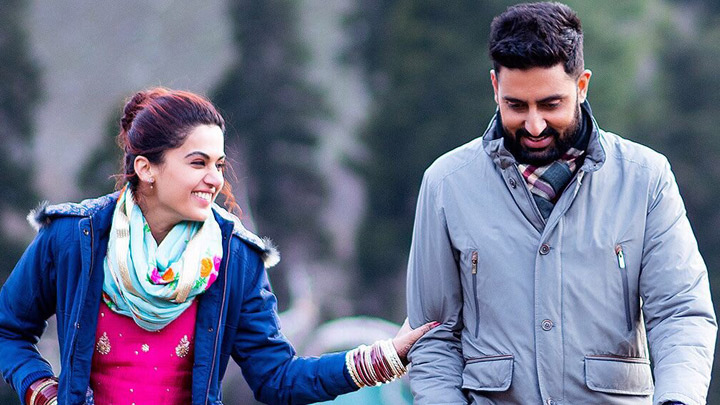 MUSIC
Vicky Kaushal, leading man of Manmarziyaan, comes behind the mike as the singer as well with 'F for Fyaar'. He actually does a good job to get into a rustic Punjabi avtar with this song where he also has Mast Ali and Sikander Khalon for company. The tune has a good hook to it and the intermittent rap portions are impressive too. Moreover, the song brings in a different dimension as it differentiates between 'pyaar' and 'fyaar' in its own unique way. Listen to the song carefully and you would get the gist.
Next to arrive is 'Daryaa' and this is one of those sad-happy romantic numbers which is about love that has been gained and lost. The beginning is akin to a nursery rhyme but that lasts only for a few seconds as Ammy Virk steps in as a singer and comes up with a Punjabi rendition. He is supported by Shahid Mallya and does quite well with right pain in his voice. Moreover, the manner in which the hook word 'Daryaa' comes, it is quite impressive and is vintage Amit Trivedi by all means. Later there is an 'unplugged version' by Deveshi Sahgal and that impresses as well, hence making one play it on a repeat mood.
It is always said that love comes in grey shades and hence there is a song dedicated to the same in the form of 'Grey Walaa Shade'. Newcomer Jazim Sharma starts the proceedings and though the lyrics here don't really impress much, it is Harshdeep Kaur's entry that makes the song somewhat interesting. However, once focus goes back on the male vocals, the song ends up being dull all over again. Just passable.
One is reminded of the kind of music that Dev D boasted of once 'Dhyaanchand' begins. Yet again, this one has a distinct Amit Trivedi feel to it and the composer is also heard as a singer along with Vijay Yamla, Nikhita Gandhi and Suhas Sawant. A Punjabi-Hindi number which has a good fun element to it and is set to add pace to the film's narrative, 'Dhyaanchand' is a decent enough situational piece.
After 'Grey Waala Shade', Harshdeep Kaur and Jazim Sharma back with 'Chonch Ladhiyaan' and this one is somewhat better than the earlier attempt, both in terms of the composition and rendition. That said, yet again there is somewhat dull feel to the overall flow and energy. With a 60s type setting to it, the song tries to be all subtle and sober. However in the process it doesn't quite turn out to be really hummable.
Jyoti Nooran and Romi come together for 'Hallaa' and as expected boasts of good thump in the manner that it begins. It steps up the tempo soon enough and there is good all-around passion in the lyrics, composition as well as singing. This one is actually one of the best songs to arrive in the soundtrack and could well have been placed much earlier.
As for 'Sacchi Mohabbat', it turns out to be one of those quintessential Bollywood sad love songs which could well have been an inclusion in a Dharma or Yash Raj film. Shahid Mallya and Jonita Gandhi come together for this Punjabi-Hindi number which is about the protagonists ruing love that has been lost with not much hope of any reconciliation. This one should again work well as a part of the film's storytelling.
Harshdeep Kaur gets to sing yet another number in Manmarziyaan which goes as 'Jaisi Teri Marzi'. This too has a trademark Bollywood feel to it and is pleasant on ears. Newcomer Bhanu Pratap Singh joins the show and together they are good in this romantic number that has good depth to it in the way it is written, composed and sung. With the word 'manmarziyaan', it could well have been tagged as the title song.
A couple of fun numbers come in next soon after with Devender Pal Singh and Babu Haabi pairing up for 'Bijlee Giregi'. One wonders whether this could well be the introduction song of Taapsee Pannu as it establishes her character as that of being a firebrand. This one is a fusion of 'desi' and 'videshi' music and while it is fine as long as it lasts, by and large it is a situational piece and that's about it.
The soundtrack concludes with 'Kundali' which has an all-women team of Meenal Jain, Yashita Sharma, Yashika Sikka, Rani Kaur, Anita Gandharva, Meghna Mishra and Vaishnavi Mishra coming together. A ladies sangeet kind of a track, 'Kundali' ends the album on a high as it brings on the smile and should bring on good vibrancy on screen once it plays.
OVERALL
Manmarziyaan boasts of a good soundtrack as the entire team comes up with the kind of songs that complement the genre that the film belongs to. With Aanand L. Rai also joining hands with Anurag Kashyap for the film, one can well see the effect of the two coming together of two creative brains who have made something truly exciting for the audiences.
OUR PICK(S)
'F for Fyaar', 'Daryaa', 'Hallaa', 'Sacchi Mohabbat', 'Jaisi Teri Marzi', 'Kundali'